Thinking of upgrading your car for an electric version? You're not alone. Sales of electric vehicles and hybrids are expected to rise from two per cent of the new car market today to 25 per cent by 2030. And it's no surprise when research shows the total cost of owning an electric car is now less than a comparable gas vehicle, with fuel savings alone almost $5,000 / £3,600 over the first seven years.
But investing in an electric car also means taking the time to think about how you'll charge it. The most common method is an electric car charging point attached to your home's mains power supply. In fact, adding an electric vehicle (EV) charging point to your house is one of the green home improvements guaranteed to give your home's value a boost.
This article explains everything you need to know, from where to locate your home charger to how much it'll cost, the grants available and design considerations.
Keep reading: Home insulation - How to improve energy efficiency in your home
Why do I need a dedicated home charger for my electric car?
You can use a domestic plug socket to give your electric car 2.3kW of power, but this is very slow and should only really be used in an emergency situation. 'Most drivers prefer the convenience and speed of installing a dedicated fast charging point at home,' says Rob Mouser, Executive Chairman at Andersen EV premium electric car chargers.
A standard socket will charge your car at about six miles per hour, so a long-range Tesla – which has a 379-mile range at full charge – would take a whopping 63 hours to charge. And who has got time to wait for that?
Green energy expert David Hilton says most dedicated home electric car chargers have a 7kW power supply, which allows them to charge at more than double the rate of a standard domestic plug.
If you have three-phase power supply to your home – or want to upgrade to one – you can get up to 22kW of charging power. A 22kW charger would charge at about 43 miles per hour, making it a much better choice for that Tesla.
It's really important to make sure a home charger isn't going to overload your home's electrical supply – so always check with a qualified electrician or specialist installer before having anything fitted.
Where should I locate my electric car charger?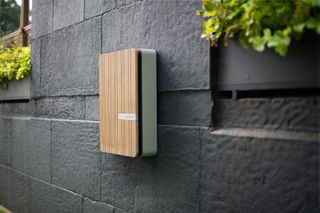 This might sound obvious, but your car charger needs to be as close to where you normally park your car as possible. This is usually on the front wall of your house or on your garage. You'll need an electricity supply to whichever location you choose, with a dedicated connection on your home's consumer unit to provide enough power.
Always check the length of cable that comes with the charger you're considering buying, and make sure it will reach the charging point on your car. You don't want to be pulling the cable taught or parking your car at a weird angle to get it to plug in.
Finally, consider where the cable will be while the car is charging. Try to avoid having it trailing across an area where you walk regularly as it'll be a trip hazard, especially at night.
Gone are the days when chargers had to be a bit of an eyesore, there are now premium home chargers that come in all kinds of colours and finishes, from oak clad ding to on-trend anthracite grey, so you should be able to find an option that complements your home.
How can I charge my electric car if I don't have a driveway?
If you live in an apartment or don't have a private driveway, then electric car charging options at home are currently quite limited. The situation is improving, especially in cities, where private accommodation car parks are now being fitted with chargers and on-street charging is becoming more prevalent, but costs are still higher than traditional home chargers.
If your office has charging points, then you could charge your vehicle while you work, but this depends on how many hours you're in the office.
How much does a home electric car charger cost to install?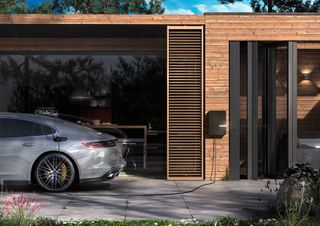 Costs for the charger itself and installation depend on everything from the location you choose and electricity supply you have to the colour of the finished unit. Costs typically start at around $670/£500 for a basic unit and go up to many thousands for designer units.
There are various grants available that you can apply for to help mitigate costs. In the US, federal grants vary by state, so you'll need to check locally.
In the UK, there's the OLEV grant, which allows electric vehicle drivers to claim up to £350 for a home charging point. For those who live in Scotland, there's also an additional £300 Energy Savings Trust (EST) grant.
'You can claim one charge point per eligible vehicle and up to two eligible vehicles per household in the UK, which can make a real difference to the purchasing and installation costs,' adds Rob Mouser, Executive Chairman at Andersen EV.
How much does it cost to charge an electric car at home?
The cost of charging your car at home will depend on your electricity tariff and how far you drive, but will almost always be cheaper than using public charging stations.
To work out how much your car will cost to charge, you'll need to do some basic math and know roughly how many miles you drive a month, say the car experts at Kelley Blue Book. Use a recent energy bill to work out how much you pay per kWh for your electricity.
Here's an example of how to calculate the cost of charging an electric car at home for somebody who drives 540 miles each month. Most electric cars get three or four miles per kWh, so divide 540 by three and you'll see you'll use 180kWh per month. Multiply this by your cost per kWh, which is usually about 12 cents/ 9p, and you'll see it'll cost $21.60/£16.64 each month to charge your electric vehicle.
Smart home chargers are a great option as they allow you to monitor electricity and how much you're spending charging your car using using an app.
How quickly will my electric car charge at home?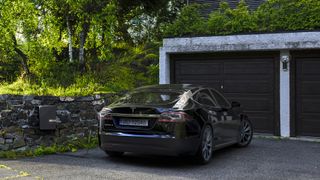 Charging speeds vary depending on the size of the battery and the speed of the charger you have. Most home chargers charge at a maximum of 7kW, which will typically be slower than public chargers. 'Expect a 7kW charger to give you a charging rate of about 14 miles per hour,' says green energy expert David Hilton.
As a general rule of thumb, expect a full charge at home to take seven to 12 hours, which is why most people choose to charge their cars overnight.
Do home chargers work with all types of electric car?
It depends on the charger you choose, so always check. Even if a charger isn't suitable for your car, you'll usually be able to buy adapters to make it work.
'Our chargers are compatible with all electric and hybrid plug-in vehicles, so if you switch your car, it will still work perfectly with your new car, making it future proof,' explains Rob Mouser, Executive Chairman at Anderson EV.
I chose an electric car to be more eco-friendly – should I worry about where the power to my home charger is coming from?
If sustainability is the main driver for getting an electric car, then yes, says green energy expert David Hilton. 'It should make us ask the question why we are using low emission vehicles but generating the electricity from coal. That said, there is a growing percentage of green electricity and zero carbon nuclear in the grid mix, so the situation is improving.'