When it comes to getting out the Christmas decorations and decking the halls for the festive period, it's usually all about the tree, tinsel, and table decor. But this year, more of us want to cozy up every corner of the house — including the bedroom. If you live with roommates (like me), have moved back home, or have a tiny studio apartment, transforming your sleep space into your very own oasis may be the best way to get your home feeling festive. And if you're wondering which are the best bedding brands out there, I've got you covered.
I get it. I rent and live in a small apartment with friends. It doesn't make total sense to decorate the whole place in red and green when we're all heading to our moms' houses for the big day. But I can't go full bah humbug either. So a Christmas bedding set is the perfect pick-me-up for my bedroom.
These are the 12 gorgeous festive sheet sets I'm currently obsessing over. There are subtle styles with simple stripes or detailed edges and sheets made of super-soft fabric like teddy fleece or velvet. There are a few bright red covers for the full festive look, too. Whatever your seasonal vibe, with new bedding you can officially kickstart the countdown to Christmas.
11 Christmas bedding sets we're obsessed with in 2023
Why you can trust Real Homes Our expert reviewers spend hours testing and comparing products and services so you can choose the best for you. Find out more about how we test.
---
How we chose these Christmas bedding sets
As the Real Homes sleep expert, instead of counting those sheep, you can count on me to help you find everything that you need for a good night's rest. Finding a Christmas bedding set is the best way to transform your room for the holidays, especially if you rent or share and can't decorate the whole house.
As a renter and someone who loves seasonal homeware, I selected these Christmas bedding sets with both style and quality in mind. After all, the best duvet covers need to be warm enough for winter but their design should also complement, if not enhance, your existing bedroom decor scheme.
Budget will likely play a part in which festive bedding set you choose because I get that buying a bedding set just for Christmas is something of a treat. So it has to be affordable and of good enough quality to last you longer than the month of December. Thankfully, retailers that we know and love, like Crate & Barrel, Macy's, and Pottery Barn, as well as some brands like La Redoute and The White Company, feature affordable Christmas bedding sets that are timeless in design and made of premium materials to last through to the new year.
How to choose a Christmas bedding set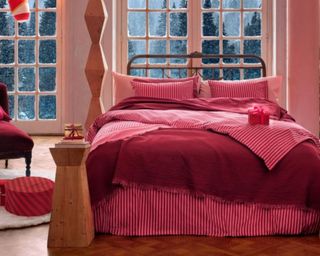 With so many options out there when it comes to Christmas bedding, it can be difficult to decide. Do you go for a fun festive print, an on-trend design, or a plain duvet cover that won't distract from the rest of your Christmas decorations?
Don't just take it from us, we've spoken to Yusuf Ozkanli, founder of Beddable, for his advice on choosing a Christmas bedding set. He suggests going for "a plain color you won't get bored of by next year." He also says, "Our tastes evolve and so a simple option is often a safe bet as it won't go out of style." Investing in a set of good quality also comes into play. A 100% cotton cover will be breathable enough to last you into the transitional seasons and is easy to care for when it comes to washing and drying. Otherwise, If you want an extra snuggle factor, Yusuf recommends "opting for a fabric that comes with a cozy finish — washed or brushed cotton will feel soft to the touch and keep you warm on cold nights."
When should I put on my Christmas bedding?
Now! The countdown has begun. Okay, so there's no set rule book when it comes to dressing your bed for the season, especially if your bedding set is also suitable for other seasons. A striped duvet cover or a plain color set won't look out of place before the countdown to Christmas begins, for example. But of course, it's never too early for Christmas in our eyes.
Typically, we would suggest waiting until after you've taken down your Halloween decorations or Thanksgiving decor before you begin getting festive.