The Yale Smart Living Indoor Wi-Fi Camera is one of the latest offerings from a household name. Yale is a brand that has become synonymous with home security thanks to its standard mechanical door locks that have been keeping our homes safe for years.
Now, the brand is branching out into smart home security, with a range of smart door locks, home alarms and security cameras, all of which can be controlled from your phone.
The Yale Smart Living Indoor Wi-Fi Camera is one of the range's most affordable cameras, and comes in at less than £50, making it the cheapest smart camera we've tested to date. So how does it compare to the competition? Keep reading to find out.
Find out more about the benefits of smart security cameras, then discover more ways to protect your home and make it secure.
What is the Yale Smart Living Indoor Wi-Fi Camera?
The Yale Smart Living Indoor Wi-Fi Camera is a wired smart security camera, that is capable of full HD. An older version, which maxed out at the lesser quality of 720p HD, is still available online, so make sure you're picking up the right one when shopping.
Like the Google Nest Cam Indoor, the Yale Indoor connects over Wi-Fi and doesn't need a separate hub box that connects to your router. It can stand upright, with a compact design that allows it to be placed on any surface, though the omni-directional base also doubles as a wall mount should you prefer. Just remember this needs plugging into the mains, so you'll want to think about where the cable will hang, or consider something wireless like the Arlo Pro 2 or the Moobox ProXT instead.
The viewing angle here is 90 degrees, so while it can capture a fair bit of your room, it isn't as wide as many of the competition, which tend to offer 120 degrees and above.
It comes with a microSD card slot for recording and storing your videos locally, and though its app is limited compared to some of the competition, there is no monthly subscription fee for using any of its features.
Currently the Yale camera works with Amazon Alexa, so you can view your camera's view on something like the Echo Show or via a Fire TV device, but as it stands, it doesn't work with Google Assistant.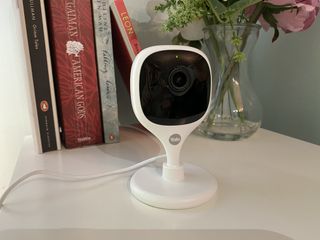 How easy is it to set up?
With no hub to worry about, it's as simple as getting the camera onto your Wi-Fi network, and you do this with the help of the Yale Smart Living companion app.
You can get this from both the iOS App Store and Android Play Store. You can register up to five cameras in the app, and monitor them all side by side on the app's homepage.
To get your camera set up, you simply load up the app, click the plus sign to add a device and then scan the QR code that's on the back of it. Once it has recognised your camera, it will walk you through a couple more steps you'll need to complete, ending in entering your Wi-Fi password.
It's worth noting that the Yale Indoor camera works on the 2.4GHz Wi-Fi band only. Most routers support this as its an older bandwidth, and while it isn't the best for video stability and won't offer the fastest buffering, it's great for longer range support. This means that how far your camera is from. your router shouldn't affect the camera's ability to work successfully.
Who will the Yale Smart Living Indoor Wi-Fi Camera suit?
If you're looking to dip your toe into the smart security waters without spending too much money, this Yale camera will give you an idea of what some of the benefits can be.
However, it does fall short in a number of areas that means it might not be the best option if you're looking to get serious about any real home security concerns.
Still, it's a well-priced camera for trying out some casual indoor surveillance, and a good one for pet owners to buy to keep an eye on their furry friends.
How does the Yale Smart Living Indoor Wi-Fi Camera perform?
At such an attractive price, the Yale Indoor Camera does need you to cut it a bit of slack for its downfalls. It has a number of gaps in the smart camera experience that can make using it a bit frustrating, but read on for our thoughts after several weeks of living with it day to day.
Good picture quality… sometimes
Despite being capable of an HD picture, the camera actually defaults to standard definition every time you open the app – and the difference between the two is clear. SD footage is very pixelated and although you would probably be able to ID someone from the pictures, detail is still lacking. As you'd expect, HD footage is much clearer.
To view, and then record, in HD you have to manually select it before clicking the record button. Recorded clips are then stored in the app and can be shared via email.
No auto-recording to the cloud
If you get a notification of motion and you aren't on hand to check it immediately, there is no way to have it auto-record footage to the cloud. You have to open up the app and do it manually, which might mean any thief has already made off with your stuff by the time you see it.
It seems that inserting a memory card will open up the option for automatic recording, just be sure you clear the memory card regularly or it might be too full to record when you need it.
Universal motion alerts are annoying – but you can reduce them
Like the Moobox Pro XT, the Yale Indoor simply sends alerts for any motion it detects, whether person, animal or vehicle. This means that if you've set up the camera to keep an eye on your dog, but were also hoping it could double up as a security camera for intruders, you could find yourself getting a lot of notifications every time your pooch makes a move.
Thankfully there are features to help with this. First up is activity zones, which allows you to set areas that you want the camera to keep an eye on – such as doors or windows – and disable notifications for the rest.
This works pretty well, but isn't foolproof. We occasionally got notifications when we shouldn't, and not get them when we should, but overall it's effective.
You can also choose to disable notifications entirely, or set them to only get in touch within certain times. This is great for pet surveillance, when you just want to check in on them when you decide, but for security purposes, it's not such a good idea, as you could miss something important.
If you choose to do it, you'll want to install a memory card, so any motion captured gets recorded while you remain blissfully unaware.
Decent night mode
For the price, the night mode on the Yale Indoor camera is really quite good, with a promise of visibility up to eight metres.
The only downside here is that, as its name would suggest, you are unable to use this camera outdoors where such a range makes sense. You can't use it through a window either - the infrared light that activates in the dark bounces off the glass and causes issues with the picture. For outdoor surveillance, Yale have a camera for the job (but it's more than double the price).
Good two-way audio
Seen something you don't like the look of? Or just want to tell your dog he's a good boy? The two-way audio is loud and clear, accessible from the app, and would certainly send the message to any intruder that it might be time to rethink their plans sharpish.
Alexa smarts
Add the Yale Indoor camera to a room within your Alexa app, and you can ask Alexa to show it on your Echo Show or Fire TV device. We tried it via the new Fire TV Cube and it worked well, though our 65in TV didn't do the Yale's picture quality any favours. Still it's great to have Alexa support on board at this price, even if use cases are limited.
What I liked
The simplicity of the Yale Indoor camera is going to be half of its charm to anyone interested in buying it. Getting it installed is simple, and then using it is too, offering a very few bells and whistles to complicate things.
When in HD, the video quality is actually pretty good, and at this price, the night mode is great too. I also liked that all videos are date and timed stamped – handy if they're needed for not-so-nice reasons.
What I didn't like
The fact the camera defaults to standard definition is annoying, and the lack of auto record for the cloud is equally so.
If you go to the notifications section within the app, you're presented with a list of times that motion has been noticed, but click through on any one of them, and you are just shown a live video of what the camera is seeing now. It makes the notifications seem somewhat pointless, unless you're tied to your phone at all times.
Real Homes verdict
So unfortunately, the cheapest smart security camera we've tested didn't throw up any surprises. As predicted, it can't compete with premium offerings like the Nest Cam Indoor or Arlo Pro 2, but it does offer basic surveillance skills that some might find enough for their needs. Certainly, to keep an eye on your pets, it works a treat.
However, for real home security issues, we're less convinced on it being the best option out there. The MooBox Pro XT is not without its issues, but its wireless functionality, weatherproofing for indoor and outdoor use and the overall better image quality might be worth the extra outlay if you can't afford the price of the more premium models.
However, the fact there's no subscription to pay joins the sub-£50 price point in being probably the Yale Indoor camera's biggest selling point, and a big reason why many will consider it. It's just worth being fully aware of the compromises that it creates before you part with your cash.
About our reviewer:
Verity Burns is our smart home tech expert. She has been writing about technology for over a decade, and spends a lot of time tinkering with the latest in smart home tech for The Hub section of Realhomes.com. You may even spot her chatting about smart home best buys and top tips on The Real Homes Show.
When she's not writing, reviewing or offering tech support to various members of her family, she's a mum of three – one real baby and two furry ones. You'll always find her in the living room, or recalibrating terrible TV settings at parties.