The Nest Cam IQ Indoor camera is the smartest security camera currently offered by the smart home mainstay, and improves on the company's original Nest Cam Indoor (which is still available) by improving video quality and adding in more advanced features.
It's not cheap, but if you're looking for truly sophisticated smart security, within a tried and tested ecosystem, it's hard to argue with what it offers.
Find out more about the benefits of smart security cameras, then discover more ways to protect your home and make it secure. Find more smart home technology info, advice and reviews on our hub page.
What is the Google Nest Cam IQ Indoor?
Why you can trust Real Homes Our expert reviewers spend hours testing and comparing products and services so you can choose the best for you. Find out more about how we test.
The Google Nest Cam IQ Indoor is a wired smart security camera that sits within Google's Nest ecosystem, which includes a smart thermostat, smart locks, the Nest Hello smart doorbell and the two-strong family of Nest Hub smart displays.
As its name would suggest, it's intended for use inside the house – you'll want the Nest IQ Outdoor camera if you need to keep an eye on outside your house too.
It has an 8MP 4K sensor with HDR imaging, and a 130-degree wide-angle lens, which helps it to capture the majority of all but the largest rooms in one shot. That's good, as there's no ability to actually move the camera via the app, you'll need to position it when you set it up and adjust it manually if needs be.
The Supersight feature allows it to zoom in and track moving subjects with impressive accuracy, and that good-quality sensor and excellent night vision ensures the picture is nice and clear whenever you need to check on it.
Its firmware was recently updated to include Google Assistant, but is slightly limited in what it can do compared to a Google Home speaker – it can't stream music for example – but the majority of the other functionality is there.
When you summon Google Assistant, the Nest Cam IQ Indoor's LED ring lights up so you know it's listening. This also comes on when you use the Walkie Talkie feature, which gives you the ability to talk through the camera from the Nest app.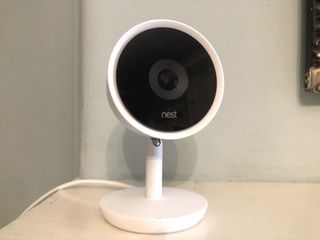 How easy is it to set up?
If you've been putting of investing in smart security because you've been worried about it being a hassle to install, the Nest Cam IQ Indoor is the opposite.
To get it up and running, simply plug it in, download the Nest app to your smartphone or tablet and scan the QR code on the bottom of the camera to pair it with the app. You can do this for every camera you have and then name them to your liking.
It is wired, unlike some of its competitors, so it does need to be relatively near a plug, and is better suited to being placed on furniture, unless you're willing to run the 3m cable up your wall.
I set mine up in my living room, because that's the place where my dogs sit when I'm not there, and it's the biggest area of coming and going. It's also the room anyone would have to pass through if they were an intruder, so with only one camera to play with, it seemed like a good option.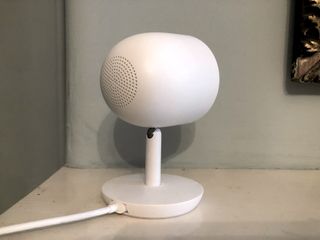 Who will the Google Nest Cam IQ Indoor suit?
If you're interested in keeping an eye on your home when you're not there, the Nest Cam IQ Indoor is one of the best and most comprehensive smart security cameras you can buy. In particular, if you've already bought into any of the Google Home or Google Nest ecosystems, it will slot right in with ease.
At £249 per camera though, it's a fair investment, and those not concerned about the very best in picture quality and who don't mind losing a few features like the Supersight track and zoom, might find it worth considering the regular Google Nest Cam Indoor at around half the price.
Anyone considering buying either should also be mindful of Nest Aware, the accompanying subscription service, which offers a lot of the enhanced functionality that makes the Nest Cam IQ Indoor so good.
After your first free 30 days, there are a choice of levels, from £4/month, to £8/month and up to £24/month. All offer the same extra features, but will hold onto footage longer, either 5 days, 10 days or a whole month.
Each camera you own needs a subscription too, but Google does offer a 50% discount on this for subsequent cameras.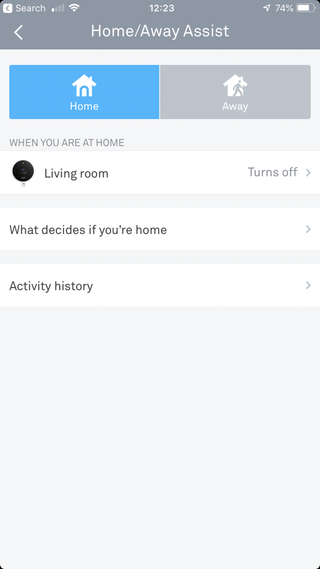 How does the Nest Cam IQ Indoor perform?
Some of its standout features include:
Excellent video quality
That 4K sensor means the video quality is fantastic, in day or night, and the track and zoom Supersight feature is really effective, and not something offered by its competitors. Also, considering the wide angle of the lens, there's very little distortion, or "fisheye-ing", to the image whatsoever.
Face detection
The face detection is pretty spot on. You'll need to have subscribed to Nest Aware for it to work, but it logs every new face that it spots and gets you to approve it as someone you know. You can then adjust your notifications, so you're only notified of someone in the room you don't know, for example. It even recognised my dog.
Constant recording, if you want it to
Unlike some of its competition, the Nest Cam IQ Indoor records 24/7, if you want it to. It only depends on whether you're subscribed to Nest Aware, and what level, as to how long it holds on to the footage for. If that sounds like a lot of footage to trawl through, Nest Aware helps you to pick out key moments of interest with its Sightline feature, which is like a timeline of events over the past five days where it's noticed movement, sound or familiar/unfamiliar faces.
Switches off when you're in the house
The Home/Away feature is fantastic for ensuring you're not getting stacks of notifications when you're in the house. When switched on, Nest knows when your phone – and therefore, very likely, you – are at home, and so it will stop recording, and only switch on when you leave. And it's accurate. Furthermore, you can also set up all your family members on different profiles, and only have it switch on if none of you are home.
Want it to ensure your camera is doing its job at night when you're sleeping? You can choose to override the Home/Away feature at certain times if you want, so you can get the best of both worlds.
Privacy concerns addressed
When I first started testing the Nest Cam IQ Indoor, it could be filming and there would be no way of knowing, as you could turn the small notification LED off. Part way through testing, that changed. As part of Nest's commitment to privacy, all of their cameras will now always have a clear visual indicator as to when they're on and sending video and audio, and the ability to turn off the status light has now gone.
Two-way audio is crystal clear
The Walkie Talkie feature is great, and speaking through the camera from the app comes through loud and clear. Preferably used for telling your dog he's a good boy rather than having to ask a criminal what they're up to, of course.
You can set zones of interest
This is another paid-for feature using Nest Aware, but 'Activity Zones' allow you to mark up an area in a room where you want to receive particular notifications if there is movement. This could be around the front door or windows, for example.
Equally, you can set a zone that you don't want notifications for, if the tree outside your window is always setting off a motion alert. Activity zones need to be set using a computer and you can set up to four per camera.
Save your videos
Whether your camera caught an epic must-share moment around the family dinner table, or you need it for more practical purposes, with a Nest Aware subscription, you are able to save your videos to your phone and share them as you need to, hopefully with your Facebook friends rather than the police.
It works well with other Nest products
Nest has been in the smart home game a while, so not only does it have its ease-of-use down to a tee, but also its integration with other Nest products is superb. If you've invested in a Nest Home Hub, or Nest Hello doorbell, this will slot right in.
What did I like?
I loved the ease of use of the Nest Cam IQ Indoor. Getting it set up and tinkering with the type of notifications I wanted to receive was really straight forward, and the Home/Away feature is also really handy for ensuring you're only getting notifications when you really need them.
The video quality is also brilliant. Even in the pitch black, its night vision could pick up out faces for the face detection without issue, and offer a decent picture too.
What didn't I like?
It's a shame that so many of its great features are so reliant on signing up for the Nest Aware subscription, though the recent introduction of the £4/month tier does at least make this a little more manageable. It is still an ongoing cost though, on top of an already pretty high initial price.
I also felt it could be a bit jumpy with its motion sensing – I received several notifications of movement when I was out of the house, which when I looked at the footage, I couldn't see any movement at all.
Real Homes verdict
Overall, the Nest Cam IQ Indoor is a brilliant, reliable smart security camera that offers excellent picture quality and stacks of features – if you subscribe to Nest Aware.
The £4/month option should be enough to cover the needs of most households, but that's still another £48 you need to budget for every year on top of the £249 base cost.
If you just want basic home surveillance without all the bells and whistles, you might be able to do without the subscription – you get three hours of footage and included person alerts as standard – but it might also be worth looking at Nest's regular Nest Cam Indoor, which is only £119 (at the time of writing).
The video quality isn't as good, it doesn't come with the Supersight zoom and track feature and it's not quite as clever – it can't offer up person alerts without a Nest Aware subscription, while the IQ comes with that as standard.
However, if you have a good budget for smart surveillance, we don't think you'd be disappointed if you spent it here. Cheaper options are available but they come with a few more compromises. The only compromise here is the price.
More on home security: