The Vax SteamFresh Power Plus Steam Cleaner is one of the brand's leading products when it comes to floorcare and claims to be able to kill 99.9% of bacteria, which is excellent for those who don't just want things to look clean, but want them to be fully sanitized. This cleaner also uses a mix of detergent and water, to seek out that deeper clean.
Marks on your floors should be banished by this tool and grime in other spots, like your oven, thanks to the handheld elements you can use with the main body. There's more than one power setting to work with too, and this tool is versatile enough to use on sealed hard surfaces, upholstery and fabric. That means you're packing in a lot of value for your money.
I tested this steam cleaner in my two-bedroom flat, which has an open-plan living area with laminate floors. I really like to feel like my floors are properly refreshed when I'm cleaning by using one of the best steam cleaners, so this tool offered the opportunity to really get that feeling of cleaning satisfaction, given that it did actually work as advertised. Here's what I found when I put it to the test.
Vax SteamFresh PowerPlus [S84-W7-P] product specifications: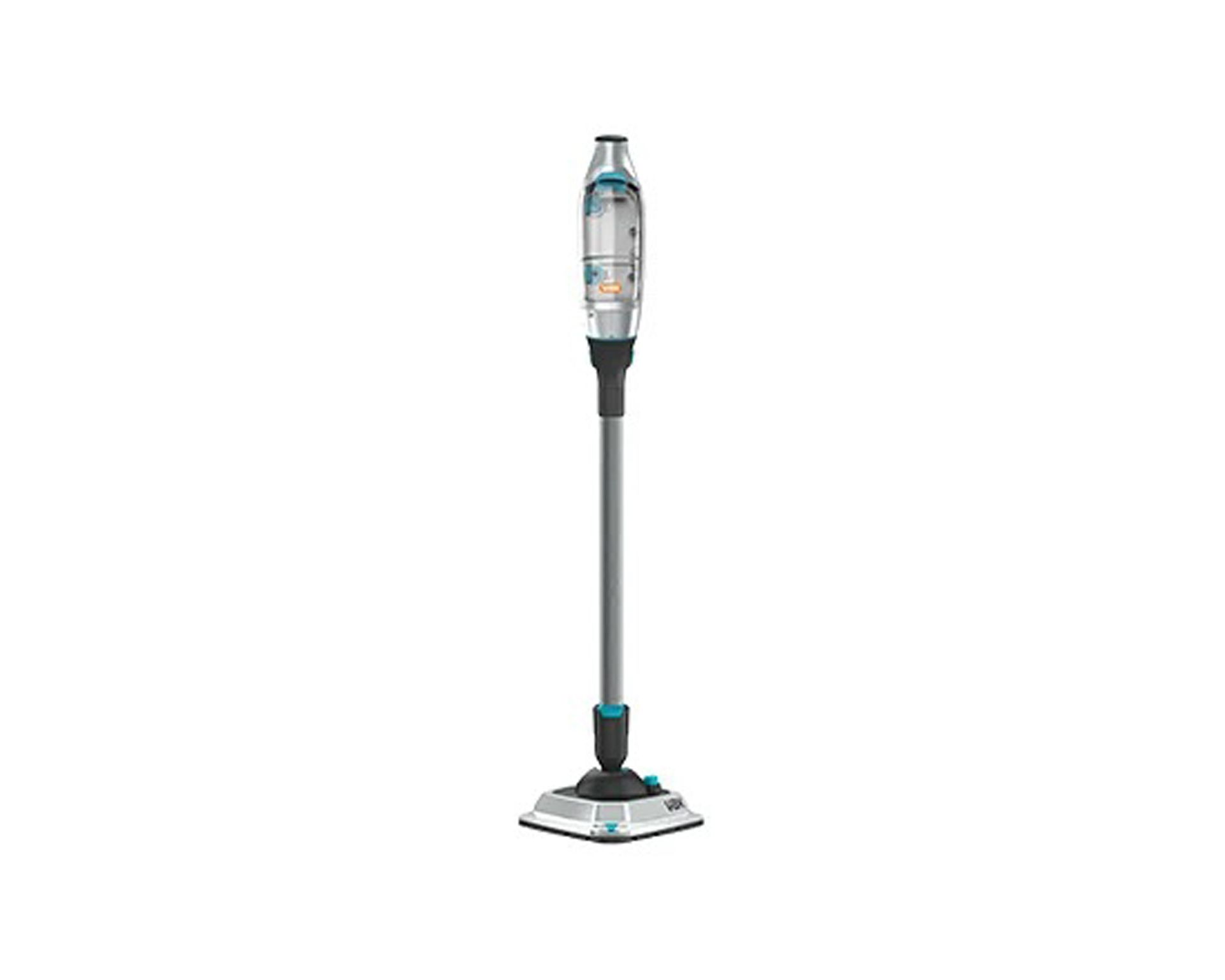 Model number: S84-W7-P
Capacity: 0.3L
Weight: 3.4kg
Cord length: 8m
Accessories: Main unit, microfibre pad x 2, carpet glider, 360⁰ connector, adaptor, precision tool, soft scrub brush, 250ml steam detergent, wall mount, accessory bag,
RRP: £119.99
Unboxing the Vax Steam Fresh Power Plus Steam Cleaner
The Vax SteamFresh Steam Cleaner is quite slim, so the box wasn't too difficult to get into my flat. There was quite a lot of cardboard packaging, but then again there are quite a few elements to this cleaner to keep protected. The assembly itself to get the cleaner into the classic upright steam mop position was easy enough and only took a few minutes. There are 13 elements to this cleaner, so the unboxing process may be a little overwhelming at first, but I do really like how there's an accessory bag included too, so that you can keep all of those separate parts from getting lost.
Who will the Vax Steam Fresh Power Plus Steam Cleaner suit?
This is a great all-rounder of a steam mop, with the capability to transform into a handheld tool with lots of different attachments too, making it great for those who want something to target lots of different parts of their house. Some steam cleaners don't use detergent, but this one does, making it a good choice for those who want to ensure they get that the sanitisation that comes with a cleaning product.
It has variable steam control function and a boost setting too, so if that's something you feel you need due to the condition of your floors, then this particular model is likely to be worth your investment.
Getting started with the Vax Steam Fresh Power Plus Steam Cleaner
As with any steam cleaner, the first thing you'll need to do is fill up your water tank. That comes apart from the cleaner easily, and you need to lie the container on its side as you fill it under the tap. You can easily see the fill line you need to reach with water, and there's an additional line that needs to be reached when you've added your detergent. The tank might appear small, but you can get 40 minutes of steam from it, so it's definitely enough to be working with.
In the upright mode, there will be a microfibre pad and the carpet glider attached to the cleaner as standard when you take it out of the box. I needed to take this off to get going with my hard floors, and I still wasn't entirely sure what it was for, even after reading the instruction manual. I have since been told it is an adapter to do as it says – steam carpet. It is not to be used with detergent, but a bit of steam and the carpet glider in combination will refresh your textiles. I tried it out and while I can't say I noticed any revolutionary changes, I do have dark and relatively new carpets, and they did look a bit neater once I was done. The smell of the detergent is also nice, so if your carpet has collected a not-so-nice smell, then the refresh mode can help with that too.
Make sure you take off the glider before you begin on hard flooring.
Performance
Once I had taken the carpet glider off, it was easier to get going with learning how to use this steam cleaner. Following the included quick guide, I plugged the cleaner in at the mains, and waited for the green light on the control panel to signal that the cleaner was ready to use. As with other similar cleaners, to kickstart the steam element you need to move the cleaner backwards in a recline position, and pull down the trigger on the handle.
From there, you can move the cleaner back and forward in order to lift dirt and stains from your floors. When you feel you need more steam, you just press down on the trigger to get more. There are four steam functions that you can easily navigate through on the control panel: Max Steam, Low Steam, Max Steam and Detergent and Low Steam and Detergent. I found the best results on the maximum setting mixed with detergent, and gave my floor a thorough going over several times to test the results. I eradicated some historic marks on my floor with this cleaner with ease, and it gave it a nice overall clean look after I had vacuumed. There's a nice smell that arises after using this cleaner too, thanks to the detergent compartment, and it was something I appreciated as I spruced up my floors.
Once I had seen great results with this cleaner on my hard floors, I switched off the cleaner and left it to cool down. Annoyingly, this cleaner isn't great at standing up on its own, so it took a little maneuvering to find a good spot to let it do this, and this was a difficult task in itself as the casing was hot to the touch.
I then moved on to properly test out all of the attachments that come with it. My bathroom is always in need of care because of its windowless state which attracts damp and grime, so I converted the cleaner using the long reach wand to get right up into the shower without having to step into my bath. I liked that added aspect a lot, as I have high ceilings in my flat. The handheld elements were very straightforward to use, but it's essential not to be too generous with the trigger, as you'll end up over wetting your target area. It was good for buffing and cleaning the tiles in my shower and getting up dirt from all of the edges.
I used the precision tool on the hob in my kitchen too, as though I clean it every day, there are areas that build up near the burners. I haven't seen anything like the precision tool before, and I thought it was great, with a concentrated jet of steam that helped to get rid of the grime there.
Cleaning and maintenance
You can hold the corner of the microfibre pad down with your foot and then peel away the main unit by lifting it up. This means you don't have to touch a mucky pad too much after use. Then, it's as easy as throwing that pad into the washing machine and allowing it to fully dry before you can use it again. To get rid of dirt in the main scrub brush head, you can just hold it under warm running water and then wait for it to dry thoroughly before reattaching.
How does it rate online?
This cleaner scores 3.9/5 stars on the Vax website. Customers on the whole seem impressed with the cleaning power and the ability of the scrub brush, as well as the boost you can get from the maximum steam setting. Complaints on the Vax site touched on the fact that this can be an awkward and somewhat heavy tool to use, as well as the fact it does not stand upright on its own.
On Amazon, this cleaner has earned a score of 4.1/5 stars. Again, some reviewers found that the design of this cleaner was a little heavy, but overall customers were impressed with the cleaning ability and versatility of this model.
How does it compare to similar models?
There are many similarities between this model and the Shark Floor and Handheld Steam Cleaner S6005UK; they both have a good selection of attachments and they both have a boost setting to get rid of tough stains. The Shark cleaner comes at a premium price compared to the Vax Steam Fresh Power Plus with an RRP of £179 compared to £119.99, and for this, I'd say you're investing in a lighter (2.8kg compared to 3.4kg), easier to use model, which has clever technology that means you never have to touch your dirty floor pads. However, when it comes to the level of cleaning, I would say these two are very similar, with the Vax model also winning when it comes to ease of set up and filling the tank.
Is the Vax Steam Fresh Power Plus Steam Cleaner worth it?
For its £119.99 price tag, you get plenty of versatility and cleaning power from the Vax Steam Fresh Power Plus Steam Cleaner. The fact that you can transform the cleaner into a handheld tool means that you can get your money's worth by tackling your bathroom and kitchen too. If you want to, you can also refresh your carpets with this tool, though it won't clean them thoroughly like a spot cleaner such as the Vax Spot Wash Home Duo Cleaner will be able to.
I really liked this cleaner, and I think for the price that it does a similar job to more expensive models, meaning that if you're on a budget it is definitely worth your consideration as you shop, especially as you can often find it during sales periods for less than £100.
About this review and this reviewer
Molly is the Ecommerce Writer across Homes shopping content, spending time reviewing products to see if they can earn a place in buying guides. She regularly tests cleaning products and machines in order to see if they're up to standard.
This steam cleaner was tested in her home, as you'll see from the photos. This cleaner was also available to keep, allowing for this review to be updated over time, to see how the tool holds up.