If you've opted for lots of hard floor surfaces in your home, the thought of using just one appliance to keep them clean – rather than a vacuum cleaner plus mop combo – will make the all-in-one Vax ONEPWR Glide appealing. But does this vacuuming, washing and drying machine do all the jobs you need it to with efficiency, making it worth your spend? I put it to the test to bring you this in-depth review.
I tested a selection of the best vacuum cleaners on a variety of hard flooring in my house, and challenged it with dirt, mud, light debris, and the comings and goings of muddy shoes to give you the lowdown on how efficiently it'll do the job, how easy it is to use, and how much space it'll take up in your cupboard.
Vax ONEPWR Glide specifications
Power: 18V
Cable length: Not applicable
Dimensions: H111 x W29 x D25cm
Weight: 4.9kg (without battery pack)
Noise: not available
Energy rating: no ratings for cordless models
Capacity: 0.29 litres (dirty water); 0.64 litres (clean water and cleaning solution)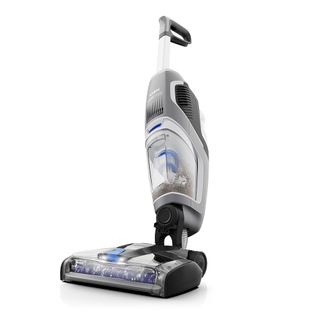 Who will the Vax ONEPWR Glide suit?
Busy family homes with kids and pets and lots of hard flooring in the overall mix.
What is the Vax ONEPWR Glide like to use?
It's an easy swap from vacuum cleaner plus mop and bucket to this efficient machine, and no challenge to operate.
Hardflooring
OK, the Vax ONEPWR Glide is a specialist appliance. Unlike a vacuum cleaner, it cleans just hard flooring and not carpet. However, it does clean an awful lot of different types of hard flooring: laminate, hardwood, stone, vinyl and tiles. Secondly, it delivers a lot of different functions from one machine, in other words vacuuming, washing and drying. And that, in my book, is a result. I didn't need to vacuum first, then get out a mop and bucket, then wait for the floor to dry.
I gave the Vax ONEPWR Glide its hardest test on some extremely dirty floor tiles. Numerous feet had trodden over them after coming in from outside in the worst of wet weather, and there was plenty of dust on them, too. I also tried it out on parquet and laminate and found it equally effective on both.
The only downside for me was getting to the edges of rooms. The machine didn't reach these, so that I had to do some blotting, wiping and mopping of my own.
Getting the hang of the Vax Glide wasn't tricky. Pressing the trigger releases the cleaning solution on to the floor, and I followed the advice in the instructions to apply this on a forward stroke then release on a backward stroke to pick up the solution. I also tried out the recommended additional stroke without the trigger for extra drying, which got good results and a floor I could walk on sooner.
The machine starts in high mode, but if your floors aren't in too grubby a shape, you can go into eco mode to get more running time (see below). Because it starts at high, I found it took me a few cleaning sessions to get into the habit of switching to eco mode.
Regular emptying of the dirty water tank is necessary – and the maximum mark is lower than you might assume when you look at its size. With a lot of flooring to tackle, I did find this a bit of a check on my progress.
Attachments
There's no attachment swapping with the Vax ONEPWR Glide. It comes with a multi-surface brushroll ready to tackle all hard flooring. The machine does have a rinse/storage tray, however, which lets it dispense cleaning solution into its nozzle and brushroll to auto-clean and rinse.
Power and dirt and debris removal
There have been a lot of dirty feet and a lot of dust in my house recently (a little light home improvement), so the Vax ONEPWR Glide had a tough challenge in cleaning some white tiles that have seen all sorts of muck being trodden in. Here, on its hardest task, it did a fine job, but even it couldn't quite lift everything and I had to supplement its work with a little scrubbing brush action. I wouldn't criticise its performance for this, though, because the floor was supremely dirty, but it is worth bearing in mind that the appliance won't rid you of all your labours in all circumstances.
Working this hard did mean it got through the contents of the clean water tank (water and cleaning solution) at quite a rate.
On parquet it picked up lots of debris and dust as well as washing without excessive wetting (which was my concern on wood), and drying well.
With a laminate floor I tackled a wet and muddy mess, and I was impressed by how swiftly it removed the liquid and left the floor spotless.
You get 30 minutes running time for your cleaning activities if you use the appliance in its standard mode, which didn't cause me any problems with getting round the floors. The charge time for the battery is three hours, and the machine is part of Vax's ONEPWR range, which means you could invest in a spare to keep going if you have hard flooring all round your home (see 'Handy features', below).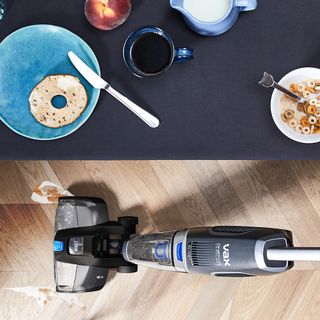 Container removal
Taking the water/solution tank off the machine to prepare it for use proved easy, and the level of water and cleaner I needed to use – choosing between either a small or large area – were clearly marked. The tank clicked satisfyingly into place ready for cleaning action, too.
The dirty water tank was also simple to remove from the machine, and taking the lid off was no struggle. There was then a bit more to do: the separator had to be taken off the lid then rinsed under water. The tank itself then needed emptying down the sink, and rinsing. Air drying was necessary next, before putting the separator back and replacing the tank on the machine.
The water/solution tank also had to be emptied and rinsed after use, as well as air dried before refitting.
Bear in mind that there is a bit more maintenance you'll have to do. The filter should be washed after each use and left for 24 hours or until it's fully dry. It also needs to be replaced every six months.
Handy features
There's no saying you didn't spot the grot with the Vax ONEPWR Glide. It has LED headlights that help show everything up, which I welcomed to avoid the moments when I've put a machine away and the bits missed shout at me.
With Vax Multi Floor Solution and water in the tank, the appliance also promises to kill 99.9% of bacteria when the brushroll cleans. Dirty water is removed from the floor – and eventually goes down the drain – and fresh cleaning solution added continually, which made me feel the floors were cleaner than when I mop with a single bucket of cleaning solution.
The machine itself can be cleaned and this is recommended after each use. It's an extra task but, if you're like me, it'll make you feel confident that you are getting spick and span floors. There are a few steps to go through for the machine-cleaning process, but they should ensure you get the dirt and debris out of the brushroll ready for next time. It's also recommended that you remove and clean the brushroll itself every five or six uses of the machine.
Storing
Sized and shaped like an upright vac and with dimensions of H111 x W29 x D25cm, this isn't a machine for the smallest of homes as you will need good cupboard space to stash it away – likely along with your vacuum cleaner.
Manoeuvrability
The Vax ONEPWR Glide was easy to move along the floor and to swivel. There's definitely no fightback from this machine. It went under furniture neatly as well, but, as mentioned above, I did find the extremities of the room were out of its range. It was no heavyweight to carry up and down stairs or put away into the cupboard, which made life easy.
How does it rate online?
The Vax ONEPWR Glide is a hit with reviewers on the Vax site receiving an average 4.4 out of five rating. Ease of use scored most highly with cleaning result and value not far behind. Users like the fact that it leaves the floor dry as well as clean. Dog owners were delighted with its removal of muddy paw prints, and the light weight was also a plus point. On the flip side, some people said it didn't clean into corners, while others would have liked the dirty water tank to hold more.
Buyers at Argos gave 4.1 out of five stars on average. Plus points for these buyers include its superiority to using a mop and bucket, and the fact that it doesn't leave floors wet. Negative comments took in the fact that it got through cleaning fluid quickly and that the filter has to be washed every time.
How does it rate again similar hard floor cleaners?
You won't find the hard floor cleaner market nearly as full of options as that for vacuums, but the Vax ONEPWR Glide does have competition from other models that vacuum, wash and dry. You'll find it's competitive on price – you can pay more for the same functions and running time – although it doesn't offer the ability to clean rugs, which you may want.
About our review – and our reviewer
Sarah Warwick has specialised in homes and interiors for over 20 years. She was Executive Editor of Ideal Home magazine, and has written for nationals, magazines and websites including Real Homes, Homebuilding & Renovating, Grand Designs, Homes & Gardens, Houzz, The Guardian, House Beautiful and Country Homes & Interiors.
She put the vacuums through their paces all round the house, on all sorts of dirt and debris, and a variety of flooring and surfaces.