After a year of coffee shop withdrawal, many of us have been turning to the best coffee machines to get the job done. Coffee machines can be expensive though, especially if you opt for one that makes espresso and even semi-automatically steams milk for lattes and cappuccinos. Enter the Swan Nordic One Touch Espresso Machine, which is a reasonably priced option that is lovely to look at and easy to use. Find out more in this Swan Nordic One Touch Espresso Machine review.
First, a bit about me. I'm a coffee lover with a penchant for iced lattes or creamy cappuccinos. I also used to work as a barista, serving flat whites, mochas and more all day long to customers. I know a good coffee when I see one and I also know how to make one from scratch. I live with my partner whose coffee preferences are very different from mine. While I'm an enthusiast, it's fair to say he's more dependent on his morning americano. He enjoys a long coffee and drinks it frequently, meaning any coffee machine we test in our home gets tested thoroughly and in just about every way imaginable.
The Swan Nordic One Touch Espresso Machine was is well-liked in our home, but the messy coffee grounds are certainly not our favourite. For my Swan Nordic One Touch Espresso Machine review, keep reading.
Specifications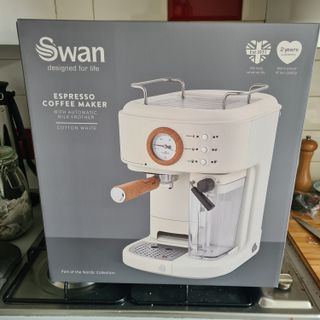 Coffee type compatibility: ground
Control type: buttons
Water tank capacity: 1.7 litre
Milk tank capacity: 500ml
Pressure: 20 bar
Power: 1100 watts
Dimensions: L35.4 x H32.5 x W22.8cm
Weight: 5.02kg
Setting up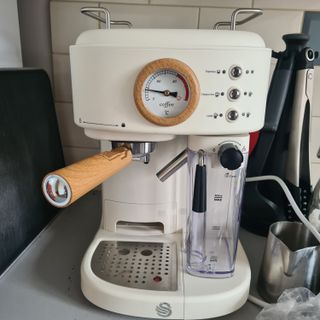 Setting up the Swan Nordic One Touch Espresso Machine is easy and intuitive. I filled up the water tank, fitted the portafilter with the double espresso filter, and slotted the milk container into place. There are grooves that mark out its space on the machine itself, and then it clicks into place when pushed back enough.
The Swan Nordic One Touch Espresso Machine takes ground coffee and purpose-made Easy Serve Espresso Pods to make either single or double shots of espresso. It includes a scoop and tamper to add your grounds and prepare them.
Using the Swan Nordic One Touch Espresso Machine
At the side of the machine there is advice to always make sure the portafilter handle points directly towards you when twisted into place, never only partway through. Learn from my mistakes and be vigilant about following this. Always make sure you've twisted the handle as right as it will go before making a coffee. If you don't, the pressure will force the handle out of place and cause a big mess (and ruin your coffee!)
To get the machine started you need to switch on the machine at the right side of the base. You then need to wait for it to pressurize, which will take about one to two minutes (90 seconds, according to Swan). You'll know when it's ready because the coffee buttons will stop flashing and turn solid. Then, you need to press the button pertaining to the type of coffee you want (be it a latte, cappuccino or espresso) once for a small cup, and twice for a large.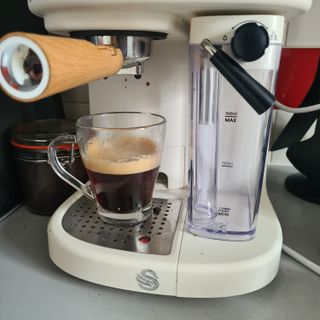 This is where I found the Swan Nordic One Touch Espresso Machine needed some adjusting. The small size was very, well, small, and the large was too big for even one of my larger mugs. The specific sizes of drinks are as follows:
Espresso: 60ml (single), 119 (double
Cappuccino: 178ml (small), 355ml (large)
Latte: 296ml (small), 474ml (large)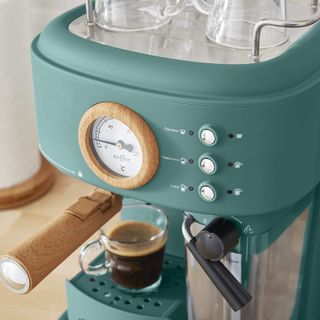 But the overall volume can change when you turn the dial on the milk attachment to adjust the level of froth. When turning it higher I found my large coffee overflowed the sides of my cup, so be prepared to make mistakes as you figure out the right setting for you (or the right mug to accommodate your ideal brew).
When doing a shot of espresso or using a smaller mug you can pull out a cup stand to bring it closer to the filter and prevent splashing.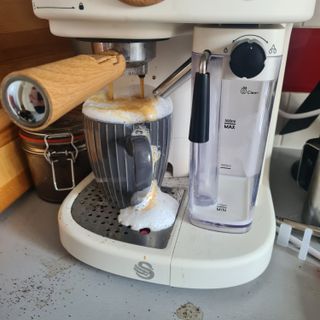 What's the coffee like?
The coffee is delicious. Nice and strong despite being pre-ground, with a high-quality flavour that my partner loved. He used a kettle to top up his double espresso with hot water for a homemade americano, which (despite being pampered with a fully automatic bean-to-cup coffee machine normally) he found very easy to adjust to.
I also enjoyed my lattes, but I found that they're less pleasing on the eye than my homemade ones because the milk comes before the coffee.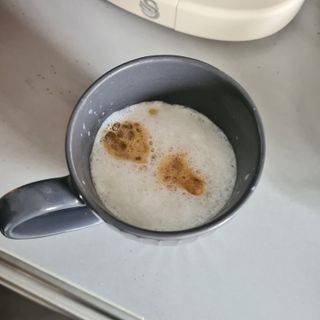 Another element where my regular coffee machine (you can read my Sage Barista Express coffee machine review for the rundown) wins out is the quality of the milk steaming. Because I can have complete control when using a machine with a milk wand the milk bubbles are finer and more even, whereas the Swan Nordic One Touch Espresso Machine gives some quite large bubbles that go down fairly quickly. It's more similar to the result you'd get if you used a milk frother.
After use
After use just tap out the spent coffee grounds from the portafilter by tapping it into the bin or a container. You can then empty the drip container (it doesn't fill up very fast at all) and wipe off the milk spout from residue. When you're done I would suggest removing the milk container and placing it in the fridge to keep the milk ready for your next coffee.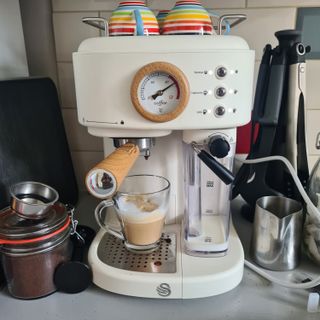 I would suggest wiping down the machine after each use. The finish is a soft-touch and I tested the cream model, which (as you'd expect) can discolour easily. For a more low-maintenance option take a look at the darker colours in the line: the green or blue models.
As you may have been able to see in my photos, my Swan Nordic One Touch Espresso Machine was haunted by coffee grounds every time I used it. Every part of the process, from filling the filter and tamping down to emptying after use made things a little messy. Coffee grounds are easy enough to wipe away, but it does require vigilance before and after use.
Cleaning the Swan Nordic One Touch Espresso Machine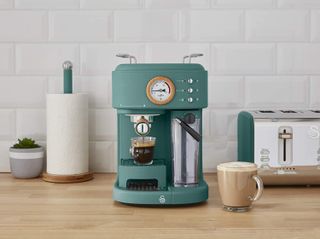 When it's time to clean your Swan Nordic One Touch the six lights will flash in an alternating pattern. To clean, you simply fill the water tank with 600ml of water, mixed with a de-scaling solution.
Cleaning mode is activated by pressing the latte and espresso buttons at the same time. After about half and hour you should fill the water tank with clean water and press the cappuccino and latte buttons. You should have the milk container in place but empty, and it will tart to de-scale by releasing hot water and steam. When done, it will enter standby mode.
Real Homes verdict: should you buy the Swan Nordic One Touch Espresso Machine?
Retailing for around £150, I think this is an incredibly reasonably priced coffee machine given the quality finish and looks. Who do I think it works for? Students and those who aren't coffee devotees but enjoy a good brew. If you fancy yourself a home barista then I would advise you opt for something with a milk wand where you can hone your skills, but I would definitely have bought this coffee machine when I was a student. It makes milky brews that are perfect for taking in a to-go cup and its espresso shots are delicious and perfect for a shock of energy.
The whole process is convenient. From assembly to cleaning, it doesn't make you work too hard. The one exception is cleaning, because you need to remove coffee grounds from your kitchen counter, and wipe down to avoid any staining.
About this review – and our reviewer
Millie Fender is an ecommerce editor at Real Homes, specialising in small appliances and all things cooking. She loves putting new products to the test, whether they're air fryers, blenders, or even pizza ovens, and her family and friends love eating the results.
As with all of our product reviews, Millie put the Swan Nordic One Touch to the test in her own kitchen over the course of about a month. Millie has a constant stream of new products waiting to be reviewed in her kitchen. It's a little snug, so if she thinks anything deserves to stay there, you know it's something special.