The Shark Genius Pocket Mop System S6002 aims to make steam cleaning easier, with a stripped-back design that prioritises power over handheld abilities. It's one of the most popular steamers by Shark, a cleaning giant, and rates highly in reviews from users.
A crowning feature of the Shark Genius Pocket Mop System S6002 is the Touch Free Technology, which means you should never have to pick up a dirty pad from your floors again, in theory. There's also a turbo function, with a built-in Steam Blaster that gives a more concentrated hit for tough stains.
When it comes to ranking the best steam cleaners, it'll be no surprise that Shark range usually comes out favorably, as they also do where the best vacuum cleaners are concerned. We put this model to the test at home to see just how simple it was to use and to see if it created the gleaming results we needed.
Note: I tested the US version of this model, the Shark Genius Pocket Mop System S6002. In the UK, there are varying models of the Shark Genius, with the product with the closest resemblance being the Shark Genius Hard Floor Cleaning System S5003D. Both purchases come with two Dirt Grip Pads, the Steam Blaster function, touch-free technology, and three different Steam Control settings, making the differences between them negligible for the purpose of this review.
Shark Genius Pocket Mop System S6002 specifications: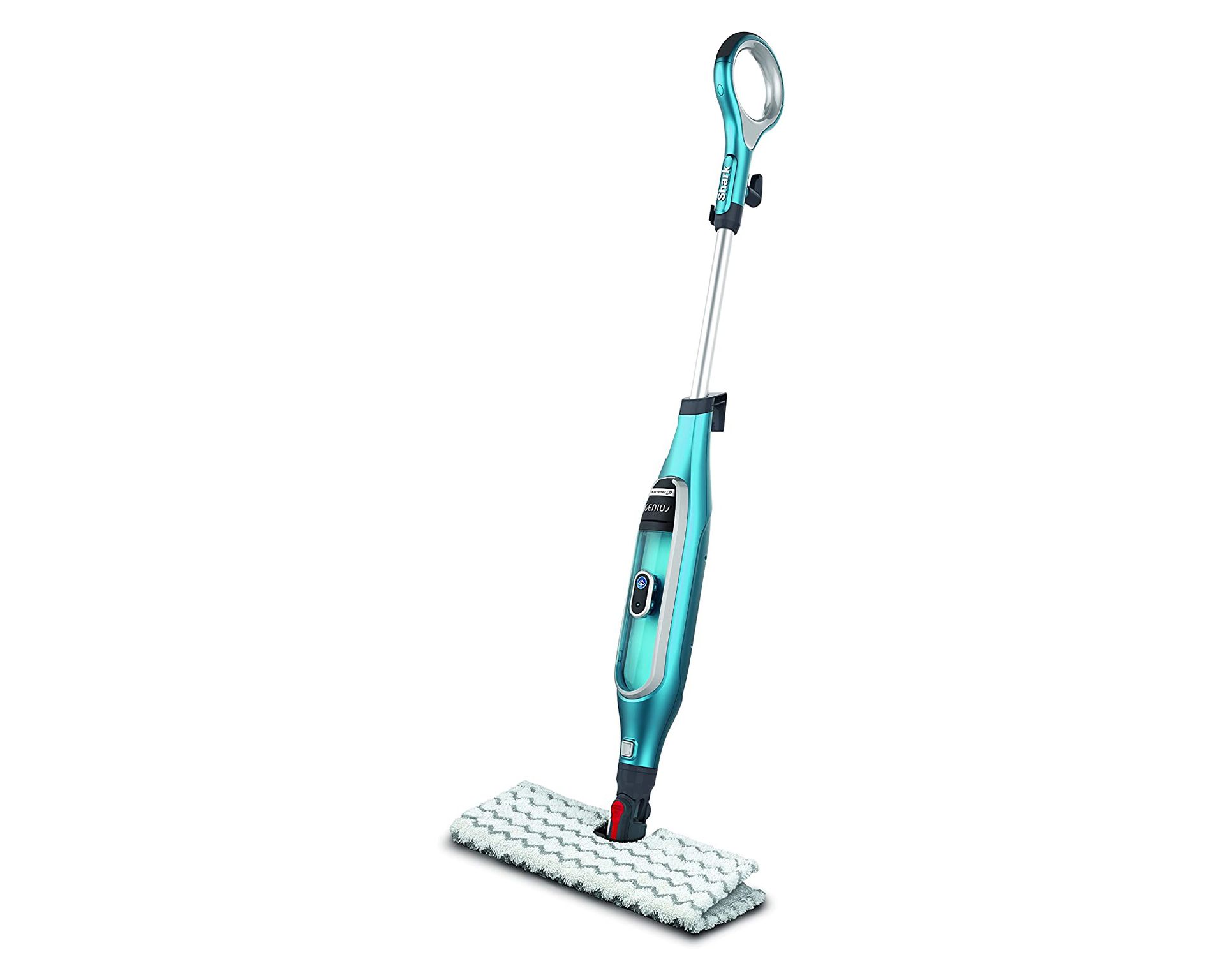 Cord length: 22.4 ft.
Water tank: 11.8 oz.
Power: 1200W
Heat-up time: 30 seconds
Weight: 5.78 lb.
Warranty: 1 year
Molly is Ecommerce Writer across Homes shopping content, spending time reviewing products to see if they can earn a place in buying guides. She regularly tests cleaning products and appliances for our reviews. This steam cleaner was tested in her home, as you'll see from the photos. Molly was able to keep the review product and will be able to update her review over time.
Unboxing the Shark Genius Pocket Mop System S6002
This steam cleaner arrived in a compact, slim box. Unlike other cleaners that I've tested, this cleaner has more of a simple design, meaning that there wasn't the extra weight or complication of lots of attachments. In the box, you'll find a Genius mop head, the body of the Spray Pocket Mop, a water filler, two Dirt Grip Pads, and an additional Triangle Scrubber Head with a Triangle Scrubber Pad. It ticks the boxes for those looking for an uncomplicated mop, as well as one that won't be a headache to store.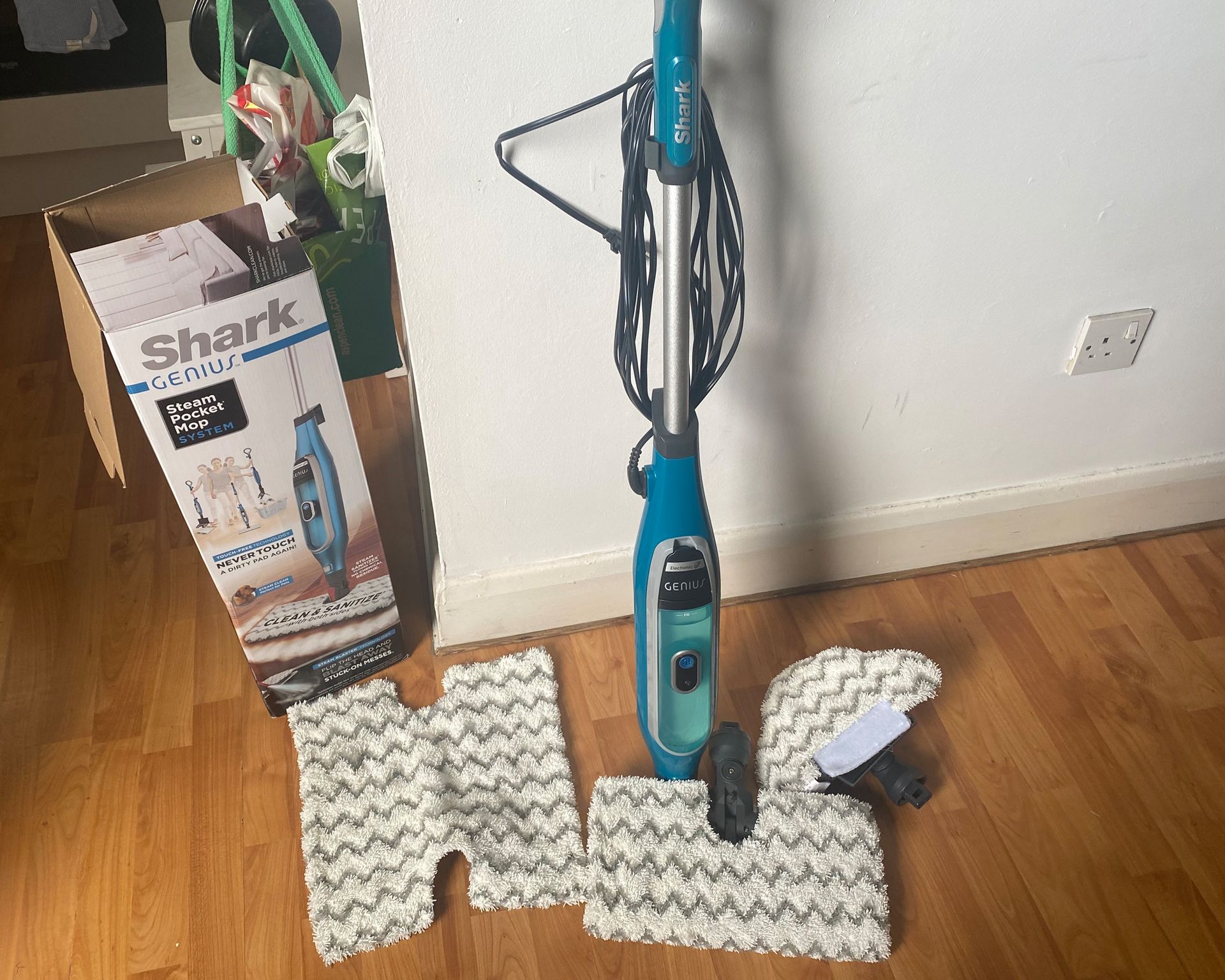 Who will the Shark Genius Pocket Mop suit?
If cleaning and sanitizing your floors is the only – or most important – thing you want from your new steam cleaner, then the Shark Genius Pocket Mop is a no brainer for you. It has an easy, simple to use design and no-nonsense assembly process, and is equipped with features to make the bad parts of steam cleaning better (like the pad removal). It's also perfect for those who want an easy to store cleaner, with no attachments to clutter your place.
What's it like to use the Shark Genius Pocket Mop?
It's crucial that you ensure that you've attached a Dirt Grip pad to the main unit of your cleaner before you get started. When that's done, you can move on to fill up your tank using the container provided. This cleaner just uses water, rather than a water and detergent mix, and the brand recommended using distilled water specifically.
Once turned on, the unit warmed up quickly, and you simply press the only button on the unit of the mop to get started. As is standard practice when using a steam cleaner, I moved this mop back and forth to get the steam flowing, and that was as complex as the standard cleaning mode got. There's no control panel with this cleaner, so you can't pick between modes or choose a function – you just get a standard cleaning experience. However, for tougher stains, there is the option of using the Steam Blaster feature, to give you an extra burst of steam. To activate this, you flip the head of the mop back, and then bring the handle down. That means that the steam comes out unfiltered (rather than through the floor pad) in a larger burst. I used this on areas of high traffic on my floors (near my front door namely) and I was impressed with the results, and how you can see the steam working on your stains.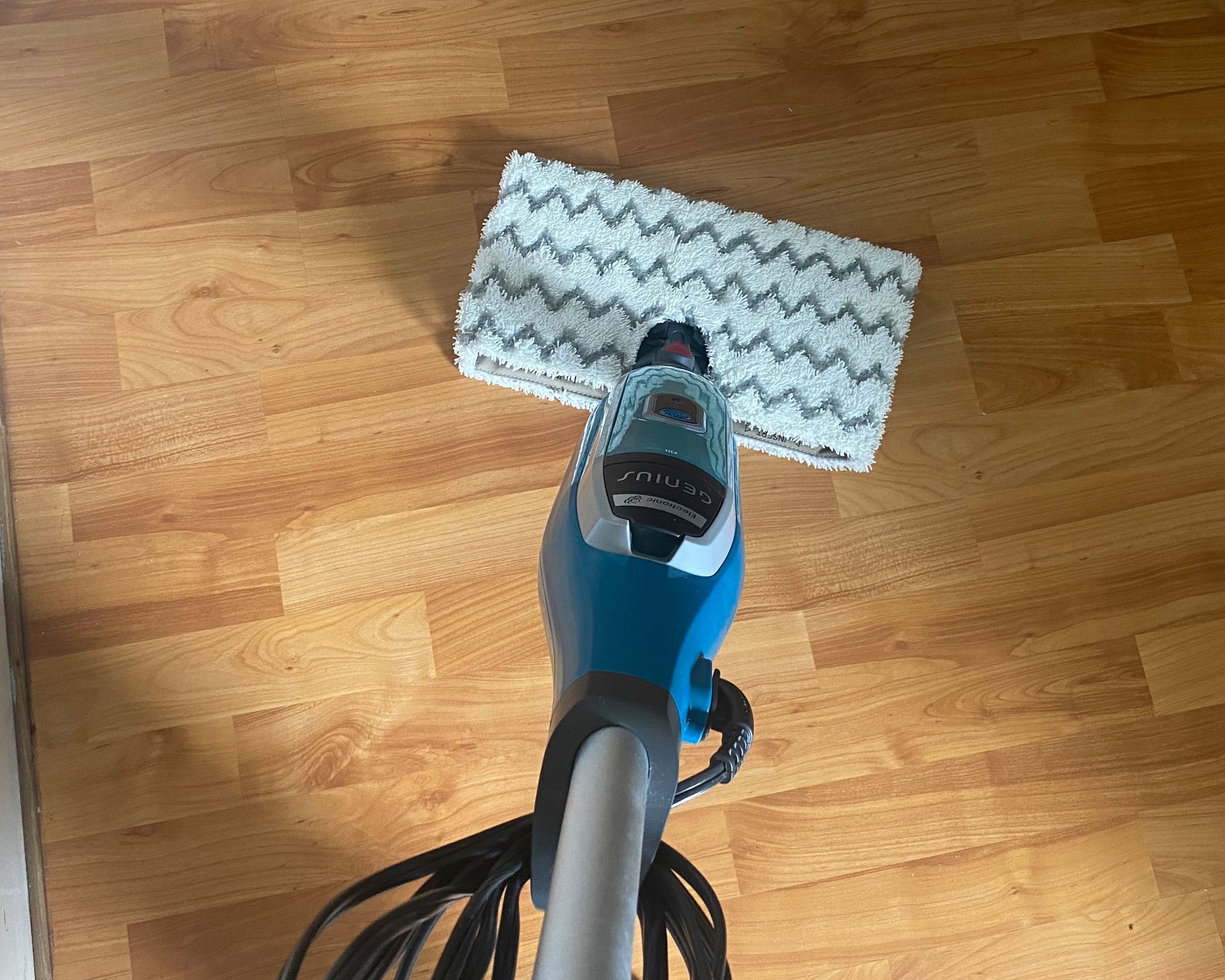 Using this cleaner is really easy. The curved handle is comfortable to hold, and it's lightweight enough to get around my floors without feeling laborious. The steam that's emitted is electronically controlled, so there's no user input needed. This simplicity is reflected in the RRP, as this is one of the most affordable models on the market.
There are no added tools or nozzles for using steam in your kitchen or bathroom, meaning this cleaner is confined to just your flooring. That's a contrast to other models, such as the Karcher SC3 Easy Fix Steam Cleaner, which is kitted out with hand nozzles and round brushes to get in and scrub away dirt and grime on taps, wall tiles, and much more. Whether these added extras are for you is entirely down to personal preference, but it's worth knowing that they are not included here.
One benefit of this cleaner is the additional Triangle Scrubber Head, which is designed to make struggling with cleaning corners a thing of the past. It is similar in style to the design of the Vileda Steam Cleaner that we also highly rate. It works exactly the same as the normal mop head and has its own scrubber pad that you can throw into your washing machine when it needs a refresh. Changing between mop heads is really easy thanks to the Mop Head Release Button too, meaning you won't need to force the different attachments on or off.
This cleaner is slim and small, but it does lose points for the fact it's not amazing at standing up on its own, thanks to the big circular handle. This won't be a problem if you plan to hang it in your utility cupboard, but it will be annoying if you are just thinking of leaning it somewhere.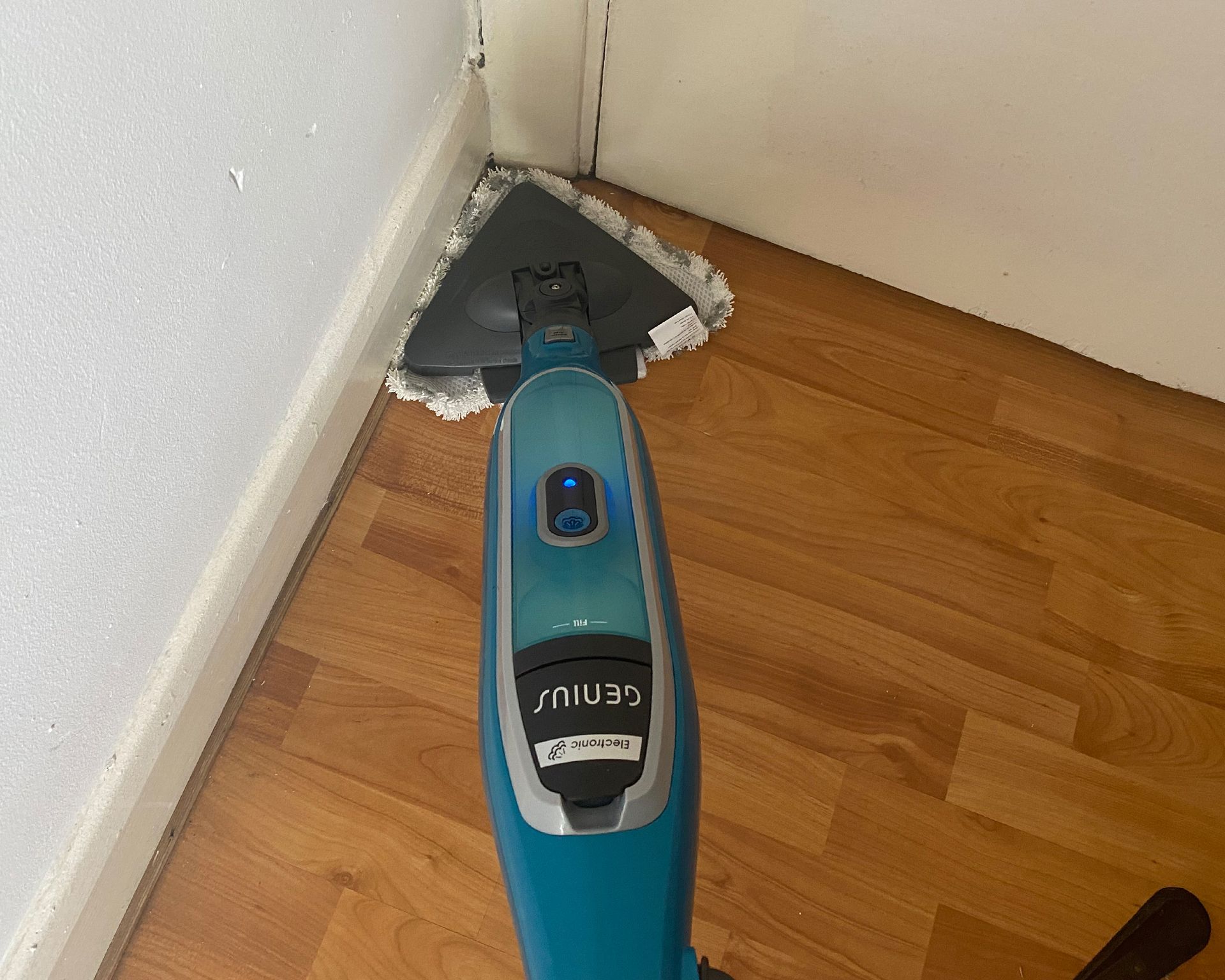 Cleaning and maintenance
Emblazoned on the box of this cleaner and on its online listings is the claim that 'you'll never have to touch a dirty pad again', as it has an ejecting function. Once I'd finished mopping I tested this out, by turning off and unplugging the unit, and then holding the cleaner over my washing basket, and pressing the release button. As was claimed, the mop head dropped open, and the pad released, meaning the only job left to do in the cleaning process is to put a wash cycle on. The fact the clean up of the mop is as painless as using it, gets the seal of approval from me.
How does it rate online?
The Shark Genius Steam Pocket Mop System (S6002) rates favorably on Amazon, with 4.6 stars out of five awarded by 441 reviews. The phrase I found most in positive reviews was 'easy to use', with a large group of reviewers also finding that this model offered excellent cleaning power. The feature that allows easy changing of pads is also popular, as it also means that customers don't need to touch hot pads at all.
Those who were less impressed with this cleaner felt restricted by the lack of power modes and settings, and that there's no off switch on the unit, meaning it must instead be unplugged at the wall to stop the power flow.
How does it compare to similar models?
The principal difference between the Shark Genius Steam Pocket Mop System and other steam cleaners is that it does not convert into handheld mode, and it does not have additional attachments. If that is what you're looking for, then a model like the Ewbank Dynamo Multi Tool Steam Cleaner will be more suitable, with a real array of tools to use around your home including brushes and attachments for glass.
If you're principally interested in a cleaner that's just for floors, then it has to be said that this Shark model is really the only option occupying that space on the market. For a similarly lightweight tool which has great cleaning power, then the Bissell PowerFresh Slim 3 in 1 Steam Mop is really excellent for sanitizing your floors, but you will have to pay a little more ($164.79) due to the fact it does also have attachments. Comparably, the Shark Genius Steam Pocket Mop System is a lot less expensive, with an RRP of $129.99.
Is the Shark Genius Pocket Mop worth it?
If you are purely looking for a hard floor cleaner, then the Shark Genius Pocket Mop will tick all of your boxes and is worth your investment. It has a design that truly prioritizes making your life easier when it comes to cleaning, and has impressive results. It's true that the ejector function means you won't need to touch dirty pads again, and the Steam Blaster can really help to eradicate stubborn stains. If want to make a simple, straightforward purchase to help you with your floors, then this is most certainly it.