Call me out on this if I'm wrong, but how virtuous do you feel when you sip on an ice-cold, freshly-pressed juice? It's like, "Hey, body: Here are some liquid nutrients that taste good, too!" But wow, the price of even a small serving at a trendy bar is enough to make me choke on my green goddess. Hence the need to find the best juicer to blitz my fruit and veg in the comfort of my own home.
Let's be clear, the Sage 3X Bluicer (aka the Breville 3X Bluicer outside of the UK) is expensive at almost $650/£300, which is a lot of money. But when you consider the cost of a high-end juicer and a separate blender, the figures start to stack up and the price doesn't seem quite so outrageous. Plus, think of the storage space you would need to have for two of these appliances in your kitchen. I'm not sure about you, but I don't have enough cabinet or countertop space for both, so when I had the chance to review the 2-in-1 Sage 3X Bluicer, I practically jumped for joy.
Yes, I used the Sage 3X Bluicer at home for a week and made all sorts of drinks in my quest to try out all of its functions. I was surprised by how much I liked it. It's undoubtedly one of the best orange juicers, but it's also great for so much more than that.
TLDR: What I thought of the Sage 3X Bluicer
If you're a true juice aficionado, you won't be happy with the juice yields from the Sage 3X Bluicer, which are lower than you'll get from a top-end masticating or slow juicer. The blender is far more capable than I expected, and while the centrifugal juicer isn't as efficient as a slow or masticating juicer, it's still a great option for most juices.
All in all, if you switch between juices and smoothies and you like to have the option of either — this is the perfect all-in-one drinks solution.
Testing the Sage 3X Bluicer juicer-blender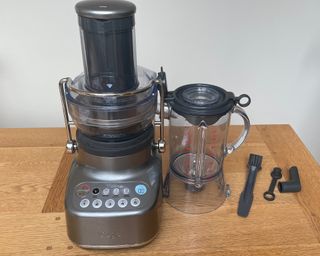 Reviewed by
Reviewed by
Helen has been reviewing kitchen appliances for over 10 years and has reviewed many juicers during that time for a variety of different publications. She reviewed the Sage 3X Bluicer at home for a week, using it to juice apples, oranges, vegetables, and raspberries. She also made a smoothie, chopped nuts and ice, and made frozen drinks. Her favorite recipe is a mixed juice that contains some lower-sugar ingredients, such as leafy greens and ginger, for a punchy flavor.
The techy stuff
Centrifugal or Masticating: Centrifugal with cold spin technology
Material: Plastic
Capacity: 1.5 L/ 50 oz juice jug with lid and 3000 ml/100 oz pulp container
Feeding tube: 88 mm/3.5 inches
Power: 1000 W
Dishwasher safe: All parts except food pusher
Other features: Five speed settings and four one-touch programs
Unboxing the Sage 3X Bluicer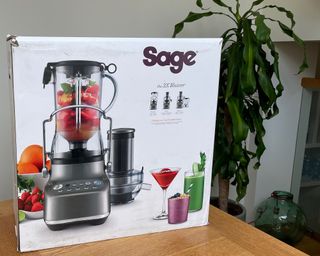 The Sage 3X Bluicer comes in a hefty box that gives more than a hint about the size of this appliance. However, I cannot tell you how frustrated I feel when I open a box and find an appliance encased in huge chunks of polystyrene. Most brands do now use cardboard inserts instead, and I really hope Sage catches up with its competitors soon, because sadly this packaging is mostly destined for the landfill.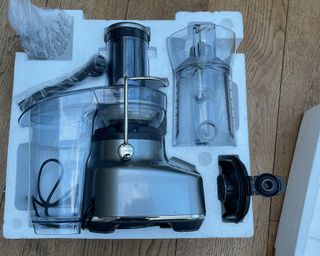 Once everything was removed from the box, I was struck by the size. I'd love to tell you that this blender and juicer in one will save you counter space, but it's quite bulky and it easily takes up as much space as a compact version of each individual appliance. Having said that, the benefits of its size are twofold. Firstly, the parts are all well-built and chunky, so there are no small fiddly bits to contend with. Secondly, the juice and pulp containers are huge, which is great if you like to juice for a crowd or you've got a bumper crop of fruit to juice.
The main motor part is weighty, which immediately gave me confidence that it's well-built and won't move around on the counter. The large pulp bin sits behind it and the dual-purpose blending jug is interchangeable with the juicer attachment, but it also acts as the juice container when placed under the juice outlet.
In the box, there's a cleaning brush as well as a juicing nozzle so you can direct the juice straight into your own glass if you prefer, perfect if you're only making enough for one. A removable rubber drip stop plug is a thoughtful extra and means you can stop those sticky juice drips from gathering on your counter after you've removed the jug.
First impressions of the Sage 3X Bluicer
I'm surprised at how intuitively all the juicer parts slot together and I like that the blender jug doubles as the juice container. The controls are all very simple, too. There are five speed settings, and each button has a small illustration of a fruit or vegetable to give you an idea of what it's best used for when juicing.
How to use the Sage 3X Bluicer
There's a reassuring safety arm that has to be locked onto the blender or juicer, depending on which accessory you're using. When the blender is in place you can select one of the four auto blending programs which are; smoothie, ice crush, frozen cocktail, or auto clean. Alternatively, you can opt for one of the five speeds, it's worth noting that there's not really a pulse button, but the ice crush program pulses on and off in a similar way so can be used instead of manual pulsing.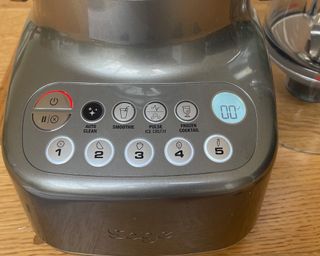 A small round screen shows a timer that counts down if you use the auto programs or up when blending or juicing using one of the five speeds. All-in-all, I got to grips with it very quickly and can happily report that everything is pretty straightforward to use and assemble.
Making apple juice in the Sage 3X Bluicer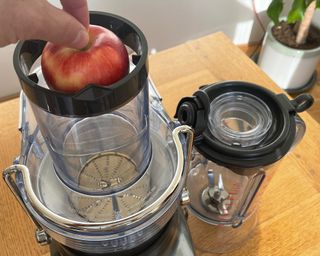 The large feeding tube means my apples don't need chopping into pieces before juicing, which is already a great selling point of this juicer. I followed the recommendation in the manual and used speed five, which is the fastest. I popped the apples in whole but quickly realized I also needed to insert the pusher to stop them bobbing around and force them through the juicer. I also realized quickly that the jug has to be pushed very close to the juicer so the juice spout is in as far as it'll go, or some juice splashes out. Nevertheless, it was a pretty speedy process and the four apples were juiced in under 40 seconds.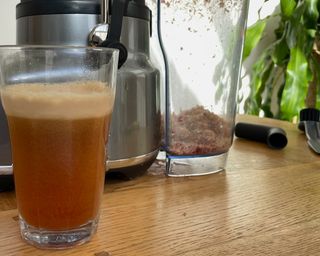 The juice was deliciously sweet and fresh tasting. It was virtually smooth, but there was a slightly powdery mouthfeel from some minute pieces that had made their way into it. As is often the case with centrifugal juicers, my glass of juice was topped with a thick layer of foam.
On close inspection of the waste in the pulp container, I could see some chunks of apple, which means it wasn't extracting the maximum amount of juice. Having weighed both my apples and the juice produced, I worked out that the juice weight was 60% of the original apple weight, so 40% of it was ending up in the trash. When compared to other juicers I've recently reviewed, this is a low yield.
At 80 dB it wasn't exactly quiet, but it was fast, so you don't have to put up with the noise for long.
Making orange juice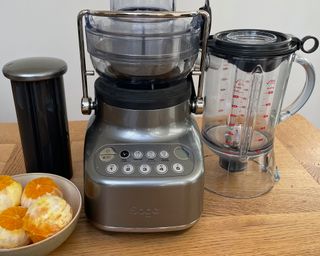 For this favorite breakfast-time drink, I peeled four oranges but left them whole. I used the slowest speed as per the guidance in the manual and inserted the oranges two at a time before pushing gently with the pusher. It took just 25 seconds, which is fast. I did have to be on the ball and insert the pusher quickly after each orange to avoid splashes coming out, but I was ready, so that wasn't a problem.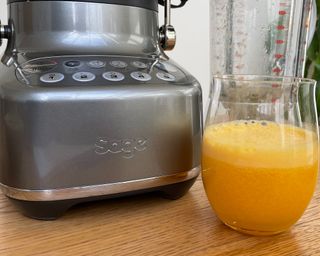 Once again, the juice was frothy on top and this time the juice yield was slightly lower at 58%, which is a low yield once again. Like in the apple juice, I could taste a few tiny pieces of the orange pulp, so it wasn't 100% smooth, but that doesn't bother me personally.
As it's a slower speed it was slightly quieter at 70 dB, which is similar to a vacuum cleaner, but again, I'd say this doesn't feel loud since it's so quick.
Making vegetable juice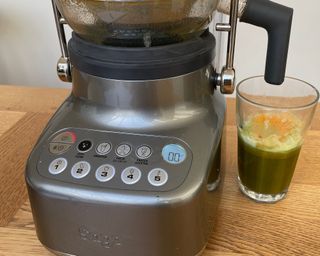 I juiced up a healthy selection of vegetables, including celery, spinach, ginger, and carrot to add some sweetness. I left the carrot and the celery stalks whole and used two pieces of ginger the thickness of my little finger.
I wasn't sure how best to approach it since each of these vegetables has a different speed recommendation in the manual. So I started with the celery on speed two, then put it up to four for the spinach and ginger before finally switching it to five for the carrot.
This time, I used the spout and juiced directly into my glass. All in all, it took around 50 seconds and went straight into my glass without splashing anywhere.
It was frothy on top as I've come to expect from this juicer, though slightly smoother and cleaner tasting than the other juices above. Though the yield was only 56% — that beats the yield I got when making this juice in most other juicers — it's still a pretty impressive amount.
Juicing raspberries
Berries can be hard to juice, but since it has a berry setting, I thought I'd give raspberries a go. I set it to speed three and threw in 300 g/10.5 oz of fresh raspberries, which is a bit tricky because the motion of the juicer means some flick upwards again, so it's best to be as quick as possible and get the pusher in to avoid any splashing.
In around 40 seconds, the raspberries were juiced into a smooth, thick raspberry puree with absolutely all of the seeds removed. However, since the juice yield is just 38%, this is quite a wasteful way to consume raspberries.
Making smoothies in the Sage 3X Bluicer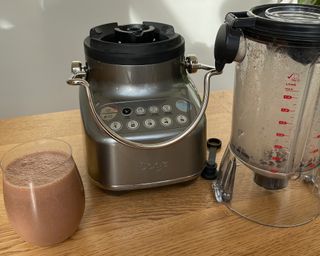 I made two different smoothies using the smoothie preset, the first was a combination of banana, cocoa powder, protein powder, and milk. The second was a trickier mixture containing milk, protein powder, frozen raspberries, ice, yogurt, oats, and nut butter.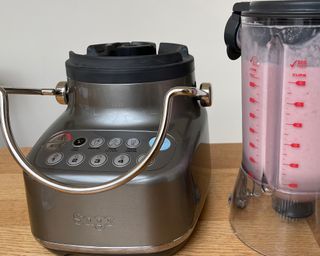 The 60-second smoothie program did a good job on both, blending them well and producing lightly aerated smoothies. It didn't pulverize the raspberry seeds but rarely have I come across a blender that does. However, it did completely liquidize the oats and ice, and there was not a hint of unmixed protein powder.
Crushing ice and making frozen drinks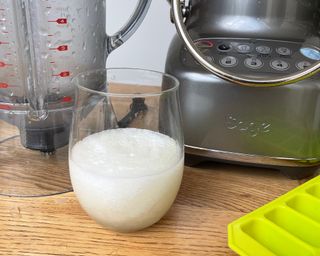 It crushed seven ice cubes in just 30 seconds. The ice crush program pulses on and off, and once started, the timer counts down from 60 seconds. I stopped it when I could no longer hear any large chunks of ice. The ice was fine and powdery, just what I was looking for.
I also made a frozen virgin margarita using the frozen cocktail preset. I allowed it to run for the full 45 seconds and when I poured out the finished drink it had the perfect slushy texture.
Chopping nuts in the Sage 3X Bluicer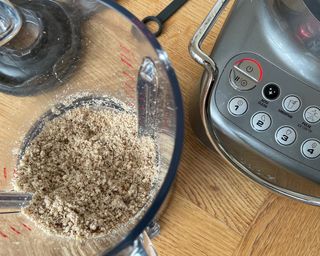 I've seen how well this blender copes with liquids, and I could tell from the smoothie results that it wouldn't struggle with soups and sauces. But I did want to try dry ingredients, so I threw in a big handful of nuts (including cashews, almonds, and pecans) to create a nutty powder that I could sprinkle on porridge or salads.
I opted for speed two for 30 seconds, stopped it, and gave the mixture a stir before putting it on speed four for just 10 more seconds. In the end, the nuts were fine and even, proving this is a capable blender that's not just for drinks.
How to clean the Sage 3X Bluicer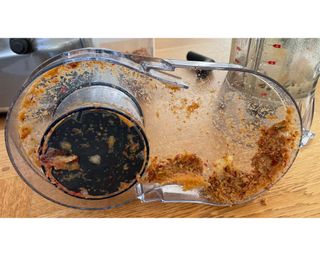 As juicers go, this one is easy to disassemble for cleaning. But due to its shape and the position of the spout, some juice is always left in the bottom of the filter bowl. In reality, it's only about one mouthful, but it's still a pain that it gets wasted.
There's usually some pulp collected on the lid of the pulp container, but once that has been removed and the pulp container is emptied, it can all go in the dishwasher, apart from the pusher, which needs rinsing by hand.
Washing in the dishwasher makes it very simple to clean, though the filter wasn't always completely clear of gunk after. Thankfully, the brush provided works well to scrub off any fruit fibers, and it's quick to clean. I washed all the other parts by hand several times, too, and most of it cleans easily with a quick rinse and a wipe.
There's also an auto-clean program to remove muck from the blender jug, so you've got plenty of options when it comes to de-gunking it after use.
How does the Sage 3X Bluicer compare to other similar appliances?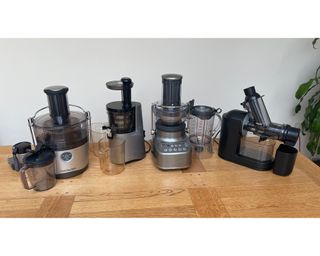 With so many kitchen appliances crowding our countertops, it's no wonder the manufacturers are trying to grab our attention with combo models. Some of the best air fryers feature multiple cooking modes and then there's the rise in popularity of multi-cookers too. But rarely do you see a good standalone juicer that offers more than one function.
Should you decide you'd prefer a slow masticating juicer instead, we'd recommend the Hurom H-AA Slow Juicer. It's another pricey option at $440/£389, but juice yields are good, and it's far more compact on the counter. It doesn't offer the option to blend, but it can make sorbets from frozen fruits, so it does at least offer slightly more functionality than your average juicer.
If you're looking to save money and aren't in need of a blending function, the Nutribullet Juicer Pro is a great budget-friendly choice. You can get it for around $100/£130, and for the money, it's a great juicer with surprisingly high juice yields.
Should you buy the Sage 3X Bluicer?
Let's put the expense to one side, because if it's out of your budget you probably haven't scrolled this far down the review. I'd say that this is a great all-rounder for anyone after an appliance that'll produce lots of different styles of drink, from juices to smoothies to frozen cocktails.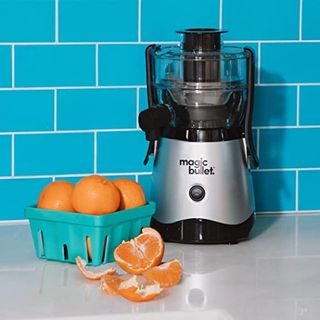 A compact, lightweight, and budget alternative

Type: Centrifugal
Dimensions (in): 7 x 6 x 11.5 in
Cord length (in): 39.73 in
Weight (lbs): 6.07 lbs
Power: 400 W
Jug capacity (fl oz): 16 oz
Read our Magic Bullet mini juicer review for more info.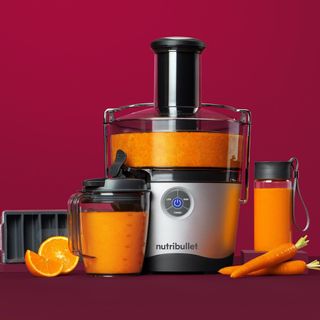 Our top-rated juicer

Type: Centrifugal
Material: Plastic
Capacity: 800 ml/27 oz juice pitcher with lid and froth separator. 2,000 ml/75 oz pulp container
Feeding tube: 76 mm/3 in
Power: 1,000 watts
Weight: 7.5 lbs
Dishwasher safe: All parts except the food pusher
Other features: Three speed settings, dual-size pusher
US model supplied with: Two 11-oz glass to-go bottles, 4-oz freezer tray, 2-oz freezer tray, and cleaning brush
UK model supplied with: 340 ml glass to-go bottle, 118 ml freezer tray, and cleaning brush
RRP: $159.99/£299.99

Read our Nutribullet Juicer Pro review for more info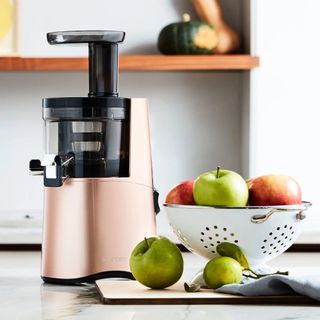 A slow masticating juicer alternative

Type: Masticating
Material: Plastic
US Color options: Matte black, white, rose gold
UK Color options: Red, black, silver, stainless steel
Capacity: 1000 ml/35 oz juice pitcher with lid
Feeding tube: Oval shape approximately 4 x 3.5 cm/1.6 x 1.4 in
Weight: 4.8 kg/ 10.6 lbs
Power: 150 watts
Dishwasher safe: No
Other features: Recipe book included, three strainers, one speed
About this review
After completing a home economics degree, Helen went on to work for the Good Housekeeping Institute and has been reviewing home appliances ever since. She lives in a small village in Buckinghamshire in the UK and was loaned the Sage 3X Bluicer by Sage Appliances so she could try it out in her own home.
Helen reviewed this juicer alongside three others for Real Homes, so she could make informed comparisons on the speed of juicing, juice yields, and ease of use. She might have felt like she'd been on a juice cleanse by the end had she not been heavily supplementing all this juice with copious amounts of cheese and mashed potatoes.