I don't think I'm alone in coveting KitchenAid's stylish appliances, with their streamlined curves and beautiful colors. The brand is known for producing practical kitchen appliances that tick the boxes for form as well as function. But they usually come with a price tag that can put them out of reach for some. And with most of the blenders available from KitchenAid costing several hundred dollars, the K150 is positively a bargain at under $100.
I was interested to see whether this budget-friendly blender would stack up against the more expensive models in the range, some of which I've had the privilege to try out in the past. It is the most basic blender you can buy from KitchenAid and as such it doesn't come with loads of accessories bundled in, nor is it the most powerful. But, not all of us need a super powerful, industrial-strength blending appliance, especially if it's just for the odd milkshake or batter.
I tried it out for a week in my home putting it to the test by blending everyday soups, smoothies, and more. For general blending tasks, it's certainly up to the job. Though if you're a serious smoothie enthusiast looking for the silkiest possible drink, or a budding chef, it might leave you wanting more. Read on to find out more about its strengths and weaknesses.
TLDR: what I thought of the KitchenAid K150 blender
The KitchenAid K150 is a good all-rounder and despite being low cost with just three speeds, it can blitz and liquidize its way through most foods and is more than capable of crushing ice. Whether you're making smoothies or soup, it'll get the job done. But the plastic jar isn't huge so if you're hoping to make big batches you may have to consider other models. That said, it's easy to clean and simple to use, plus, it looks nice on the counter.
Testing the KitchenAid K150 blender
After completing a Home Economics degree, Helen went on to work for the Good Housekeeping Institute and has been reviewing home appliances ever since. She lives in a small village in Buckinghamshire in the UK and was sent this KitchenAid blender on loan for a couple of weeks for this review.
Helen used this blender for regular everyday meals and snacks to see how it is in a real home environment. She left it on her kitchen counter for a week, using it in place of her normal go-to blender.
The techy bits
Material: BPA free plastic jar
Capacity: 48 oz blender jar
Settings: 3 speeds plus ice crush/ pulse
Power: 650 Watts
Dishwasher safe: yes
Other features: Intelli-speed motor control, soft start
Unboxing the KitchenAid K150 blender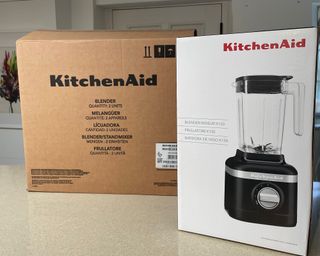 When the parcel first arrived, I was somewhat concerned as the box was way bigger than I would expect for a blender. But it turns out the inner box was a more typical size and for some reason, it was just packed in a secondary box that was double the size. When I opened the blender box and found the blender sandwiched between two thick chunks of Styrofoam it did make me audibly sigh with frustration. It's such a horrible packing material and I hope KitchenAid is working on replacing it with cardboard that's easier to recycle.
The blender lifted from the box fully assembled, I peeled off the stickers and rinsed the jar and lid to remove any dust and manufacturing residues, then it was ready to go. There's nothing else in the box other than a manual. And if like me, you already have an appliance for every possible situation, you'll be pleased by the lack of additional accessories. But if you do want personal blender jars, these are available to buy separately.
First impressions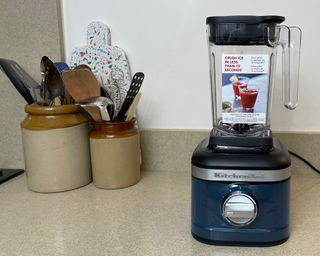 Unlike some of the more expensive blenders I've reviewed from KitchenAid, which consist of a heavy die-cast metal base, this one has a plastic base, so it doesn't have the same sturdiness. That's not to say it's flimsy or poor quality though and I do appreciate that when buying a blender for under $100 there's only so much you can expect. What you do get though, is the unmistakable KitchenAid style and that's a big bonus.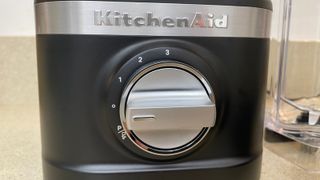 The chunky dial on the front of the base offers up just three speed levels or there's a dual-purpose pulse and ice crush setting. Not only are the controls simple, but the setup is too. There's no twisting to lock the jar onto the base, it just slots straight on and the handle can sit to either the left or right side depending on your dominant hand.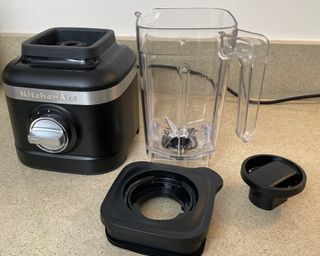 One of my main first impressions was that the jar is quite small, so it won't suit those looking to blend large capacities, but at 48 oz it's easily big enough for a couple of smoothies or a small batch of soup. The lid pushes straight down and has a lip on one corner to help with removing it, there's also a removable insert so that you can pour in extra ingredients without having to remove the entire lid.
Disappointingly though, it lacks any safety features to stop it being switched on when the lid isn't in place, which may be a consideration if you have little ones around.
Crushing ice and making blended ice drinks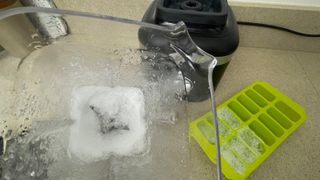 The pulse function doubles as the ice crush function, which means you have to hold the dial in place while blitzing or it automatically flicks back to the off position. To crush ice, the manual recommends 7-8 standard ice cubes at a time, so naturally, I chose eight.
I held the dial in the pulse/ ice crush position until there were no longer any large chunks of ice, which took just eight seconds. The result was perfectly crushed, snowy ice.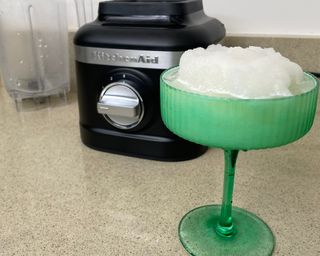 I also used it to make a blended frozen margarita-style cocktail. I added the ice and all the various liquids and used the ice crush function again. It was super effective and within 15 seconds I had a slushy blended frozen margarita with no chunky ice lumps.
Making smoothies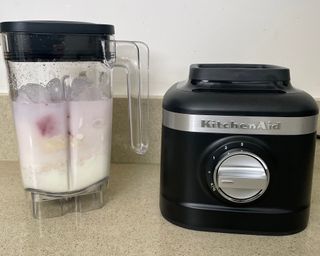 The first smoothie I made is a regular breakfast smoothie in my house. It contains coconut milk, oats, protein powder, peanut butter, yogurt, ice, and frozen raspberries. And I made enough for two hungry adults, which meant the blender was pretty much filled to its maximum capacity.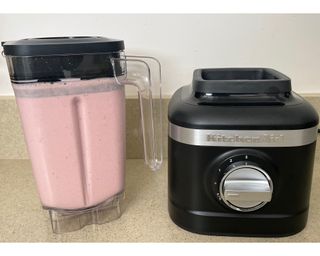 I started blending on speed one and gradually increased to max speed. After one minute I stopped it and tasted the smoothie, but it wasn't smooth enough. So I blended it for a further minute at the maximum speed which did the job.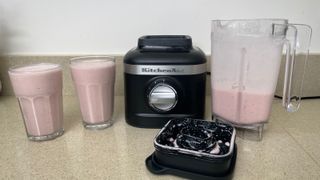 The texture was a little gritty, mostly due to the raspberry seeds which were still present in the drink. But overall, it successfully combined and liquidized all the ingredients into a tasty drink.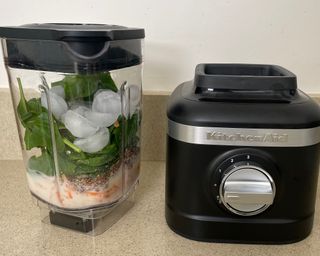 For my next smoothie, I blitzed almond milk, fresh spinach, shredded carrot, protein powder, sliced almonds, and crushed flaxseed with ice. Once again, I started the blender on speed one, but increased it fairly quickly to speed three. I blended it for around one minute, by which point I could no longer see any pieces of spinach or carrot, so that seemed like a good time to stop.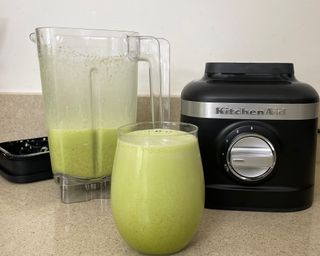 The finished smoothie was more aerated than I expected, and the texture was pulpy which I find is quite common when you add carrot. All of the ingredients were blended, with no obvious lumps or pieces of spinach leaf. Though I did notice some small gritty pieces of flaxseed and almond had settled in the bottom of my glass. Personally, I like pulpy smoothies and when I add ingredients like flaxseed and nuts I expect a bit of grittiness. But if you want a blender that can completely obliterate these ingredients into a liquid, this won't be the blender for you.
As you'd expect, it's at its loudest at the highest speed and hit around 83dB on my noise meter, which is a typical noise level for a blender, but not uncomfortably noisy. And the defined pouring lip on the jar makes it easy to pour out liquids without spilling or dripping.
Blending soup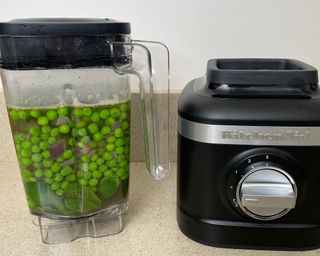 I made a speedy pea and mint soup, which is a regular lunch choice for me on account of it being so quick to make as well as healthy. Plus, it tastes excellent if you load it up with crumbled feta cheese and a sprinkling of seeds.
After frying some onion, I poured in frozen peas and some vegetable stock, then simmered for five minutes. The manual says the blender jar can be used for hot ingredients so long as the center cap stays in place and you start off at a slow speed. So I poured the hot pea and stock mixture in, added some fresh mint, and switched it on to speed one.
I quickly moved through the speeds so that it was blending on the highest of the three speeds. The cap in the lid allows steam to escape, which is essential for safety when blending hot foods.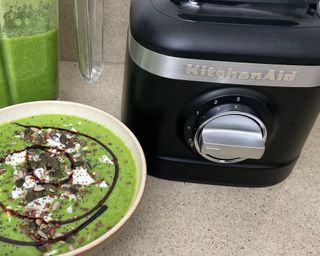 It took just one and a half minutes to blend up a full pitcher (about three portions) into a smooth delicious soup. There were no lumps or pieces of unblended peas or mint, it was a smooth soup made in under 10 minutes, what's not to love?
Cleaning the KitchenAid K150 blender
With three different ways to wash the jar, getting it clean is quick and easy. The most hassle-free option is to wash the jar and lid in a dishwasher. But I must say, it's not always necessary and washing it by hand is easy thanks to its small size. Unlike some blender jars, the blade assembly doesn't unscrew, so it helps if you have a dishwashing brush that you can use to remove residues from around the sharp blades. But the base is rounded so there are no areas for food to get lodged.
Alternatively, adding warm water and some dishwashing liquid and running it on speed 3 for 15-20 seconds is an easy way to loosen stubborn foods, so that all it needs is a quick rinse and wipe. Likewise, the curvy base and chunky control dial are easily wiped clean and rarely get dirty.
How does the KitchenAid K150 compare to other juicers?
If you can find a bit of extra cash in the pot, the KitchenAid K400 is a great upgrade. Not only does it come with a built-to-last diecast metal base, but there are plenty of color options to choose from so you can style it to suit your kitchen design. Furthermore, with five speeds as well as three auto programs to choose from, there's added functionality as well as a larger 56 oz jar. However, at $289.99 it's almost three times the price, which will be difficult to swallow if your budget is tight.
Alternatively, for those looking for a high-powered blender that can make nut butter, smoothie bowls, and blended drinks to-go, the Ninja Foodi Smoothie Bowl Maker and Nutrient Extractor is worth considering. This very powerful blender can blitz through the toughest frozen ingredients, and it'll only set you back an extra $20. The downside is that it doesn't come with a full-size blending jar.
Should you buy the KitchenAid K150 blender?
If you want to adorn your kitchen counter with a covetable KitchenAid appliance, this blender is an affordable way to get there. But it's more than that, it's a decent blender that will cover the majority of your everyday general blending requirements. But, if a large capacity is important to you, or if you really want a high-powered blender that is capable of pulverizing and liquidizing even the toughest ingredients to a silky-smooth liquid, you'll probably need to spend a bit more to get a model that meets your needs.