We took the Ninja Foodi Smoothie Bowl Maker and Nutrient Extractor blender for a test drive these past few weeks, and it did not disappoint. For anyone looking to consume more fruits and veggies, the smoothie bowl maker helps create the thick açaí bowls and icy smoothies you'd find at a fancy juice bar. Ninja touts that you can make creamy nut butters and bowls so thick they won't fall off of your spoon. Does the real thing live up to the hype?
Check out our buying guide for more of the best blenders.
Ninja Foodi Smoothie Bowl Maker and Nutrient Extractor: Design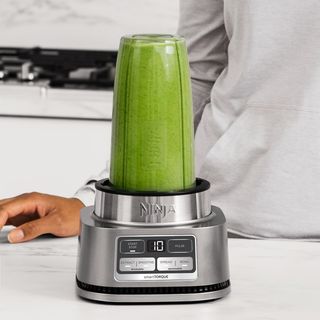 Though there are no crazy colors to choose from, the Ninja Foodi smoothie maker is exactly as it should be: sleek and compact. The silver base is light enough to carry with one hand, and it comes with three attachments.
You'll find two cups and one bowl, each with a handy to-go lid so there is no need to dirty another dish for your smoothie. Both the cup and bowl attachments screw into the same blade, which easily fits into the base. The base also has suction cups at the bottom so it won't wiggle while you work.
The cups are a sturdy heavy plastic, and the thick black to-go tops feel luxe and sophisticated enough to rock at spin class.
What is the Ninja Foodi Smoothie Bowl Maker like to use?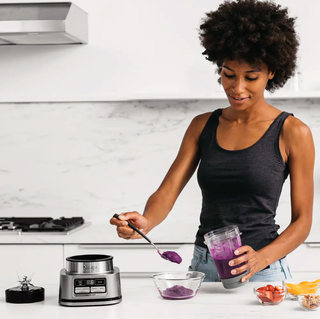 The Ninja Foodi smoothie maker is a cinch to use, but you will want to give the instructions a quick read before you begin. It's a bit different than your typical blender.
For starters, you'll notice that the blade is not attached to the base. First, you'll fill the cup with your desired contents. Then, screw on the blade, flip the cup upside down, and connect it to the base. Now you're ready to blend!
From here, the Ninja Foodie smoothie maker functions like your typical blender. It has four easy functions: Extract, smoothie, spread, and bowl. Extract is for making drinks from fruits and veggies. Smoothie whips together frozen fruits and veggies with your favorite milk or yogurt. Spread allows you to make your own nut butters. Bowl uses frozen fruit (or açaí packets) and a little bit of liquid to make thick smoothie bowls.
For extract and smoothie, just use the normal cup. Select your function and let the Ninja Foodi smoothie maker get to work! It will count down the time and automatically shut off when it's finished.
Bowls and spreads require the special bowl, which allows you to blend ingredients with very little liquid. With this, there is one extra step. Simply turn the top of the attachment counter clockwise while blending. (There is an arrow on top to help you remember the direction.)
When you're done, spoon out the contents and sprinkle with your desired toppings.
How well did the Ninja Foodi smoothie maker perform?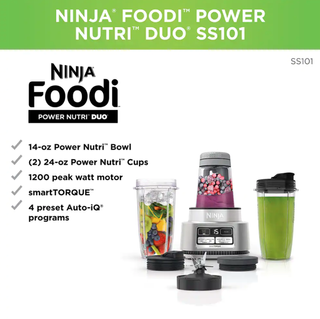 We've tried in the past to make smoothie bowls in traditional blenders, and they're just not up to the task. You have to add so much liquid that the result requires a straw, not a spoon.
The Ninja Foodi smoothie bowl maker delivers. We added almond milk to the "liquid fill line" and then topped with frozen fruit to the "max fill" line. The result was thick and creamy. It could handle plenty of toppings — we opted for nuts, coconut flakes, and banana slices — for a satisfying breakfast.
One thing to note if you plan on using the pre-frozen açaí packets: Be sure to follow the instructions on the packet and let it thaw a little before use. (In a pinch, run under some warm water.) Then, break the packet into a few pieces so it fits nicely in the Ninja Foodie smoothie bowl attachment. Finally, take care not to pack fruit above the "max fill" line, or you won't be able to screw on the blade.
Aside from bowls, we used the Ninja to make delicious smoothies, baby food purees with the extract function, and a dang good frozen margarita. Through it all, the 1,200-watt motor lived up to its promise of never stalling out.
Who would the Ninja Foodi smoothie bowl maker suit?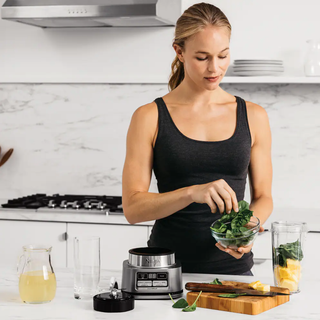 The Ninja Foodi smoothie bowl maker is great for anyone looking to get more fruits and veggies into their diet. It's perfect for making smoothies and healthy treats, and the to-go attachment is ideal for busy adults on their way to work or the gym.
The extract function is also a great source for making baby food purees. We added a little breast milk to thin it out, and found we could skip the "strain" step entirely — it's that smooth! So for busy moms and dads who are looking to eat healthy and serve there little ones more fruit and veggies, it's a no brainer.
What don't we like about the Ninja Foodi smoothie bowl maker?
The Ninja Foodie smoothie maker is exactly what it claims to be. If you're looking for a blender to make a big pot of soup for the family, it's not going to be the best tool for the job.
The bowl attachment is designed to make one bowl at a time. Depending on how large of a smoothie you enjoy, the smoothie cup is big enough to fit two servings, but you can't whip a big batch at once. But don't worry, it works fast (about 30 seconds), so you can make margaritas for a crowd in a few minutes.
You also have to take care not to put frozen fruit past the fill line. This can be difficult with bigger pieces like large strawberries. To fit more, we like to add bigger pieces first and then fill the empty space with small things like blueberries.
Is it worth the money?
At just around $100, the Ninja Foodi smoothie bowl maker is a bargain. Fancy juice shops can charge $10 and up for açaí bowls, so you'll quickly earn your money back on this one. Plus, it comes with a one-year warranty for peace of mind.
Ninja Foodi Smoothie Bowl Maker: Where to buy
About this review & reviewer
Ann Loynd Burton is a freelance writer and new mom. She puts products to the real-life test in her home in Connecticut as part of the Real Homes' Real Reviewers team.