After using the GHD Helios for a while now, we've decided that it's the very best hair dryer you can buy. Not only does it perform well (on all hair types, too) but it's easy to use, it looks the part and it boasts several settings. It also comes with attachments and it's pretty durable. In other words, it ticks all our boxes.
What about the price? It retails at £159, but should you be after a discount it might be on sale for Black Friday. See our GHD Black Friday page for deals.
We tested the GHD Helios hair dryer on past-shoulder length, pretty thick hair, so the hairdryer had a lot to take on. Keep scrolling to read our thoughts on the GHD Helios.
GHD Helios: specifications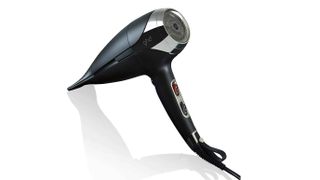 Colours: 6
Attachments: 3 (one included)
Speeds: 3
Heat settings: 3
Cool shot function: Yes
Cord length: 3m UK, 9ft US
Weight: 0.78kg
Plug: UK three pin or US two pin
Who will the GHD Helios suit?
The GHD Helios will suit anyone with hair! Obviously if you have thick hair then it will take a little longer to dry than someone who has fairer hair, but it will cater for anyone.
GHD Helios: setup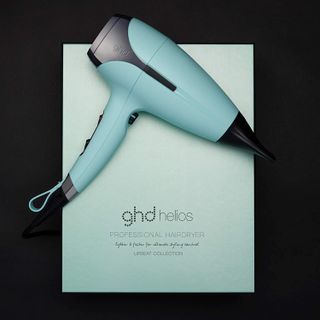 Once you've removed the GHD Helios from the lovely box it arrived in and unwrapped it from the plastic bags (not ideal but there were only a few, and they could be used for something else) then you're golden. It was a bit tricky to put the nozzle on – push don't twist – but that, and plugging it into the mains, was the only real part of setting up.
GHD Helios: heat settings and performance
The GHD Helios offers a range of heat settings and speed settings, including a Cool Shot function. It benefits from two buttons on the back of its handle – one for heat with three options, another for speed with three options.
Performance-wise, this hair dryer offers speedy drying no matter your hair type. When used correctly, you will also benefit from zero flyaways and zero frizz, too. More on that below.
GHD Helios: ease of use
Using the GHD Helios was a dream. It has a mega powerful airflow of 120kmh, which took me by surprise the first time I tried it. My hair, which usually took a good few minutes to get dry-to-the-touch, took less than one minute with this hair dryer. And I was blown away to see that I had NO flyaways and NO frizz.
What I would say though is that on initial power up, on the top power control, I noticed that there is a split second time lag until any air comes through. After this though, the hairdryer is super quick to get up to temperature (there's two to choose from, plus a cool shot) and blow dried my hair in no time at all.
Also, since the GHD Helios comes with a concentrator nozzle, it's easier to use. You can also get a diffuser nozzle for it, too. See how to use the GHD Helios below.
GHD Helios: design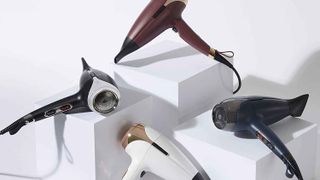 Hair dryers are very much an accessory, rather than a tool, now so when I saw a selection of colours available to choose from it instantly caught my attention. I tested the GHD Helios in the ink blue colourway, but it is also available to buy in in mint, white, black, plum and powder pink. The varying colours of the plastic shell is also covered in a smooth coating that feels almost like silicone to the touch, which gives it a wonderful, luxurious feel.
It does have a fairly well balanced design when holding, but what I would say is that it was a little heavier than what I was expecting on initial pick up. This is something you do not notice, however, when drying your hair.
The GHD Helios also has a 3m long cable which is ideal if your mirror is some distance away from your plug like mine is.
GHD Helios: verdict
In GHD's own words, 'For your most glamorous blow-dry to date...', and I would agree, if it was bought for me as a gift. Retailing at £159 for just the hairdryer, let alone any accessories you may require to buy with it, the GHD Helios certainly wouldn't be an impulse buy but is one which is to be considered an investment. It is a really brilliant example of hairdryer engineering, and it certainly worked wonders on my hair. It does come with a two year manufacturer's guarantee so it would be a confident purchase, too.
GHD Helios: where to buy?
You can buy the GHD Helios from a range of retailers – UK and US. See them below and click through to buy.
Also read...