We've been reviewing the GHD Rise – GHD's newest hair tool around – for a while now and we've been happy with the results so far. The GHD Rise is a hair curler, and there's no doubt in our minds that it's one of the best hair curlers out there. It's safe to use – no plate or wand to burn yourself on – while it heats up super fast. We can completely understand how this hair tool sold out upon release. Not only that but it'd make a great Christmas present, too.
What's the price tag? This hair tool retails at around £169 so you'll want to make sure it's definitely for you before investing. Or, you could wait until Black Friday to bag one at a discounted price. See our GHD Black Friday page for deals.
It's worth us noting that we've tested the GHD on both long and short hair – I had a hair cut while testing – which is rather thick and very untameable, yet super flat. We have also tested it on super frizzy hair to see how it performed. See how it fared below.
GHD Rise: specifications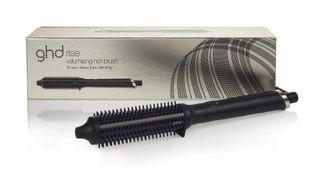 Temperature: 185°C
Barrel size: 32mm
Heat up time: 25 seconds
Sleep mode: 30 minutes
Cord length: 2.7m
Who will the GHD Rise suit?
The GHD Rise will suit anyone who is seeking to add more volume to their hair. Also, it's quite easy to use and is definitely better for your hair than a curling wand. It's also very lightweight so is great for those who are less abled or elderly. We would, however, suggest avoiding it if your hair is super long, as it's definitely much easier to use on shorter hair styles. Also, should your hair be the knotty type, then you may want to steer clear of this hair tool.
GHD Rise: heat setting and performance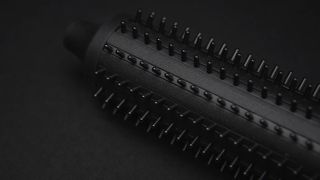 The GHD has one temperature setting – 185ºC – and it works at that setting very well. We tried this hair curler on two different types of hair and both times it performed fast. You only need to hold your hair around the barrel for 10 seconds maximum for results. The GHD Rise has one button – a power button – that once clicked will make a noise. Once it's hot, after waiting for 25 seconds, the GHD Rise will make another noise to alert you. Performance-wise, we rate the GHD Rise well – it definitely works up to our standards. Due to its design and the fact it brushes your hair while styling, the GHD Rise gives very sleek looking results that stay put for quite a while.
GHD Rise: ease of use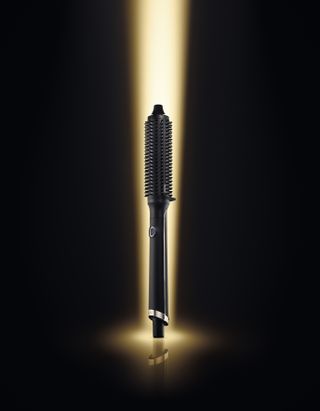 Depending on your hair length, the GHD Rise is easy to use. For longer hairstyles, it can be easy to tangle your hair but for those with short locks, the process is easy. This hair curler can be used in a number of ways and it features a cool tip to give you more control. It has a long swivel cord for ease of movement, too, while its barrel features bristles to brush through your hair as it curls it – these bristles sit 5mm apart. The GHD Rise is also very lightweight so can be used by almost anyone – holding it for too long needn't give you a dead arm. When using this hair curler you'll need to keep popping it down to section your hair, so it has a built-in stand so as not to damage your surface or floor.
GHD Rise: how to use
Designed for use on dry hair only, the GHD Rise can be used a number of different ways. You can definitely experiment with the GHD Rise, depending on whether you would like curly hair or voluminous locks, or even both. When using this hair curler, you will need to section your hair – the smaller the chunks, the better – to get the best results. And you definitely need to ensure it's knot-free before using. Before curling any section of your hair using the GHD Rise, you'll want to run it through it first (with the brush sitting underneath your hair) for a smoother result and to get rid of frizz. Here are a few ways to use the GHD Rise:
GHD Rise: pros
There are so many good points about the GHD Rise, however, the feature that stands out the most to us is that it's not as damaging to your hair as a curling wand or hair straightener. This is because your hair doesn't sit directly on a hot plate or between two hot plates. The bristles in the GHD Rise heat up and your hair sits around them to curl. Another thing to note is how good it is for use on frizzy hair. One brush stroke with the GHD Rise immediately eliminates any frizz from your hair. Unbelievable stuff.
GHD Rise: cons
The only thing we didn't like about the GHD Rise is that it does take some getting used to. You'll need to really experiment with this hair curler but once you find a method that suits your hair type and length, you're good to go. It also does take slightly longer than just curling your hair with a wand or tong, just an FYI. That and with all GHD products, you cannot change the temperature to suit your hair type. Annoying but it's not enough to put us off. And when the results are this good, we can hardly complain.
GHD Rise: our verdict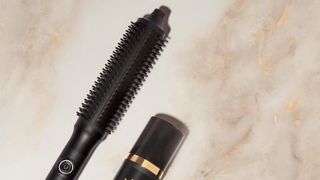 The GHD Rise is undeniably great for adding volume to otherwise flat hair. It can be easy to use depending on your hair length and it's great at eliminating frizz. It takes time to get used to and to use, so it's definitely not a good purchase if you are always in a rush. That being said it does give a great finish thanks to the fact it brushes and then styles your hair.
GHD Rise: where to buy
You can buy the GHD Rise from several retailers now. Find them all below and click through to purchase.
Also read...