Cuzen Matcha Maker Review: Quick list
I'm experienced in making Japanese green tea. So when I heard about the Cuzen Matcha Maker and caught a glimpse of this sexy little machine — I had to try it. Here's the thing I learned about this verdant brew: Powders oxidize quickly, which means it both loses its color and vibrancy, but also its taste and antioxidants. With this innovation, you can store and grind matcha leaves within the machine itself, sort of like a bean-to-cup coffee maker. To say I was intrigued was an understatement.
I've gone from using the Trader Joe's matcha latte mix (which I quickly abandoned when I looked at the added sugar) to trying out every variety of ground matcha from Whole Foods to finally finding a brand I liked from Amazon and putting myself on a recurring subscription. But, as I write this, I'm looking at my jar of ground matcha and realizing it looks kind of brown.
I knew going in that I was signing up for a single-purpose small kitchen appliance, but I was willing to dedicate the counter space. When you live in a small home, you have to prioritize. Thankfully, though, this $299 matcha maker is petite. It also proves incredible taste can come out of one small, efficient machine. Curious to learn more? Let's spill the tea (couldn't help myself).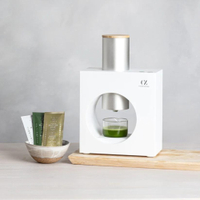 Cuzen Matcha Maker Kit | $299 at Amazon
This innovative and award-winning at-home matcha machine produces freshly ground matcha from USDA organic shade-grown Japanese leaves for less than $1 a shot or 85 cents if you take out a tea subscription.
What I thought of the Cuzen matcha maker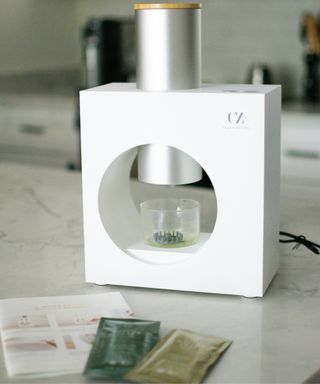 As I mentioned, I've made matcha many times at home before. And, inevitably, it always ends up grainy, with all of the matcha sinking to the bottom like sediment. Turns out my whisking skills are low to non-existent. For me, the Cuzen Matcha Maker is a game-changer.
While no matcha machine is going to ensure there's absolutely no powder sinking to the bottom, the problem is nearly eliminated with the Cuzen Matcha Maker — that or it's not an issue because I'm drinking it so quickly (because it's so good!). The matcha lattes I've been whipping up, including the iced mint matcha latte I'm sipping on right now, are barista quality. Because they're made with fresh leaves, they aren't overly sweet or too watery and bland. They are just right — the Goldilocks of matcha, if you will.
Using this machine is actually foolproof. There are only two buttons. Strength and start. It could not be easier. As long as you figure out how to pour the matcha into the top and put the whisking cup, filled with water, on the bottom — you're good.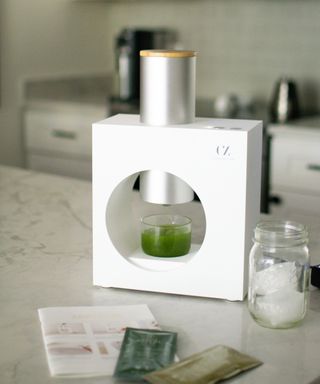 The matcha that comes out is a brilliant and bright green which is exactly how you want matcha to look. It's strong enough to stand up to lattes, and I love that it can be lukewarm or used in a similar fashion to one of the best iced coffee makers, which is perfect since I typically prefer an iced matcha latte (served in those Ball mason jars you might have seen on Amazon or something from our best iced coffee cup edit). The taste is mild enough that it doesn't need sugar, and I actually found that adding a little bit of sugar was too much. I like it as is.
This machine is also gorgeous. The circular design that lets you see the whisking cup is striking and sculptural. This is, hands down, the prettiest kitchen appliance that's ever graced my countertops.
Testing the Cuzen matcha maker
Hey, I'm Heather, a lifestyle and commerce writer based in Washington, DC. This matcha maker was sent to me by Cuzen, and I tested it out daily for several weeks before writing this review, eagerly trying out everything from straight shots to iced matcha lattes and beyond. I've continued to use the machine and will keep this updated if my thoughts or opinions on the beverage maker change.
Cuzen matcha maker specifications
Model name: Cuzen Matcha Maker Starter Kit
Dimensions (in.): H13.4 x W8.7 x D4.7
Shot size: 2 fl. oz.
Weight: 4.6 lbs.
Unboxing and assembling the Cuzen matcha maker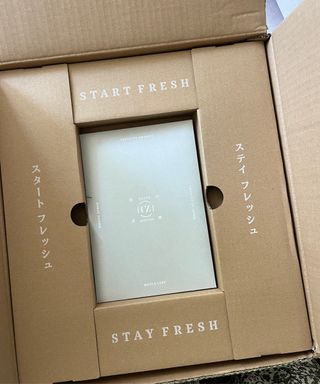 I'm big on minimal packaging and Cuzen made my anti-waste heart sing. The machine was snuggly tucked inside the box but with minimal extra packaging. Just enough to keep it from bouncing around and to protect it on its journey to my home.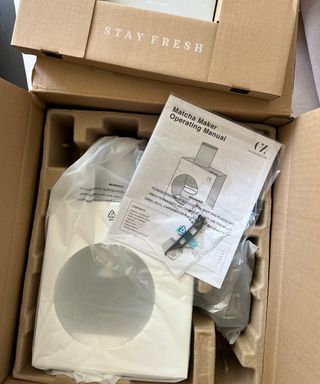 Once I took it out of the box, I made the best discovery. The Cuzen Matcha Maker comes fully assembled. You pull it out of the box and it's ready to go.
Normally, that's a huge plus. It makes life easy. However, I do wish there had been just a tiny bit of installation involved. I didn't try to take it apart until after I'd made my first batch of matcha, and I was definitely a little confused about how the mill pieces fit together. I think if I'd had to snap the inner workings into place from the beginning, it would have been easier than reverse engineering. But, hey, I can't complain about not having to do any work, right?
The Cuzen Matcha Maker Kit also comes with three 4-gram packets of different matcha leaf blends. There's the premium matcha leaf, signature matcha leaf, and latte blend matcha leaf. A single packet makes up to four cups, depending on the strength you choose, but you can buy additional 20-gram matcha leaf packets for $30 each, which make up to 20 cups. That's a heck of a lot cheaper than the $5 matcha lattes ($6 if you count tip) that I get from the coffee shop around the corner.
Using the Cuzen matcha maker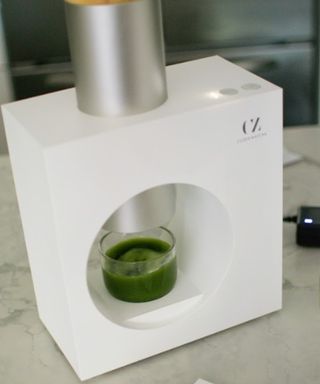 I actually ended up being confused by how simple the Cuzen Matcha Maker is to use. I wanted it to work like a coffee maker, where you pour water into a tank, and out comes the delicious liquid. Nope. This is the exact opposite.
Instead, you fill the small plastic whisking cup with water up to the fill line, which is approximately 2 fluid ounces, exactly what you'll need for a shot of matcha. They recommend room temperature or cold water, though you can use water up to 175 degrees Fahrenheit, just short of boiling.
There are indentations in the cup that make it easy to line up right below the dispenser. This is easy in theory, but it took me a few tries. Now I've got it. You'll also notice a plastic whisking device in the bottom of the cup — that's what will do all the hard work.
At this point, I kept leafing through the booklet looking for an exact amount to pour into the mill for a cup of matcha, but, no, it's easier than that. You pour an entire packet of matcha leaves into the ceramic mill at the top, then put the lid back on, creating an airtight seal. It stays fresh in the machine for up to 60 days.
Next, you choose a level of strength, from one to three. Level one uses 1 gram of matcha in 2 ounces of water, level two is 1.5 grams, and level three is 2 grams. I usually opt for level three to give my matcha enough flavor to stand up to milky lattes.
Press start, and you're off to the races. The machine starts whisking, and ground matcha powder is gradually dispensed from the mill. The powder is so fine, 20 micrometers, that you'll barely notice it, though you will notice the water, like magic, becoming a deep, vibrant green. You'll hear a beep as the machine slows down and, voilà, your matcha shot is ready to be enjoyed or poured into a hot or cold latte (my matcha preference).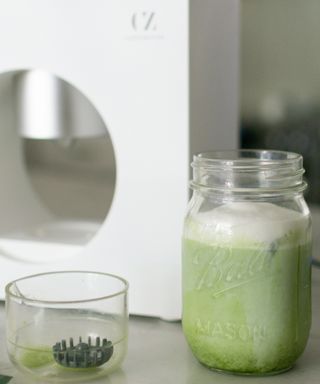 Cleaning the Cuzen matcha maker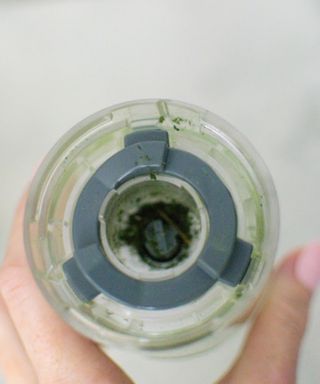 On a daily basis, you'll only need to wipe the machine and nozzle and clean the whisking cup. However, every time you go through your leaves, or approximately every 60 days, you'll want to disassemble the entire mill, taking care to separate the lower and upper mills. This includes using a screwdriver (like this Amazon bestseller) to separate the plastic parts — see, these things really are airtight!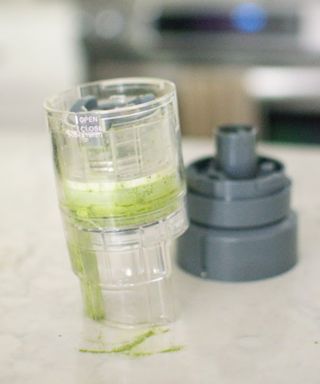 Each piece should be cleaned with dish soap (Method's Lime and Sea Salt pick on Amazon complements the green vibes), warm water, and a dishwashing brush (or get an OXO Soap Dispensing Palm Brush from Amazon).
Rinse thoroughly, then tap to make sure all water is removed before patting to dry, then set out to continue to air dry. Let them air dry for at least eight hours — any moisture can damage or clog the mill. Reassemble, and you're back in action! There are also in-depth instructional videos on the Cuzen website.
Is the Cuzen matcha maker right for you?
At $299, the Cuzen Matcha Maker is a little bit of a splurge for a machine that has only one use. But, if you're someone who regularly springs for matcha lattes at $5 or $6 at a local coffee shop — then the ROI is definitely there.
The matcha that this machine whips up is as good or better than anything you'll get from a barista, and you can make it yourself. Rarely do I have the time to go get a matcha in the morning, and now I don't have to.
Plus, with the petite footprint and under-five-pound weight, this machine won't take up much room on your countertop, and it's also easy to bring out when you specifically want to use it. The final verdict? If you're a matcha lover, this is the machine you may not have realized existed, and you 100% need.
Good to know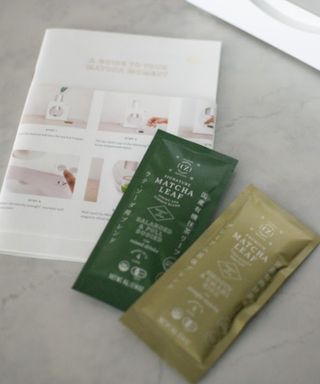 Instructions
The Cuzen Matcha Maker comes with an easy-to-follow booklet that's just as clear and simple as the machine itself.
Warranty
A one-year warranty from the date of purchase is included with the Cuzen Matcha Maker.
Where to buy the Cuzen matcha maker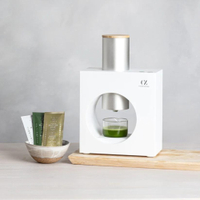 Cuzen Matcha Maker Kit | $299 at Amazon
This innovative and award-winning at-home matcha machine produces freshly ground matcha from USDA organic shade-grown Japanese leaves for less than $1 a shot or 85 cents if you take out a tea subscription.
The Cuzen Matcha Maker is available to buy directly from the retailer or via its Amazon storefront.
How we test matcha makers
We have a set process for our reviews at Real Homes. As is the case with all products we review, we match the reviewer with the matcha maker.
Here are a few things I like to look out for when testing products:
Unboxing: We review the product's packaging, how well it protected the product during shipping, and how sustainable it is. This might include, for example, how much cardboard it contains, as well as how easy the machine's setup is.
Operation: How reliably and consistently does the machine perform? How loud is it?
Beverage quality: Considerations are made to the overall quality of the beverages produced. We looked for issues like watered-down beverages and evaluated beverage temperature and consistency.
Ease of use: In a nutshell, we look at the overall experience of using the machine, including factors like how simple it is to understand the settings, and how easy it is to fill and use the product.
Ease of cleaning: With cleaning being such an important element of maintaining a machine like a matcha maker, it's important to focus on how easily the components can be removed and maintained for long-term use.