Before you call in the professionals, take a look at our Bissell Hydrowave Ultra Light Carpet Washer review for a tool which will deep clean your carpets AND area rugs.
I've been testing this washer in our home for the past month or so which comes out of its storing stand once a week to give our tired bedroom carpets and (slightly) nicer rugs a rinse through. It's been challenged with spills, mud, dust and hair – all the elements which accumulate during the week – to give you the lowdown on just how effective this appliance can be around your home.
Looking for a vacuum cleaner to complement this cleaner? No worries: check out our best vacuum cleaners guide for more top choices which we have tried, tested and rated.
Bissell Hydrowave Ultra Light Carpet Washer specifications
Cord length: 6 metres
Power: 385 watt
Dirt capacity: 0.6 litres
Noise: not available
Energy rating: no ratings available
Water capacity: 1.7 litres
Brush roll type: Rotating PowerBrush
Dimensions: H112 x W38 x W25cm
Weight: 10.2 Kg
Who would the Bissell Hydrowave Ultra Light Carpet Washer suit?
The Bissell Hydrowave Ultra Light Carpet Washer would be well suited to homes with young children or pets, where dirt is unpredictable and constant. It is great for keeping on top of regular mess.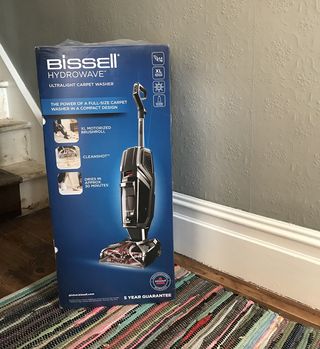 Arrival and setting up the Bissell Hydrowave Ultra Light Carpet Washer
The carpet washer arrived well packed and it would be an interesting task to repack it in the same way, because it was so good. Minimal plastic-insulation type packing was used and the plastic bags were kept to a minimum, although I'm sure that these can be avoided now. But, just like the Bissell CrossWave Cordless 3-in-1 Multi-Surface Cleaner I reviewed recently, the picture-led instructions were pretty hopeless to follow for assembly which rely entirely on the interpretation of the reader so it's anyone's guess. We got there in the end by slotting in the stick handle to the main body of the mode and attaching the waste water vessel and formulae water tank.
How easy is the Bissell Hydrowave Ultra Light Carpet Washer to use?
From here on in, it was onto how it performed on our flooring. We have (horrible) carpets, ceramic tiles and wooden flooring, so a good mix. For the purpose of this review I tested it on the carpets AND area rugs which we challenged with all sorts of dirt, grime and hair. Fortunately we had just finished decorating our bedroom so it was nice and clear to take the washer for a walk around the room with no obstacles. It was quite heavy taking it up the stairs to the bedroom, loaded with a full water tank and all, so if you tend to struggle lugging things up and down it's something to take into account.
And yes, it is corded BUT the cable is long so you won't be too restrained – although perhaps on the stairs depending on where your sockets are – and really, it's not that bad if you're used to a cordless vac like us as you just get used to it again. It got very close to the skirting boards which is down to the XL brushbar and clever floor head design. There's a little light on the floor head which is lights up when you hold down the button to release water, which I guess is to see what's on the floor at lower light levels – but other than that I'm not too sure what the benefit is.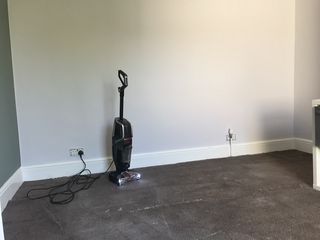 Getting to the nitty gritty...there are two settings: Express Clean (for every day slips and spills) and Deep Clean (for an intensive clean). I used both of these on my flooring, which were both pretty loud as the vac was switched on and running across the floor, yet had varying results of performance.
How it performed...
Deep Clean made the carpet REALLY wet and drank the entire 1.7 litres of water in the tank when I was only half way across the 140 square-foot room. Express Clean, however, was better. The setting didn't drench the carpet and it did help to bring out the not-so-lovely brown colour, too. However, it took a couple of hours for the carpet to dry, which is far off the stated 30 minute dry time on the Bissell website.
What I noticed when in use is that soggy clumps very quickly formed when going over the low-pile carpet. Admittedly I hadn't vacuumed the carpet before using the carpet washer on it BUT even when I did in high traffic areas and in our large bedroom, there were still a few clumps of wet matter left behind when walking around with it. It was pretty gross.
Hitting the Express Clean button again turns off the carpet washer, then you click the stick back to upright so it stands on its own. Just be wary that you will then be left with a damp patch where the carpet washer is standing – seems to be that when clicking it back up to an upright, standing position it squeezes the water out, so the floor will need a pat down in that area to manage the damp patches. It does make the room smell a little fresher though, if anything.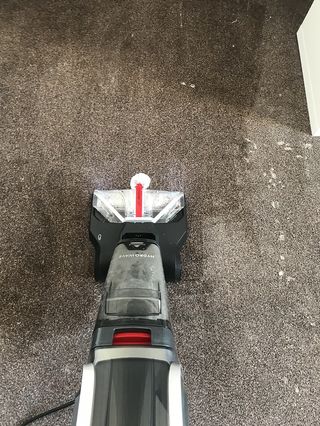 Anything else?
One final thing to note is an added feature on the carpet washer called CleanShot. This is a jet mounted on the top of the floor head which gives a little squirt of the water and cleaning fluid mix out in front of the floor head which can target more stubborn spots and stains. I challenged this the bedroom carpet. It made the carpet even more wet and I can't say it did anything. Nice feature but, like the floor head light during testing, not too sure how this helps to better clean the floor.
Storing the Bissell Hydrowave Ultra Light Carpet Washer review
The carpet washer comes with a plastic base which has room to stand the washer upright where it can dry off, and a place for the brushbar so it can drip dry after a rinse. This doesn't take up much room at all so can be positioned in the corner of the room out of the way from the hustle and bustle of home life.
The six-metre-long cable is neatly stowed with a couple of clips on the stick too so it's out of the way and, come to think of if, can act as cable holder if you're not using the full length of the cable when in use.
Cleaning and maintaining the Bissell Hydrowave Ultra Light Carpet Washer
So I know this may seem a little counter-intuitive but the carpet washer needs a little wash, too. This will keep it looking shiny, smelling fresh and gunk-free. I advise to give it a little rinse after each use so it's ready to go when you next need it.
The waste tank at the front and any formulae left in the tank at the back will need an empty down the drain, and the brushbar will need a rinse and de-hair with the plastic tool OR just pull it out with your fingers which I personally found more effective.
How does the Bissell Hydrowave Ultra Light Carpet Washer rate online?
Looking at the reviews on Argos, customers have given the carpet washer 4.5 out of 5 stars overall. Comments include how easy it is to use, how lightweight it is and how pleased they are with the results on their carpets. Seems to be a popular choice for customers with cream carpets with one reviewer commenting how pleased she was after only using once. We have cream carpets' which were in dire need of cleaning after having plastering done last year and it did a good job. There does seem to be a trend that the instructions are not clear and the waste water tank is small though.
Over at Amazon, the Bissell Hydrowave scored 4 out of 5 stars. Reviews echo those on Argos about it being lightweight, easy to use and how it performed so well. One reviewer has commented that they managed to remove some tough mud stains away from their hallway carpets.The instructions (once again) and lack of tools for awkward spaces received some flack, however.
How does the Bissell Hydrowave Ultra Light Carpet Washer compare to others on the market
The main things I'm looking at here is the price and weight. Price wise the carpet washer is pretty much on par (albeit at the more expensive end) with other leading brands such as Vax who have the Vax Platinum Power Max Carpet Cleaner priced at £249, and the Vax Rapid Power Plus Carpet Cleaner for £199.96. Comparably the Rug Doctor Deep Upright Carpet Cleaner is retailing at £249.99 in the sale but usually retails at over £350, so worth a look at when on offer.
Looking at these same models for how much they weigh the Hydrowave is one of the heavier, too – despite being advertised as lightweight. During testing I did find that it certainly had some weight to it, especially when the tank was filled with water. For your own piece of mind, the weights are as follows; Vax Platinum Power Max Carpet Cleaner (9.6kg), Vax Rapid Power Plus Carpet Cleaner (8.4kg) and the Rug Doctor Deep Upright Carpet Cleaner (14.25kg).
Our verdict
Simple to set up, mega easy to use and at a relatively competitive price point, the Bissell Hydrowave Ultra Light Carpet Washer would suit homes with carpets or large rugs which are prone to lots of foot steps and paw prints. It's advised not to use on hard flooring as it is a bit of a hazard because it gets so wet, and the drying times on can take several hours so it is something to be done on a day when you don't need to access the room for a while. Overall, however, it's a buy we would have in our homes to help keep the carpets looking like new.
More on vacuum cleaners: