Want to add a carpet cleaning appliance to your household, but not sure which one might be right for you? The Bissell Proheat 2X Revolution Pet Pro could be the solution, with options for deep cleaning carpets and upholstery, as well as an express mode for smaller areas and to quickly clean up spills and stains. If you find spot cleaning with carpet solution just isn't cutting the mustard (ketchup, coffee and chocolate stains...), then the best carpet cleaner is a must.
With a toddler and two cats, my cream carpets were looking a little neglected, so a carpet cleaner was a welcome addition to our home. This is the first carpet cleaner I've tested, so here is the lowdown on how easy it is to use, how effective it is on new and old stains and whether it is a worthwhile buy for your house cleaning arsenal, for the price.
Bissell Proheat 2X Revolution Pet Pro carpet cleaner specification:
Maximum power: 800 watt
Cable length: 7m
Dimensions: 38 x 32 x 110 cm
Weight: 7.94kg
Noise: not available
Capacity: 3.71 litres (dirty water); 3.71 litres (clean water and cleaning solution)
Warranty: 6 years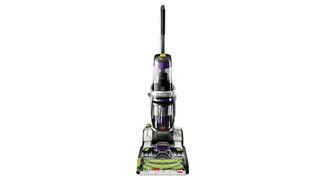 Who will the Bissell Proheat 2X Revolution Pet Pro suit?
Those with busy families and messy pets, wanting both an instant and more intense cleaning solution.
What is the Bissell Proheat 2X Revolution Pet Pro like to use?
As someone who had no prior experience with anything other than vacuums for cleaning carpets, the instructions were going to be even more important. They say a picture speaks a thousand words – well unfortunately not in the case of the user guide for this machine! Luckily the safety instructions are written out in full, in both English and Arabic and there is a key to explain what some of the symbols mean.
From pages eight onwards, the instructions transform into a step-by-step picture guide, which is a great way of saving paper for multiple languages. However, being an absolute beginner at using a machine to carpet clean (I usually use bottled carpet cleaner and a cloth for quick spills), I was left longing for just a few words of instruction and ended up resorting to Bissell's YouTube page. Luckily they have short, handy videos to offer more of an explanation (and have racked up quite a few views, so I can't be the only one needing more info).
Setup
My partner was the first to use the machine and set it up in 15 minutes. Although compact in the box, the machine stands at 110cm tall and a screwdriver is needed to secure the handle. It might be obvious to some, but we also had to do a quick google to see if we had to vacuum the carpet beforehand, or if the cleaner had this as a function. The main carpet cleaner doesn't, so make sure you've vacuumed your carpets beforehand.
The water tank is easy to fill and is clearly marked to show how much water and carpet cleaning solution you need. The cleaner comes with three different types of solution and these can be easily added straight to the water tank with warm water.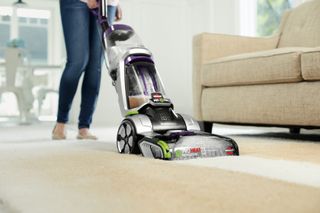 Cleaning carpets
We moved into our home in February this year and marvelled at the pristine cream carpets in the hallway, lounge and bedrooms. Then we remembered we had a two-year-old and two cats (the latter being less of a problem). We decided to test the cleaner on the lounge carpet, hall and stairs.
The cleaner has three modes – max, deep and express. The hall had some old dirt stains and the lounge carpet had some fairly new stains, ranging from chocolate milk, to coffee. Not knowing the last time the carpets were cleaned, I opted for the 'max clean' mode for both. The cleaner is very easy to use – you turn it on, press the pedal to release it from standing upright and then hold down the conveniently located trigger on the handle to spray soap and water. You release the trigger to suck up the residue, all whilst using the usual forwards and backwards vacuuming motion.
The two 'DirtLift Power Brushes', soon showed that they lived up their name as the dirty water tank quickly started filling up with filthy water and I could clearly see where I had and hadn't cleaned.
I finished both the hall and lounge in about 20 minutes, which would have been quicker, but I had found one downfall. Our carpet is short, but fairly thick and I had to keep pausing to pick up clumps of dirty carpet fibres that were coming off the brushes. I also found that if I didn't pick these up quickly enough, they would leave a dirty mark which I had to go over again.
A similar issue is when you need to pause or when you've finished. The user guide warns to not leave the machine running in the same spot without the handle fully upright. Even following these instructions didn't help that when the brushes come to a stop, they can leave clumps of carpet and dirty water behind, which again leaves a stain if not cleared straight away. My advice is to always stop the cleaner on a hard floor or have a towel or mat nearby to place the cleaner on when finished.
That being said, the carpets were all left feeling fluffy (once dry) and the pile was well restored. We think we would want to clean them this way every other month to every three months to keep them germ-free and looking their best.
Attachments: stairs, small spots and upholstery
The machine comes with multipurpose attachments in the form of a hose and various brushes that easily attach to the base of the machine. The stair tool is fantastic and like nothing I've seen before. It has a rotating head with brushes that clean the deep corners, the rounded edges and the flat areas. The trigger on the handle of the hose releases the soap and water and like the main cleaner, you use a forwards and backwards motion to remove the residue.
I used the smaller upholstery tool on some old stains on the rug in our hall. Although still visible, there was a clear improvement and I could see how easy it would be to use that tool on a sudden spill, without having to set the whole machine up.
Now for the real test – the dining room chairs! The pre-child me is screaming at my foolish self for ever picking cream upholstery for two of our chairs and bench, but they looked nice at the time. Now four years on, they were very dirty, due to the cats choosing the chairs as a comfy place to hide from my son and my son using the bench as his seat for dinner, painting and play dough activities.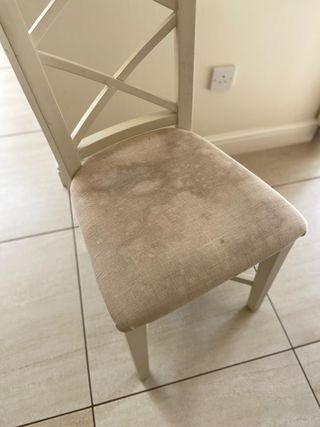 For this challenge I chose the 2-in-1 pet upholstery tool which has a switch to slide between a dry mode to vacuum and a wet mode for cleaning (only confirming this definitively by watching another YouTube video). The brush is equipped with rubber bristles that easily pick up pet hair. This is where I was most impressed as the chairs now look as good as new after cleaning them twice. It has also done a good job on the bench, removing water stains, tomato sauce stains and dried-on play dough. The only thing that it hasn't touched are the marks left by felt tips pens and paint, but even so, I'm very pleased with the result.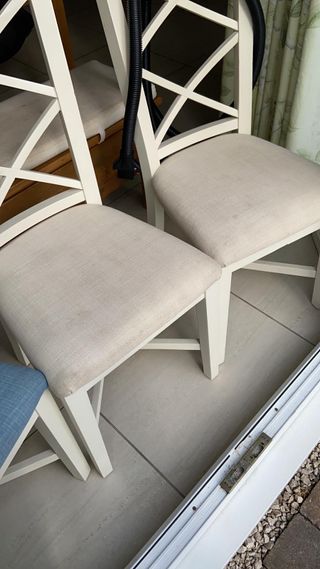 Stain and spill removal
The attachments definitely make cleaning spills a lot easier and certain stains such as the chocolate milk, coffee and tomato juice have been completely obliterated! Old stains may need to be pre-treated beforehand, but their appearance is definitely reduced.
To help with stains whilst using the main carpet cleaner, it has a handy CleanShot Pretreater pedal, which when pressed, squirts extra soap from a nozzle on the front of the cleaner. You can then go over this as normal. The user guide warns you (by means of a picture), not to overdo this function – and rightly so as it takes a good while to dry,
The other thing to note is that warm water helps lift stains and with this machine's "Proheat" name, you'd expect that the machine would heat the water in the tank, to maintain the temperature. This sadly is not the case and you have to add hot water (up to 60 degrees), from the tap.
Container removal and cleaning
Both the water tanks are easy to remove from the machine and easy to clean. The dirty water tank comes apart easily so it can all be rinsed over the sink, whilst feeling slightly disgusted by just how much sandpit sand your child has managed to trample into the carpet without you realising...
The user guide's most bulky section (28 steps) shows how to clean all parts of the machine, but it really is very simple. You can rinse all of the accessories under the tap and there is a nozzle cleaning tool to clean the brushes of the main cleaner.
Handy features
The express clean mode is ideal for small spots. It it also really useful if you need your carpets or rugs to dry quickly – perhaps before expecting guests – or in a busy house where you know one room will not stay unoccupied for long.
Bissell claims that the express mode leaves carpets dry in 30 minutes. I found that it was closer to an hour before they were touch dry, but very quick, nonetheless.
Along with the multifunctional accessories and pre treatment feature, I'd say this machine is packed with handy features with no obvious need for any additional functions.
Storing the Bissell Proheat 2X Revolution Pet Pro Carpet Cleaner
The cord for the machine wraps easily around the storage hooks of the machine. But this doesn't stop it being a bulky thing to store. Standing at 110cm high and being 38cm wide without the option to fold it, there is only one cupboard I can store it in my house, where it is having to already contend with space from my steam mop, brooms and bin.
The accessories come with a convenient drawstring bag, which is great for a family like mine, where things often get misplaced when they haven't got a designated home.
Manoeuverability and noise
Weighing in at almost 8kg, this isn't the lightest machine to use and I'm currently in my last trimester of pregnancy, so it's very difficult to lift, relying on my partner to take it up and down the stairs.
That being said, you do not feel the effects of the weight while using it and it moved effortlessly across the floor. My partner is 6ft4 and did not experience his usual issues with some upright cleaners which have low handles, causing back ache and a lack of range.
The noise could be an issue for some. For example, my son loves machines and anything new and was excited when we got it out of the box. However as soon as my partner turned it on, it scared him so much, he burst into tears. He was absolutely fine for subsequent use, but it is very noisy.
How does it rate online?
Bissell's website lists this machine as 5 stars, although it currently only has one review, listed 2 years ago. Elsewhere the machine fairs well with over 4 and a half stars on most retail sites and a 'Which? Best Buy" for carpet cleaners (July 2019). Users enjoy the handy features and multifunctionality of the machine, plus simply having noticeably clean carpets. Those with pets (and kids) have also praised that it 'does what it says on the tin'. It is an effective cleaner for carpets and upholstery which have been mistreated by dogs, cats and even rabbits.
Negatives from these reviewers included similar issues to those that I had, finding it didn't lift old stains, is heavy and leaves clumps of carpet and hair behind on occasion.
How does it rate against similar cleaners?
There aren't a lot of similar competitors with attachments for upholstery/stairs – especially not many targeting mess caused by pets. However this machine does come up as one of the priciest – almost twice as expensive as the similar Vax model. However, the reviews explain the price tag and many users say they would not try other brands after using Bissell products. Larger models from brands like Rug Doctor might work harder on old stains on carpets, but the Bissell offers a lot of bang for your buck in a fairly manageable upright package.
About our reviews – and our reviewer
We test all appliances in the setting in which they were intended to be used – the home. This carpet cleaner was tested by Bethan Davis, a PR and events officer, who is currently working from home juggling her career, a full-on toddler, two even more needy cats and pregnancy. Finding ways to keep the house clean, hygienic and tidy with ease has been tricky, so she is testing the latest buys to help make daily life less hectic. She tested this carpet cleaner against all the grime of a normal home, plus some curveballs thrown in by the cats and her son...
Read more on cleaning best buys: