Searching for a multi-surface cleaner for your home? If you've come across the BISSELL CrossWave Cordless Max, then we are here to give you an honest opinion. This cleaner is created to work as a high-performance vacuum, a mop and it dries your floors simultaneously, but just how well does it perform? We put it to the test in our home – you can read the verdict below.
A little bit about me, the reviewer: I live in a spacious two-bedroom flat, which is fitted with laminate flooring throughout. I have two pets so it gets messy in here fast, and I do have a range of rugs in my house to test the multi-surface cleaner's capabilities on soft floors.
See our guide on the best vacuum cleaners, or head to our best mops buying guide for more recommendations.
BISSELL CrossWave Cordless Max specifications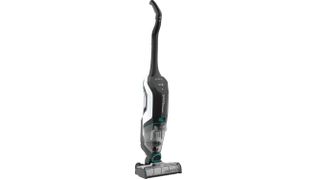 Charging time: 4 hours
Battery life: 30 mins
Battery: 36V
Cable length: Cordless – stand cable measures
Cleaning path width: 10.5 inch
Dimensions: H115.6cm x W26.0cm x D25.0cm
Weight: Not available
Noise: 75 dB
Energy rating: Not available
Capacity: Not available
Who will the BISSELL CrossWave Cordless Max suit?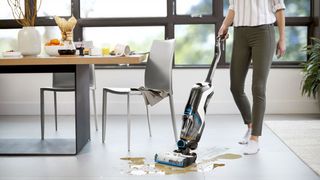 The BISSELL CrossWave Cordless Max is great for pretty much anyone with several rooms to clean, but little time to do so – since it does three jobs in one. Though saying that, we didn't find that this machine dried floors as well as we would hope. They will still be damp, but not as wet as they would be after mopping. It's also great for parents and pet owners, since it can vacuum up liquid-based mess, too, and it rids the need of getting out your vacuum and mop when something is spilt. As handy as it is, we would suggest avoiding this if you have a small home as it's quite difficult to store – it's probably best for those with a utility room, or if you have a cupboard with a plug socket inside. No matter if you have carpeted or hard floors, or if you own several rugs or none, this multi-surface cleaner will definitely cut down the amount of time you spend cleaning. Although you may want to bear the weight of it in mind – especially if you'll be carrying it up and down your stairs – and the high price tag.
Note: We did not try this multi-surface tool on tiles.
What is the BISSELL CrossWave Cordless Max like to use?
This multi-surface cleaner is smooth to use, with great suction whether going over pet hair or cleaning spillages. It's also easy to use with a sleek digital interface – just press the button on the handle to power on, and select whether you are using it on hard or soft flooring. You'll want to hold the trigger each time you want to release cleaning solution on your floors, and then move it forward to mop and vacuum, and release the trigger and pull back to dry. If you want to use it for deeper cleaning, move the brush roll over the area, hold the trigger for a few seconds, and pull back to dry. Simple.
On carpet
We think that this multi-surface cleaner performs very well on low-pile carpets and rugs. It manages to remove an impressive amount of debris while leaving your floors (or rugs) looking practically brand new. Though impressive on low-pile carpets and rugs, we didn't find that it did an incredible job on high-pile rugs. This is understandable, as these rugs ideally need to be taken to the dry cleaners. It's also worth us noting that it's quite easy to soak carpets so you'll want to go slowly while using this machine, and it might require a bit of arm work – especially more if you go from cleaning hard floors to carpets.
On hard flooring
We found this machine convenient to use on hard flooring, as it rids the need for vacuuming and then mopping. Though saying that, it does not leave wooden floors as dry as we would hope. It's obviously handy as it vacuums and mops at the same time, saving you time and effort.
Another thing to note is that this tool has LED headlights to help you see better while using it. These will turn on as you pull the trigger. We particularly found this useful when using in low-light, or if you are going slightly under furniture.
BISSELL CrossWave Cordless Max setup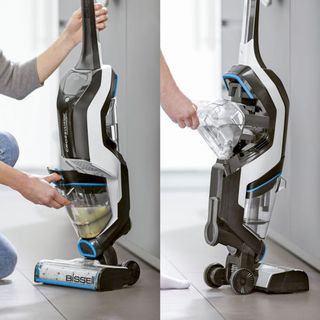 This multi-surface tool will arrive dissembled, and every time you use it you will have to fill, and then after using, clean this machine. But don't worry as this gets easier every time you do it. And it's all pretty self explanatory in the instructions.
The machine comes apart for cleaning – both tanks can be removed and cleaned, the filters come off to be cleaned, and even the roller brush itself comes off.
BISSELL CrossWave Cordless Max manoeuvrability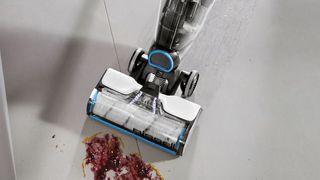 Admittedly (and expectedly) this multi-surface tool isn't as easy to manoeuvre as a stick vacuum is – or even an upright vacuum. It's heavy with a water tank on-board as well as a tank for collecting dirt, debris and dirty water. Though saying that, we did find that it gets into corners and along skirting boards. Going from hard floors to carpeted areas or rugs is quite easy, though depending on the difference in the thickness you may have to lift the machine.
BISSELL CrossWave Cordless Max attachments
The BISSELL CrossWave Cordless Max doesn't come with any attachments per se, but it does come with a 3-in-1 docking station. A blessing for some as this holds all of the tools in one place, however, since this docking station is the charger for this tool, it needs to be placed near a plug socket. For us, this was in our kitchen, which is not ideal as it means this tool is on show all of the time.
If you have a utility room or garage with plug sockets spare, then this would be perfect for in there. Something to definitely bear in mind before you buy...
BISSELL CrossWave Cordless Max: how does it perform on stains?
One word: impressively. Check out the gallery photos above (use the arrow on the right to scroll through) if you don't believe us! We spilt some coffee on our (very messy) low-pile rug and as you can see, it pretty much disappeared after using the BISSELL CrossWave Cordless Max. Not just that but you can see how much hay (this rug is in my rabbit's room) it picked up, too, as well as how well it generally cleans the rug – the white stripes look SO much cleaner. Though it's worth us noting that the rug was left a little damp, so it will need to be left to dry for a few hours.
BISSELL CrossWave Cordless Max: before and after use...
After using this machine you will want to press and hold the button that looks like a fan, just under the display, and it will begin a (very loud) 30-second self-clean. You will still have to empty water tanks and clean brushes, but this does help along the way as it flushes out dirt, hair and debris from the appliance and brush roll. Once finished you'll want to grab and empty both water tanks – be prepared for what you'll find in the dirty tank – and with the dirty tank, remove the filter and clean it thoroughly. Leave all of these to dry on your draining board. Then, take out the rotating brush bar and give it a good clean under your tap. Leave this to air dry, too. You can pop these tools on the 3-in-1 docking station to dry. Before next use, pop all of this stuff back inside your machine with the clean water tank filled with a mix of cleaning solution and water – there are markers based on the size of your home.
BISSELL CrossWave Cordless Max: storing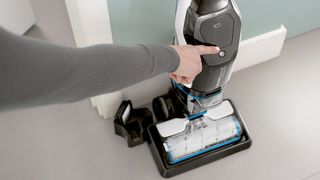 Now onto storing. So, as we have mentioned, this machine comes with a 3-in-1 docking station for storing. You will need to put this docking station next to a plug socket. Preferably, this plug socket will be out of sight from you and your guests, since this machine isn't exactly the smallest. This is one of our only issues with the BISSELL CrossWave Cordless Max – it's quite hard to store. Ours is currently sitting in our kitchen, charging through a plug that sits above our worktop. Clearly, this is not ideal. It's worth us noting that this machine has to be sat on the dock to charge, and you'll want to place it on there when self-cleaning, too. If you are short on storage space, this is not the appliance for you.
How does the BISSELL CrossWave Cordless Max rate online?
Since this is a new product, there are not yet any reviews for the BISSELL CrossWave Cordless Max online. We will update this section once there is.
About our review – and our reviewer
Annie is the UK Shopping Editor at Real Homes, Ideal Home, Livingetc, Gardeningetc and Homes & Gardens. She reviews everything from home gym equipment to floor care appliances. She lives in a spacious two-bedroom flat which is fitted with laminate flooring, along with her partner and her two pets – so there's plenty of mess to clean.