Live in a busy household with multiple floor surfaces? The Bissell CrossWave Cordless 3-in-1 Multi-Surface Cleaner – which already comes armed with 1L Bissell multi-surface cleaning formula – is good to go within a few hours from arriving. We know this because we've been putting it through its paces with our real-life at home tests for the past few weeks, so you can be confident that it is the right buy for you.
Finding the best vacuum cleaner for the home is an important decision to make not only because it will have a lot of flooring to contend with, but it will be one of the most used household appliances. I've challenged this multi-surface cleaner with long hair, deep pile rugs, wooden floors, tiled flooring and various pieces of debris to give you the lowdown on just how good this cleaner is.
Keep scrolling for the full review to see if this Bissell multi surface cleaner will help you with the flooring cleaning, and where you can get your hands on it for the best price.
Bissell CrossWave Cordless 3-in-1 Multi-Surface Cleaner specifications
Maximum power: not available
Battery life: 25 minutes
Cable length for charging base: 7.5m
Bag or bagless: bagless
Dimensions: H116.8 x W30 x D23cm
Weight: 5.2kg
Noise: 80dB
Energy rating: not available
Capacity: 0.62L (dirt), 0.82L (water)
Who will the Bissell CrossWave Cordless 3-in-1 Multi-Surface Cleaner suit?
Busy households with various floor types to keep clean. It is especially well suited to homes on lots of levels as no cord to hold you back.
How easy was the Bissell CrossWave Cordless 3-in-1 Multi-Surface Cleaner to set up?
It arrived in a compact box in a few different sections which easily slotted together. Before first use I charged it for a few hours by connecting the plastic base to the cable for the mains power. On the one hand this base is great because you don't need to screw in the charging point to any walls. Yet on the other hand, I feel I would need to regularly clean this plastic base so it doesn't get too grimy.
Once charged, the Bissell multi surface cleaner is good to go but the instructions are pictures. I thought this would be easy to interpret but it ended up being a bit of a guessing game – for me anyway! For reference: hold the trigger to release the Bissell solution, and move the appliance forward to wash and vacuum then release the trigger and pull back to dry.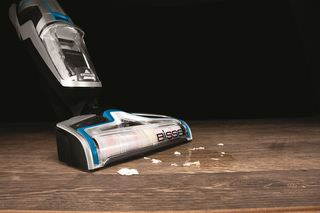 What is the Bissell CrossWave Cordless 3-in-1 Multi-Surface Cleaner like to use?
Actually using the vacuum cleaner was easy – it's lightweight, moves around smoothly and has a good run time of up to 20-or-so minutes. It also makes the home smell lovely and fresh!
On hard flooring, carpet and stairs…
This multi surface cleaner has really good suction on all floors and it's okay lifting it up and down the stairs, too.
There are two settings with this multi-surface cleaner; Hard Floor and Area Rug. We have lots of rugs and plenty of hard floors throughout the downstairs, so it was interesting to see how it fared.
I used the Area Rug setting on a deep pile wool rug, which is best to be avoided with this vac. It sucked up a lot of fluff and made the rug pretty damp for a while. The rug has since created a lot more fluff than usual, which I now just vacuum with our own cordless vacuum. I also tried this setting with a smaller rug, which also has a deep pile, but the Bissell CrossWave started moving it around with it so I quickly abandoned that plan.
It's also not great on thinner, cotton rugs because it has a go at sucking those up, too. However, the rugs it does do a good job on are the more heavy-weights (not wool) which look like new when the Bissell CrossWave has finished with them. And it works wonders on fitted carpet (not deep pile) as well, although you will need to keep a listen out for a change in the motor sound if you're cleaning an area where pets (and humans) are prone to malt because the brushbar is NOT anti-hair wrap so you'll need to remove any hair which gets caught with some scissors when it's safe to do so.
On the hardfloor setting I tackled our tiled kitchen floor which gets cereals, veggies and sauces making their mark on it. The multi surface cleaner was pretty loud on this hard floor and it made the floor pretty wet. It also didn't manage to remove the more stubborn passata sauces on the floor around the range cooker. But, if you are to use this cleaner every other few days then it will keep on top of the mess, so you won't have to be on your hands and knees after using it all the time. I also used the setting on our wooden floors. Again, it was pretty loud and made the floor pretty wet but it did vacuum up bits of hay brought in from the guinea pigs and dried cereals.
And how does it manoeuvre?
I, personally, found the Bissell CrossWave very easy to move around. The head gets up nice and close to the skirting, and it has no trouble delving around the edges of furniture.
Emptying the Bissell CrossWave Cordless 3-in-1 Multi-Surface Cleaner
Back to those instructions. It wasn't clear on how to empty the dirty water tank – there are two tanks; one for clean water, one for dirty water – and I ended up emptying it on my foot trying to figure it out. There's also more water in the tank than on first inspection so just make sure you are over a sink when opening the dirty water tank, and near a bin so you can pull out any fluff which has got caught.
It would also be worth giving the brush bar a quick rinse, and removing any tangled hair, which can easily be popped off with the red level under the head cover. Although you can perform a wash cycle at the charging base, I preferred to clean it manually so you have multiple cleaning options.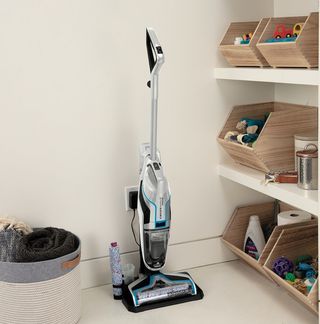 Storing the Bissell CrossWave Cordless 3-in-1 Multi-Surface Cleaner
Storing is mega easy. Just return the Bissell CrossWave to its charging point. It will stand upright in a corner, even when the brush bar and water tanks are removed. The brush bar can easily be stored in a built-in compartment on the charging base, too.
How does the Bissell CrossWave Cordless 3-in-1 Multi-Surface Cleaner rate online?
Over on Argos, the Bissell CrossWave receives 4.7 out of five stars where reviewers speak very highly about how easy it is to assemble, its suction power and just generally how good it is to use. The downsides, though, echo what I have found; the instructions could be clearer, hard floors are left a little damp after and it's a bit noisy.
At Amazon, this multi-surface cleaner receives 4.1 out of five stars and reviewers seem very impressed with how good it is on hard floors when cleaning up after muddy paws, plus how easy it is to manoeuvre. The only negatives are that it leaves hard flooring wet, the floor head doesn't get to the edge and users of large houses are sceptical about the battery life.
Is the Bissell CrossWave Cordless 3-in-1 Multi-Surface Cleaner worth buying?
In a nutshell, if you regularly mop your hard floors then the Bissell Crosswave is definitely worth the investment. I wouldn't go as far to say that it will replace your vacuum cleaner, too, but this appliance could be useful when you feel like giving your carpets, which aren't wool and small, a deep clean.
More on vacuum cleaner: