These days many of us are worried about the sustainability and environmental impact of our lifestyles, rethinking everything from where the food on our tables comes from to how our clothes were made – and what they are made from.
Choosing the most sustainable textiles is more difficult than it may seem; it's not just about furnishing your home with 'natural' fabrics such as cotton, since the growing and production practices of even natural fibres can be damaging to the environment. Flora Davidson, the co-founder of the production management platform Supplycompass, offers guidance on five of the most sustainable materials around.
Organic cotton
'Organic cotton is better for people and the environment as no pesticides are used, and it replenishes and maintains soil fertility rather than depleting it', explains Davidson. Organic cotton production uses less water than non-organic, partly because the nutrient-rich, pesticide-free soil is able to hold on to water better. Look for cotton that is Fairtrade, too: 'Fairtrade organic cotton means farmers can command a higher price and be certain of a more stable income.'
Econyl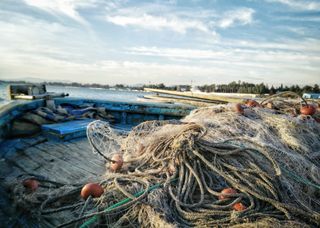 A material few of us have heard about, Econyl (see below) could be a partial answer to the crisis afflicting sea life, including dolphins, turtles, and sea birds, that gets trapped and dies in abandoned fishing nets. A form of nylon manufactured entirely from waste, including fishing nets, Econyl also reduces the need for oil in textile manufacturing: 'For every 10,000 tonnes of raw materials recycled into Econyl, 70,000 barrels of crude oil are saved, and 57,000 tonnes of CO2 emissions are avoided compared to traditional production methods. Econyl fabrics can be recycled infinitely without losing quality, supporting the vision of a more circular fashion industry.'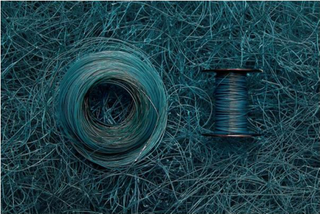 Tencel
Extensive chemical processing, heavy water use, the use of pesticides and deforestation are some of the main problems with both natural and synthetic material production. Tencel production reduces all of these harmful effects on the environment, since it is manufactured entirely from regenerated cellulose from wood pulp. Davidson shares her research on tencel: 'A life cycle assessment conducted in 2008 by the University of Leipzig reported that the production of lyocell is far more eco-friendly than the harvesting of cotton. The study found that the manufacturing process consumes 10 to 20 times less water than would be used in the production of an equivalent amount of cotton.'
Spider silk
Silk has been beloved for centuries for its unique smooth texture and shine, as well as its wonderful temperature-regulating properties. Yet silk production is not without its serious sustainability and animal welfare problems. But there may be a way to enjoy silk fabric that is made entirely without the use of animals – the so-called Spider Silk. Despite its name, this fabric is manmade:
'Bolt Threads, the creator of Spider Silk, studied spiders and their DNA to learn how the fibre was produced and work out a way to develop their own version. No spider DNA is used in its manufacture and the end product is completely synthetic.
The main input is sugar from plants that are grown, harvested and replanted. The sugars from these plants are fermented and this produces a protein that is then spun into a fibre; spider silk. The great thing about this material is that it is made from renewable resources, so the environmental impact is also lower.'
Eco leather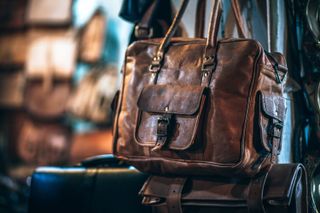 If you love the durability of leather, but worry about what leather production does to the environment, look for products made from Eco Leather. Davidson explains:
'One major criticism of the leather industry is the ecological impact of the tanning process; since the industrial revolution the use of highly abrasive chemicals such as Chromium Sulphate has become standard.
'Eco Leather unfortunately still uses genuine animal hides (ie, it is not vegan), but the manufacturing process, rather than using abrasive chemicals, utilises natural, plant-based products such as tannin, extracted from the bark and leaves of trees, to create the same preservative effect.'