Dunno about you, but in 2020, I spent hours playing The Last of Us II on my PS4. IYKYK — but if you don't let me explain *without* spoilers. This narrative involves a parasitic pandemic that turns its victims into zombies. The protagonists, Abby and Ellie, have to wade through an apocalypse. It's gory yes, but great.
The game has since been turned into a TV series and although it's incredibly coincidental that it's set in 2023, we're not about to don tin foil hats and call it a conspiracy theory in the works. Instead, we spotted something on TikTok that might come in handy in real-life situations. Think power outages, floods, and other reasons why you might need to evacuate your apartment quickly. We're talking about the A-list-approved Judy prep kit.
I'm grabbing the snacks in anticipation of The Last of Us ep. 2 (HBO at 9pm ET/PT), but will you be adding this survival kit to your basket? Without trivializing natural disasters, this gives me so much main character energy. I'm tempted to grab one for the house and keep one in my car.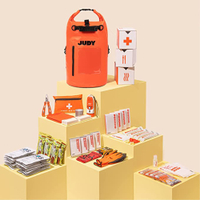 Judy The Mover Max | $195 at Amazon
Dubbed the Emergency Preparedness Dry Backpack, this bright orange, 15-pound backpack carries enough supplies for a family of four. It contains items for safety and warmth as well as a first aid kit and packaged food and water. Larger kits also come with portable power stations, rechargeable, lightweight lanterns, and charging cords. PSA: It's also available direct from the official Judy site and is currently on sale. Use PREP20 for 20% off.
What did Oprah say about the Judy Mover Max?
While some of the picks on Oprah Winfrey's most recent Favorite Things list seemed pretty standard, this SOS satchel stood out like a sore thumb. Her justification? "Whether it's a natural disaster or a local power outage, you never want to be caught unprepared," she explained.
Other celeb fans of the Judy Mover Max
Courteney Cox said it herself: If you're a Monica — you're a Judy, too. So if you want to have your ish together as much as the Friends character, this bag will be there for you. Because — scary as it sounds — no one told you life was gonna be this way. And aside from Greta Thunberg standing her ground on global warming, I hadn't thought about how small increases in temperature might affect my home life.
The Kardashian clan (Kim, Kourtney, Khloé, and Kris), as well as Chrissy Teigen, and Haylie Duff, are all part of the Judy family already.
What's inside the Judy Mover Max?
The kit includes up to three days' worth of emergency supplies with tools hand-picked by prep experts. Everything is pre-labeled, assembled, and organized.
Safety and warmth box: 2 x emergency whistles, 4 x glow sticks, 1 x gloves, 4 x hand warmers, 4 x rescue blanket, 4 x poncho, and 4 x dust masks
Tools and first aid: 1 x hand crank radio / charger / flashlight, 1 x multitool, 1 x 101 piece first aid kit, 1 x quick dry towel, 1 x biohazard bag, 1 x duct tape mini roll, 2 x hand sanitizer, 2 x pocket tissues and 1 x wet wipes
Food and water: 7 x food bars and 14 x water pouches, both with a 5-year shelf life.