Earlier today, we brought you the sofa in a box, the ideal buy for renters who move a lot. This afternoon, it's all about Ikea's fab new small space collection, RÅVAROR, launching globally in September 2020 (which we hope means that it'll be available before that in some stores). Why the fuss? Well, Ikea – where, let's face it, the majority of us shop for everything from sofas to soap dishes – are markedly demonstrating their intention to meet a growing need for furniture designed with renters and small space dwellers in mind.
As the urban population in particular grows, living spaces are shrinking and, for many of us, the idea of home is no longer a geographical constant. This new collection offers a solution to this change in the way people are living. It includes items that quickly transform a small space into a smart space that still feels homely. Then, when it's time to up and move, again, items can be packed together again, simply, and transported to your new abode. Genius.
Find more ideas and inspiration over on our small spaces hub page.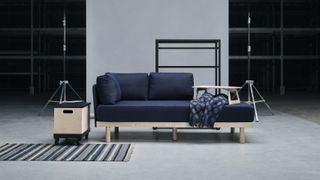 Speaking about the inspiration behind the collection, Viveca Olsson, Creative Leader at Ikea, says, 'Our starting point and creative idea was the reality of urban life. We asked ourselves what is needed to turn a small space, such as 12 square metres, into a home? And what is needed to create that homely feeling even though you might be moving on to a new place soon?'
The result of this thinking? A collection of 20 products designed with small space optimisation (we LOVE that word), flexibility and the ability to move easily in mind. You can choose from the following items to kit out your space:
Daybed
Sofa
Table
Mini kitchen
Open storage solutions on castors
Storage boxes
Textiles
Lighting
While, for a long time, small space living has been the subject of architects' experimentation – anyone else obsessed with Big Dreams, Small Spaces on Netflix? – it's exciting to see mainstream stores recognising a need, too. Nice one, Ikea.
Small Spaces Month:
This article is part of Small Spaces Month, brought to you in association with the new Real Homes Travel Edition. A compact version of our hugely respected monthly magazine, Real Homes Travel Edition brings you all the same great content as the full-sized edition, but in an even more bag-friendly format that's perfect for inner city commutes and French riviera holidays. Get yours now at WHSmith, Easons and selected newsagents.