Yes, the world might be slowing down, but not for color, and this purple décor trend is making a major comeback! After months confined in our homes, we're noticing that we prefer maximalism over minimalism, and when looking to brighten up our homes (and moods), and this hue is front-and-center, and we can't say we're surprised.
The pandemic has heightened our anxiety (in more than one way), and as we turn to our homes — and home décor — to bring a sign of relief or calmness, there's nothing better (or easy) than furnishing your home in purple décor.
Lilac — or lavender – is already well-known for its calming ways, so what is more intelligent than accessorizing the best armchair with a purple pillow; or wrapping yourself up in a subtle lilac blanket. Your accessories don't have to be over-the-top to get the job done; here, a little goes a long way.
But if you don't believe us? We're here to not only convince you but help you too. Here are five purple décor items that will keep you feeling safe and your home sharp at the same time!
1. The perfect WFH-chair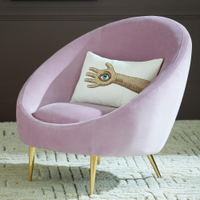 (opens in new tab)
Ether Chair (opens in new tab) for $1,750, at Jonathan Adler
This purple plush piece (opens in new tab) packs a powerful punch: it's bold without being too bold. The minimalist gesture of the capsule-inspired silhouette provides surprising comfort while gleaming brass stiletto legs add lift and polish fit that will make it the perfect work for home chair, any time, anywhere.
2. This more affordable option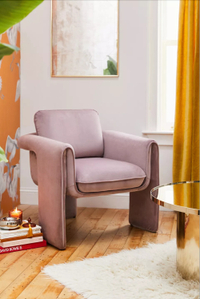 (opens in new tab)
Floria Velvet Chair (opens in new tab) for $369, at Urban Outfitters
Now, if you're still lusting over our first choice but need a wallet-friendly version, we're here to recommend this stunning selection. Similarly, this chair (opens in new tab) is upholstered in allover rich purple velvet, as it lends a luxurious interpretation of modern silhouettes to your space – and does so in a more affordable option.
3. This stylish sheet set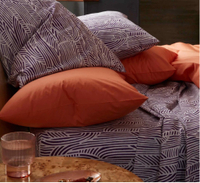 (opens in new tab)
Luxe Core Sheet Set (opens in new tab)l Was $175, Now $140, at Brooklinen
Tackle the purple decor trend by opting for this unique sheet set. (opens in new tab) The purple and white print is perfect for those who require something a bit more stylish but remains subtle enough to blend with your current décor.
4. This perfect pillow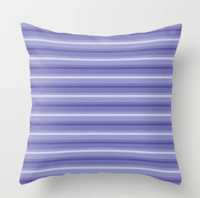 (opens in new tab)
5. This beautiful blanket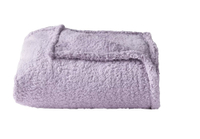 (opens in new tab)
Want more of the purple décor trend? Check out additional suggestions below: