After nearly a year into this pandemic, we're all daydreaming of a tropical vacation somewhere warm and exotic, and while that may be a pipedream for a little longer, one way to escape this 'new norm' is by investing in one of the best candles.
Contingent on what scent you select, the best candle can transport your mind — and if only even for a few short minutes — the power to give your senses the much-needed vacation they deserve, and Yankee Candle's 'Scent of the Year' is a great example.
This week, Yankee Candle released their third-annual scent of the year, 'Discovery.'
Discovery — which is an adventurous blend of starfruit, mango, and passionfruit warmed by a touch of ginger and vanilla spice — is nothing short of the vacation-in-a-jar we need.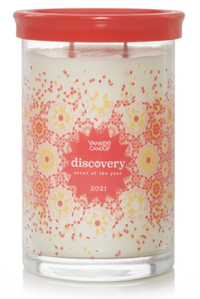 This premium soy-blend candle from Yankee Candle looks to cure every homebound traveler's woes by inviting them to experience the same "adventurous" experience one who has when visiting a tropical location.
Layered with nods of guava nectar, orange, and peach, this candle aims to mimic those same treasured experiences of previous vacations while providing hope that we will all get to travel one day soon.
However, until that day rolls around? This large jar tumbler offers a burn-time of 60-to-100 hours, equaling out to the same three-to-five days we'd traditionally spend on vacation.
Wrapped in a Moroccan-inspired pattern, with a bright, brushed tin lid, this brand-new candle will look sharp when matched on any kitchen counter or living room console — making it the latest launch you don't just want but need.