In need of a quick garden upcycle idea to transform your patio this weekend? If you've got an old wooden table that's seen better days, there's no need to get rid of it. With just a few hours work, some elbow grease and a bit of creativity, you can give it a complete facelift in five easy steps thanks to this stylish paint makeover.
Want to give it a go and update your table with a unique look? Read on for step-by-step instructions on how to achieve it, then take a look at other craft ideas on our dedicated page. More garden ideas on our hub page, too.
Thanks to blogger Antonia Ludden from #tidylife for this brilliant upcycle idea.
If you want to try your hand at more DIY ideas, check out our other weekend projects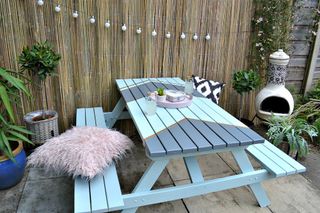 You will need
Wooden outdoor table
Newspaper
Step one: clean and sand your furniture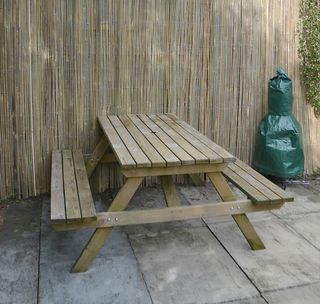 Wash down the wooden table or picnic table set to remove any dirt and algae (a jet wash is the quickest way to do this), then lightly sand the wood to create a smooth surface for painting. Make sure you sand in the direction of the grain of the wood.
Wipe down the furniture with a sponge to remove the excess dust. Allow to dry completely before applying any paint.
Step two: apply the primer
To create as smooth a finish as possible, it's best to first apply a primer to bare wood. This project uses Wilko's Quick Drying Primer and Undercoat in White. Dry in just two hours, only one coat was needed for this makeover project.
Step three: paint the main colour
Paint the entire table (and benches if you're upcycling a picnic table set) in one colour and allow to dry. The main colour used here is Summer Rain Exterior Paint from Wilko, but you could use any exterior wood paint in a colour of your choice. Repeat with a second coat and allow to dry.
Step four: create the chevron design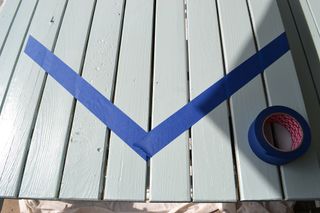 Create a chevron pattern on the top of the table by applying masking tape in a simple V shape. Working down the length of the table, you're aiming to divide the table into four clear sections. The sections don't need to be a uniform size as you may prefer some to be wider than others, as shown in this project.
Once the masking tape is in place, paint two of the chevron sections in a contrasting colour to the main colour used on the table. The idea is to have alternating coloured sections down the length of the table. This project uses Cornish Slate Exterior Paint from Wilko as the accent colour. Apply two coats, allow to dry and carefully remove the masking tape.
Step five: add the metallic detailing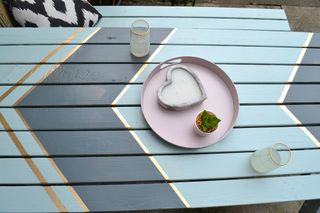 If you want to add a little more pizzazz to your painted table, why not give it some metallic finishing touches, too? Using masking tape, create a series of thin sections bordering each chevron, then cover up existing paintwork with newspaper to protect it.
Once you've marked out each section adjacent to the chevrons, simply spray them with one or two coats of metallic paint. Allow to dry thoroughly before removing the masking tape.
And that's it! One old and unloved garden table transformed into a fun and colourful space for alfresco dining.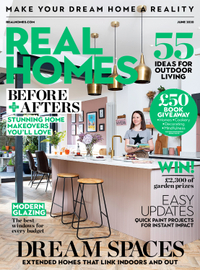 Get Real Homes magazine delivered direct to your door and your device
Can't get to the shops but don't want to miss out on the latest issue of your favourite homes magazine? Don't worry as when you subscribe today you'll get every issue of Real Homes magazine delivered direct to your door and your device.
From stunning completed projects to the latest decorating ideas you can try in your own space, you'll find plenty to keep you entertained and inspired inside each issue. Don't miss our special deal – subscribe to our annual print and digital bundle offer today for just £39.99 – a massive saving of 52%.

More garden projects to try