Doing some shopping at La Redoute home? We're way ahead of you – this retailer has been a favourite of ours for some time now, which means that we have bought, tried and tested quite a few items from there. And, we have been more than pleased with their quality, to say the least.
We've bought everything from a runner rug to new lighting, a garden furniture set and even some bedding from La Redoute (so far!). So, we thought we would list everything we love below – as well as a few things that are on our wishlist. This way, you can buy rest assured that you are spending your money on items that will last.
If you are shopping at La Redoute, just note that there's up to 40 per cent off EVERYTHING on site right now, including these top buys below.
Visit our La Redoute discount code page for more incredible offers.
Head to our best garden furniture guide for SS21 garden inspiration.
La Redoute home best buys – 8 top picks to buy in the spring sale
1. La Redoute Dudena 3-Piece Garden Set in Acacia Wood – £133
This garden furniture set has been in our garden for over a year now and it has survived winter, al fresco dinners and very hot days. It's foldable to save floor space, it comes in a range of colours and it's a bargain. We think it's great for smaller spaces, as there's a four-seater set available for larger gardens or families.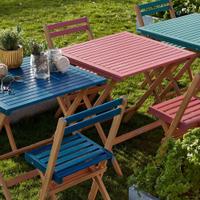 Dudena 3-Piece Garden Set in Acacia Wood | £140 £133 – save 5%
Choose from white, black, terracotta, green eucalyptus or prussian blue. We chose the black and we have no regrets – a simple wipe down makes it look brand new. It's made from Acacia wood and is completely weather-resistant, making it ideal if you don't have inside storage space for it, such as a garage or shed.
2. La Redoute Afaw Berber-Style Runner Rug – £42
We LOVE this runner rug and it has sat at the bottom of our bed for quite some time now. It's super soft on your feet and is great for smaller spaces. It could also go perfectly in a hallway. It also comes in other sizes – you might have seen it in a larger size on Instagram. We love the Berber design, and it comes in black, too.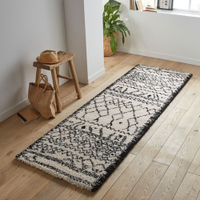 Afaw Berber-Style Runner Rug | £60 £42 – save 30%
A bargain price for a runner rug that's this high-quality and soft, and it's even made of 100 per cent wool-effect polypropylene. It's also Oeko-Tex certified.
3. La Redoute Mirni Printed Washed Cotton Duvet Cover with Tassels – £26.25
This bedspread is a long favourite of ours and it's great for minimalist or boho bedrooms. It has red tassels on each corner, and you can of course buy matching pillowcases to go with it. Not just good looking, but it's surprisingly soft, too. As well as long lasting – we've been using it on and off our bed for around two years now. It also comes in a range of colours.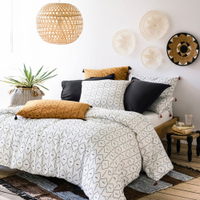 Mirni Printed Washed Cotton Duvet Cover with Tassels | From £35 £26.25 – save 25%
For those who don't want to buy a plain boring bedspread but aren't fans of anything colourful, then this subtle yet stylish duvet cover is a great option. It washes and washes, and still manages to look brand new, while it's made from pure washed cotton.
4. La Redoute Dolkie Rattan Cane Lamp or Pendant Shade – £63.75
Made from rattan cane, this lovely light comes in two colours – one is just natural, the other natural with a black trim. We chose the latter and we love it in our bedroom. It's the perfect size so as not to take over a room, and it lets an impressive amount of light out, while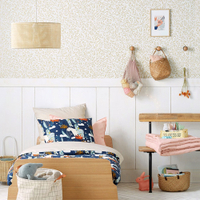 Dolkie Rattan Cane Lamp or Pendant Shade | £85 £63.75 – save 25%
This light would look lovely in a bedroom, spare room or nursery. We bought a new black cable to go with it, and it looks great. A bargain price with 25 per cent off right now, too.
5. La Redoute Waska Rattan Bed – £569.05
As you can probably tell, we love a bit of rattan – especially when it comes to furniture. We've been eyeing up this bed for quite some time now, and it might soon make its way into our basket. It has a high rattan headboard that corners around the bed, while it boasts reinforced feet that are solid pine. Stylish, functional and on sale...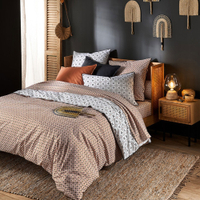 Waska Rattan Bed | £599 £569.05 – save 5%
This bed comes in a double or a king-size, and we think it's quite unique. It has a multi-layer slatted base, while the cane headboard has a colourless nitrocellulose varnish finish to make it last.
6. La Redoute Amezza Acacia Deck Chair – £47.50
If you have minimal garden space but you want somewhere you can lounge with a book and a glass of Pimms, then a deck chair could be a smart buy. This one from La Redoute folds, it comes in a range of colours and it's made of Acacia wood. It also has five per cent off, and you can buy matching sun loungers if you have the room.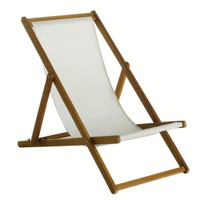 Amezza Acacia Deck Chair | £50 £47.50 – save 5%
Buy some deck chairs for your garden to truly relax – in style, that is. These ones may be cheap but they look the opposite – choose from pearl grey, coral, terracotta or taupe, and style in your garden atop an outdoor rug. Perfect for chilling, drinking or to use pool-side.
7. La Redoute Reelak Hammock Chair – £94.05
We love this hammock chair whether you are thinking of placing it indoors or out, and it looks super comfortable. It's made from polycotton though you will have to buy the hanging hooks yourself. We think it would look lovely accessorized with a cushion and a knitted blanket.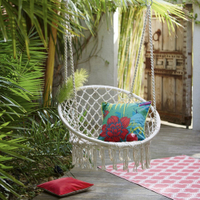 Reelak Hammock Chair | £99 £94.05 – save 5%
For indoor or outdoor use, this macrame-like hammock chair is as comfortable as it is stylish. Great for hanging in a corner that you don't otherwise make use out of, the kids will love it, too. It also arrives fully assembled, ready to be hung.
8. La Redoute Cotama Cotton Pillowcase – £6.65
If you don't need an entirely new bedding set, then why not just buy some fancy new pillowcases to spruce up your bedroom? These ones will go perfectly with some plain bedding, while they are also tufted to add some texture to your room. They are pastel so as not to distract eyes from your furniture or decor, and they are machine washable at 60º.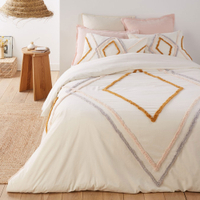 Cotama Cotton Pillowcase | £7 £6.65 – save 5%
An easy and cheap bedroom update, these pillowcases come in two sizes. You can obviously buy the matching duvet cover to go with, but if you are on a budget, then these pillowcases ought to do the job.