The UK heatwave is here, and we're so ready for it. But the question is: are your pets? We love them (sometimes a little too much, even when they chew our favorite shoes), but they can't tell us when they're too hot. This is why we've rounded up these Amazon pet buys to keep your best friend cool, so you can enjoy your weekend in the garden worry-free, knowing your pet is dealing with the heat just fine.
From cooling pads to a doggie paddling pool (yes, that's a thing, as you can see), the best dog bed for summer, and a pet camera if you have a busy weekend planned and need to leave the pooch at home – there's something for all types of owners on all types of budgets.
We've also included finds for hamster lovers and chinchilla keepers to help you keep pets cool in summer, whatever their size or fur type!
Our fave Amazon pet buys for the summer heat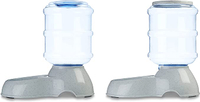 Amazon Basics Food & Water Feeder, Small £24.81 £17.37 (save £7.44) on Amazon
Staying hydrated is so important in the hot water, not just for us, but for our pets too. So give them fast access to fluids with this feeder. The 3.97L bottle design gives us office water cooler vibes and automatically tops up your pet's bowl as it empties. They can be used for food too.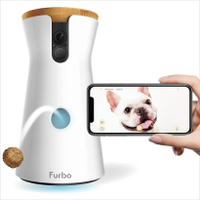 Furbo Dog Camera with 2-way audio and treat dispenser | £245 £129 (save £116) on Amazon
If you're a fan of Paul O'Grady's For the Love of Dogs, the chances are you've already seen this cool invention by Furbo. This treat-tossing cam lets you talk to your dog and calm them down while you're away for the day. What's more, the app will also send a push notification to your phone when it senses your dog barking.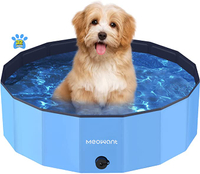 Meowant Dog collapsible Paddling Pool | £29.99 £23.99 (save £6.00) on Amazon
Made from PP material, this pool is sturdier than most PVC or cardboard models on the market. What's more, it has a non-slip bottom so your pet won't slip while enjoying their cool down. Great for the garden or taking away, the travel-friendly design means it can be carried about and propped up in an instant.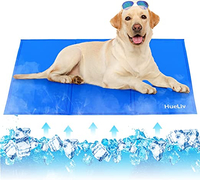 HueLiv Dog Cooling Mat | £24.99 £17.09 (save £7.90) at Amazon
Grab a pet cooling mat to lower your pet's temperature with ease. It requires no water, no electricity and it's safe and non-toxic. What's more? It's activated by weight or pressure so it won't waste time working while your pet is having a wander in the garden.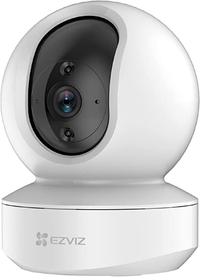 EZVIZ Security Camera | £39.99 £22.78 (save £17.21) on Amazon
Although this smart camera isn't made specifically for pets, it does the job pretty well at a decent price. It has a built-in microphone and speaker so you can chat to your pet while not at home, and it's Alexa compatible. It syncs with your smartphone to update you on motion throughout your day so you know what your pet is doing, wherever you are in the world. See more of the best pet cameras in our guide.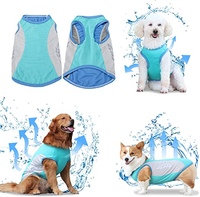 Dog Cooling Vest | £15.99 £12.79 (save £3.20) on Amazon
Keep your dog or cat cool with a cooling microfiber vest from Hipetime store. Available in four sizes (and either pink or blue), simply soak the elasticated garment in cold water (or pop it in the fridge), wring out excess water, and dress your pet. Rather cleverly, this cover-up can stop your furry friend from getting sunburnt too!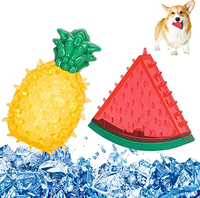 Pawaboo Pet Teether Cooling Chew Toys | £13.99 £11.19 (save £2.80) at Amazon
How cute are these tropical chew toys? Made from high-quality, pet-safe TPR material, these fruit-inspired shapes can be filled with cold water from the faucet or popped in the freezer to provide hours of playtime while simultaneously cooling your pet down.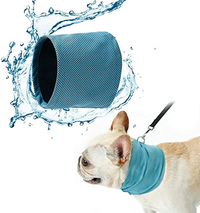 SUOXU Dog Cooling Collar Bandana | £8.99 £7.19 (save £1.80) at Amazon
Help keep your pet cool while out and about make sure with a cooling bandana. Submerge in cold or ice-cold water, wring it out and apply it as you would a dog collar.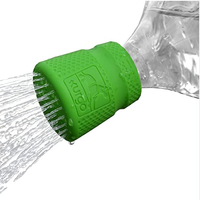 Kurgo Mud Travel Shower | £12.95 £8.98 (save £4.06) at Amazon
Turn a plastic soft drink or water bottle into a convenient dog shower with this attachment from the Kurgo Store. Whether you're at home, by the beach, or camping, this accessory can be fitted to most containers for a satisfying spray of water.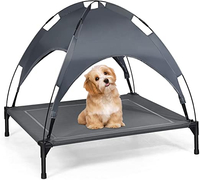 Maxmass Elevated Pet Cot with detachable canopy | £52.95 £42.36 (save £10.59) at Amazon
Sometimes even the best pet beds are just a little too cozy for summer. So if you purchased a plump pillow, designed for warmth, switch it out for this breathable mesh design. This elevated, off-the-floor cot allows air to circulate from all directions and can be wiped down with water and it has a shade for outdoor use.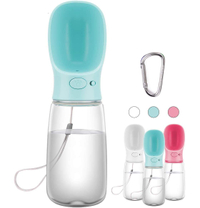 COTOP Portable Dog Water Bottle | £15.98 £11.46 (save £2.52) on Amazon
Save yourself from carrying a dog bowl everywhere you go with this leak-proof, BPA-free dog water bottle from COTOP. Available in teal or pink, this clever 2-in-1 bottle doubles up as a trough for your pet to drink from. Simply press the button to release water or let any water which hasn't been drunk flow back into the bottle.
Exqline Dog Pen | £69.99 £50.39 (save 19.60) at Amazon
Got a pet that's doing the hokey cokey? If your cat or dog can't decide whether to sunbathe outside or stay in the shade, give them the best of both worlds with this pop-up pet playpen. Made from UV-protective material, reduce the risk of sunstroke and give them a private place to play.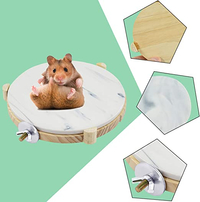 Furpaw self-cooling ceramics pad with wood platform | £14.99 £11.99 (save £3.00) at Amazon
Buy your hamster or chinchilla the crème de la creme of cooling pads with this marble-look ceramic disc with wood platform. While other models look like the foil side of a takeout container, this product proves that functional items can be fashionable.