Got a pen? You're going to need one — and some paper too — because Chrishell Stause is here to teach us all a lesson, and you'll want to take notes. Her first lesson plan? How to give your living area the ultimate glow-up.
The Selling Sunset lead teamed with TJ Maxx and Marshall's — and the verdict? She informed everyone that high quality does not equate to high prices.
To lighten up her dreamy LA home, she turned to a handful of affordable items, exclusively from TJ Maxx and Marshalls.
She replaced dark wooden furniture with lighter, airier options, added some cherry, soft pink shades throughout, and tied it all together with a few gold trinkets to make the room dazzle.
Next, she implemented that same perfectly pastel palette into her kitchen, swapping out an outdated table and chairs for a more playful pick.
With a few minor adjustments, Chrishell revamped the entire space, giving it new life — and if you're looking to do the same? You're in luck.
Real Homes put her to the ultimate test and the verdict? She passed with flying colors.
So, whether you're looking to elevate the best armchair or invest in some gorgeous greenery, here are five ways to spring your space in style using budget-friendly buys exclusively from TJ Maxx (opens in new tab) and Marshalls (opens in new tab).
1. Find small items that make a big impact
According to Chrishell, "You don't have to repaint or renovate to make a space feel new – small updates like adding new chairs to my kitchen made such a big difference." Need an example? She happened to give one below.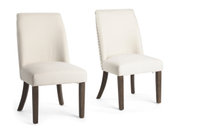 (opens in new tab)
2. Use greenery as a focal point
"Flowers and plants are a great way to add pops of color throughout your home, especially for spring! ! Marshalls and T.J.Maxx carry a wide variety of faux ones at amazing prices – under $25," she explains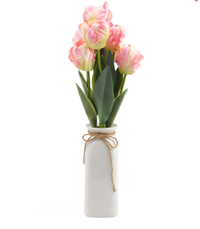 (opens in new tab)
JOLIE FLEUR 26in Tulip In Vase (opens in new tab) for $26.99, at TJ Maxx
Chrishell loves how "the faux flowers in her space look like they came straight from the florist," and these ombre-pink tulips (opens in new tab) left her blushing!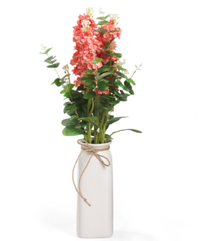 (opens in new tab)
ALEX & ZOE 26in Delphinium In Vase (opens in new tab) for $24.99, at Marshalls
Another perk about faux flowers? "You never have to worry about watering them," she explains. Try these delphiniums (opens in new tab) for high style and low maintenance.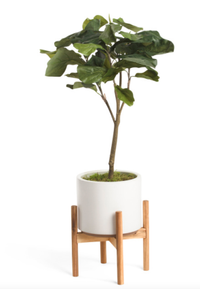 (opens in new tab)
SILKCRAFT OF OREGON Fiddle In Matte Pot With Stand (opens in new tab) l Was $79.99, Now $59, at Marshalls
With this fantastic fiddle (opens in new tab), you can go big and have it arrive at your front door! When ordering from Marshalls, shoppers can implement gorgeous greenery without the extra burden of transferring it from store to home — they offer at-home delivery. What's better than that? Only the perfect pot it arrives in, too!
3. Reach for shortcuts that make a stunning statement
When redecorating your home, it's crucial to keep in mind that not every upgrade needs to be over-the-top: you can find "shortcuts" that make a statement too. Need an example? Chrishell advises a handful of throw pillows.
"Purchasing new throw pillows is another easy home update," and best of all: "T.J.Maxx and Marshalls have so many options at great value in a variety of colors, patterns, and textures," she continues.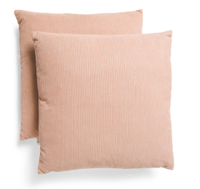 (opens in new tab)
THRO 19x19 2pk Velvet Pillow Set (opens in new tab) for $24.99, at Marshalls
To "tie in all the color accents in the room," Chrishell says a "light pink [set of] crushed velvet pillows (opens in new tab) are an excellent option." She found they were the "perfect addition," and at under $25, how can you resist this sensational set?
4. Maximize your space by tapping previously unused areas
To maximize your return on your investment (or home), Chrishell recommends thinking outside the box. For example, she "added a bar cart and mirror to an otherwise-unused corner of [her] home — the corner where I used to have my treadmill."
The result? With a few minor tweaks, these changes "made my living room look much cleaner, bigger, and brighter!".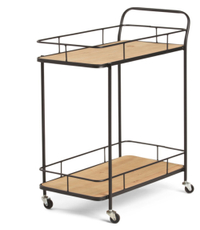 (opens in new tab)
THREE HANDS Wood Bar Cart (opens in new tab) for $99, at TJ Maxx
Living areas are created for entertaining, and "incorporating a bar cart (opens in new tab)— [like this one] –into any space is an easy way to create a stylish spot to showcase your wine glasses, bottles, bar accessories, or even books and magazines" too!
5. Invest in a rug to anchor the aesthetic
Turning a house a home is hard — and Chrishell realized "after picking out [her] color scheme for [her] living room, [that she] needed a nice, neutral rug to anchor the whole space — bringing it all together."
To achieve cohesiveness throughout, "the rug [she] chose pairs well with the light, feminine splashes I have throughout the rest of my home and still allows each unique piece to shine!"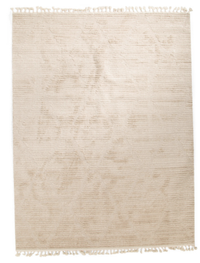 (opens in new tab)
SAFAVIEH Textured Tassel Rug (opens in new tab)starting at $79.99, at Marshalls
When trying to embody those same "feminine" and "light splashes" throughout, Stause recommends a rug like this one. (opens in new tab) Not only is it "high-quality" and "available in a variety of sizes," but the affordable price point makes decorating those larger areas more feasible than ever better.
Still, want more? Score these Chrishell Stause-approved items also available at Marshalls and TJ Maxx below: