Considering renting? Build to rent developments are popping up all over the UK, with the Government encouraging the expansion of build to rent, while making buy to let more difficult. Some worry that this new emphasis will make renting even more unaffordable for Generation Rent – but how do build to rent homes stand up to the traditional rental sector in reality?
Working out how much more expensive build to rent homes really are has to take into account the quality of this housing (often much, much better than the private rental sector accommodation), as well as the many additional costs that are often included in the rent, such as bills, gym memberships, internet, and even parking.
Once these benefits have been taken into account, build to rent properties turn out to be no more than 15 per cent higher than the average cost of comparable cost of renting in the buy to let market – £868 on average compared to £752.
In some parts of country, there is virtually no difference in renting a traditional flat or a build to rent one; in Manchester, for example, renting a flat in the gorgeous Way of Life development (below), which features a spectacular gym and swimming pool is actually £2 cheaper than the average cost of an ordinary flat in the same area. Even renting in a build to rent development in London can work out cheaper – a flat in the JLL development in Greenwich (top) will come in 18 per cent cheaper than equivalent flats in the area.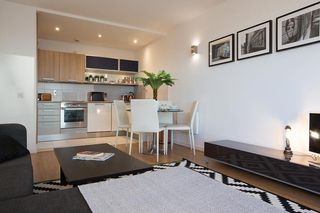 This value-for-money ratio does not hold up everywhere, though. Renting in a build to rent development in Salford will set you back 14 per cent more than the area's average; Lewisham's build to rents are 35 per cent more expensive, and if you want to rent in a built to rent in Tower Hamlets, be prepared to fork out a whopping 44 per cent more in rent than the area's average. Again, although these figures seem very high, they partly reflect the difference between the amenities on offer and what's generally available in the area. Given how hard it can be to find a property with a garden, private parking, and a gym in central London, for example, the price comes to seem more justified (if still very high).
Tom Gatzen, co-founder of Ideal Flatmate, who have exclusive listing rights for all UK build-to-rent properties, comments, 'Build to rent has come under scrutiny due to the higher rental costs, but when you consider the additional benefits there is a very strong argument that these developments provide much better value for money.
'For a start, they are new builds so the quality is very good and they have a much more professional management structure in place to support tenants when compared to the traditional communication chain of the tenant, letting agent and landlord.
'They also offer a lot more for your money in terms of amenities included in the price, with many providing Wi-Fi, bills and a gym as standard. This comes on top of other benefits such as parking and private gardens and while you pay more as a lump rental sum for these benefits, the convenience of paying for everything in one go is something that appeals massively to today's generation of tenants.
'We are crying out for more rental stock across the UK and the number of us reliant on the private rental sector is only going to increase. Build to rent provides a great solution when it comes to providing more homes at scale and while change will always be met by a degree of criticism by the industry, we must surely focus on the need of the tenant first and embrace anything that helps provide more roofs over heads.'