Kitchen Cousins star Anthony Carrino, more recently hitting our screen on TheBuilt.tv, has just shared a genius home insulation tip. The home designer and developer and Trane Residential partner recommends using a window insulation kit on the inside of your windows, and it only costs around $8.
Anthony Carrino has years of experience in the world of homes, and on his digital network, he takes homeowners behind the scenes to learn what renovating properties is actually like.
Anthony Carrino's window insulation tip
With many of us still battling subzero temperatures and worries about the cost of heating our homes, Real Homes turned to Anthony Carrino for some advice. We asked the serial renovator what renters can do to keep their homes warm while keeping costs down.
'A cost-effective update for renters is to cover windows with plastic from the inside to provide an extra layer of insulation and keep cold air out,' he says. 'I'd recommend trying this 3M Weatherproofing Tape,' Anthony adds.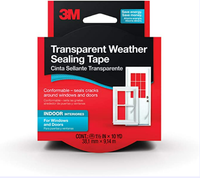 3M Interior Transparent Weather Sealing Tape for Windows and Doors, Moisture Resistant Tape, 1.5 in. x 10 yd. Roll, $8.25 at Amazon
Prevent drafts and reduce your heating bill by applying this budget-friendly adhesive sealing tape to the inside of your windows. It can also be used on glass doors to help keep your home warm.
We'd never come across it before, but this affordable tape (which looks a lot like normal tape but thicker and wider) has thousands of great reviews. You apply it on the interior of your windows (or glass doors), going around the edge where the glass meets the frame.
The tape is moisture-resistant, will bend around the corners of your window, and will make your home that bit more energy efficient by keeping cold air out. All you need to apply it is a measuring tape, a pair of scissors and a blow dryer.
Whatever type of heating we have in our homes, we can't help but worry about how much it's costing. The tape is a great idea for anyone with large, single-glazed windows.
It's worth noting that the tape can pull off paint when you remove it, so window frames may need a quick touch-up afterwards. Try applying it in short strips so it doesn't stick to itself like a long strip of sticky tape will.
Will you be trying this?