Now November has arrived, it's officially time to get organised and start thinking about your Christmas present shopping. Instead of leaving it until the last minute and panic buying for family and friends as the clock ticks down towards Christmas Day, why not cross a gift off your list straight away?
A subscription to Real Homes magazine is the perfect present for anyone who is passionate about improving their home. Each issue is packed with 100s of home transformation ideas that anyone can achieve – whatever your budget.
Don't want to miss out on a monthly dose of homes inspiration? Why not treat yourself to an early Christmas gift too (or drop some serious hints to friends and family about what you really want on your Christmas wishlist – no novelty socks here thank you Aunty).
If you're looking for inspiration for your next home improvement project, you'll find everything you need in Real Homes magazine, whether you're extending your home to create an open-plan layout, transforming the kitchen or bathroom for a modern new look, adding a loft conversion to create a master bedroom suite or updating your living room with the latest decorating trend.
Want to cross a gift off your Christmas list today? Subscribe to Real Homes magazine and pay just £7.50 for three issues. It means you (or a friend) will never miss an issue of your favourite magazine as we'll deliver it straight to your door every month. It's too good a deal to miss!
5 reasons to subscribe to Real Homes this Christmas
It's the perfect Christmas gift for anyone with a passion for interiors.
Each new issue is packed with great new ideas for your home. Be ahead of the crowd when it comes to interiors trends, for just £7.50 for three issues!
We love helping you save money. Not just with our subscription offers, but our mag is brimming with home transformation ideas for every budget. Take the plunge for just £7.50 and let even more savings roll in.
If you love Real Homes, you can also try this offer out on our sister titles Homebuilding & Renovating and Period Living. That's two more gifts sorted right there!
The clock is ticking and this offer must end soon. Grab it while you can.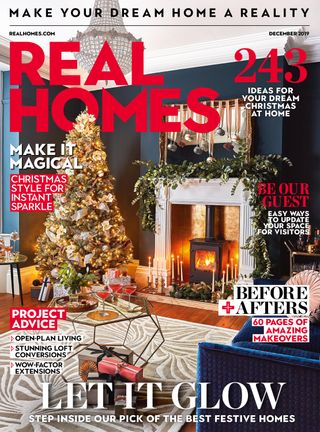 Every issue of Real Homes is filled with stylish decorating ideas, on-trend shopping buys, the latest designs for kitchens and bathrooms, and 50+ pages of inspiring real homes, all packed with creative ideas you can copy in your own space.
Plus, there's all the expert advice and inspiration you'll need for your next home transformation project. So why not get your next project off to the best possible start by signing up to this fantastic deal today.
WHAT YOU GET
Three issues of Real Homes magazine for just £7.50
Delivery straight to your door
Fantastic savings of up to 58%
Plus, claim two free tickets to our eight Homebuilding & Renovating Shows, worth £216!*

* Free tickets to all eight Homebuilding Renovating Shows on an annual subscription.