Jessica Preston transformed her bungalow into a bright, creative haven for herself and her daughter with help from a few tubs of paint. Find out how she did it – and check out all our real home transformations.
There are traces of Jessica's past scattered throughout her home, from the artwork above her bed – an origami fabric sculpture from her days as a textile designer – to the plot of land on which her bungalow sits. The area was once farmland owned by Jessica's great grandparents, much of which was eventually sold off, but she grew up in the bungalow next door and spent her childhood in the area.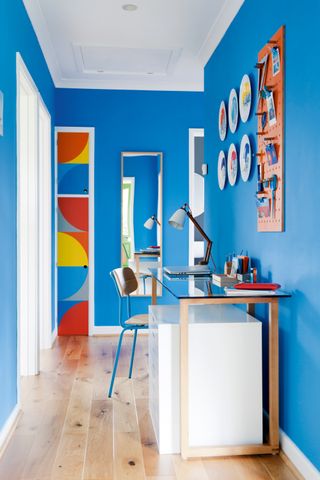 Jessica's parents, who own her bungalow and rented it out before she moved in, did a basic job of modernising it, but it was still 'rental bland', as Jessica describes it. 'I wanted it to be a colourful and positive place for Polly to grow up in,' she says.
Jessica's intentions shine through in every aspect of her design. As soon as you walk through the front door – painted in Polly's favourite colour, green – you're met with a bright blue hallway (above). 'I always wanted a blue room in my house, and the hallway is a good place to experiment. It's a space where you're generally passing through, but one that makes an instant impression as you enter a house,' Jessica says.
The room doubles up as Jessica's workspace, from which she launched her interior design company colour + shape. 'Sometimes hallways are seen as an area you need to fill, but in a house this size you have to use all available space,' she laughs. 'I would quite like a dedicated studio, though.'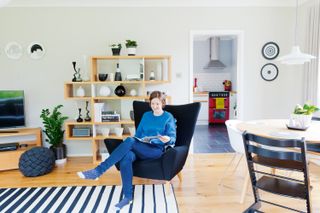 Jessica brought certain elements of her old property – a Victorian townhouse flat – with her when she moved back to Foxton, and the living room was built around her old scheme. 'The monochrome sitting room came from specific items – vases, glasswear and my textile wall panel,' she explains.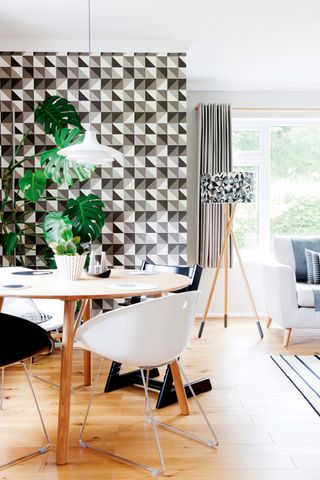 She used clashing patterns to prevent the scheme from becoming too plain. 'Monochrome can be boring if it's just block colour,' she says. 'The pared-down palette means that bolder, more daring patterns can work really well.'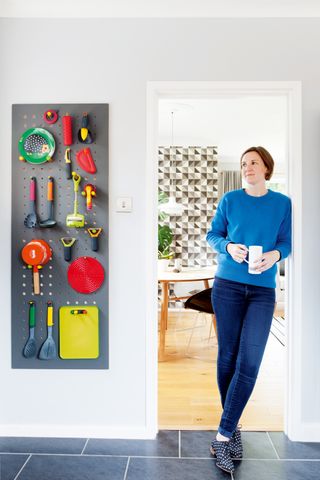 Jessica's artistic skill comes into play throughout the bungalow, not least in the form of the pegboards hung up in the kitchen and hallway, which she and her dad made from plywood. For Jessica, it's a great way to show off the colourful kitchen utensils that would otherwise be relegated to the back of a drawer. 'It's a cost-effective way of using wall space,' she says. 'If artwork isn't within your budget, you can use your own objects to create a display instead.'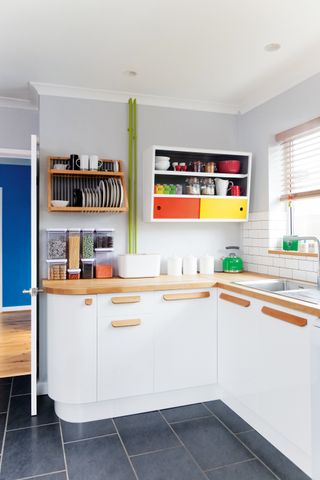 Working on a tight budget meant that Jessica made every effort to save money – especially in the kitchen and bathroom. 'One of my tips for cutting down costs is to keep the layout as it is,' she says. 'If it works well, keep the basics in place and you'll save the cost of replumbing and rewiring.'
Jessica retained the sanitaryware in the bathroom and refurbished the kitchen with B&Q units, updated with oak handles.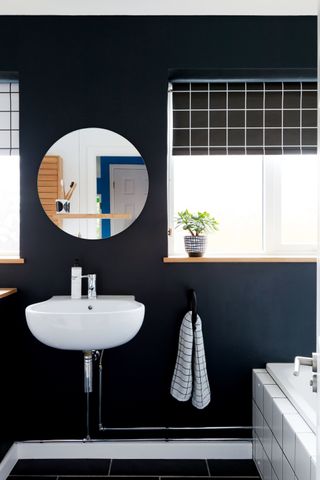 Jessica cites her upbringing as the main inspiration for many of the rooms – including Polly's bedroom. 'I thought a lot about my own bedroom as a child, especially the primary colours of the 1980s,' she says. The springboard for the design was a duvet set by 1970s German designer Graziela Preiser. 'Her work is quite collectable now, and her daughter relaunched her designs from that era, which reminds me of my childhood,' Jessica explains. 'I used the four main colours from that duvet set and blocked them around the room.' She even managed to find a wardrobe similar to the style she had as a child.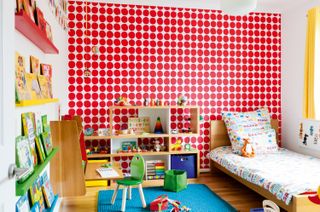 Making the most of everyday objects is central to Jessica's design, as the open shelving around her house shows. The living room is filled with vases and pots she has collected over the years, including several Hornsea plant pots that were created in the same year as the bungalow was built. 'I like to look at the nice things I have and edit down my collection,' she says. The same can't be said for Polly's toys. 'I'm facing a battle as she gets older,' Jessica laughs. 'All her nice wooden toys are being replaced with Lego.'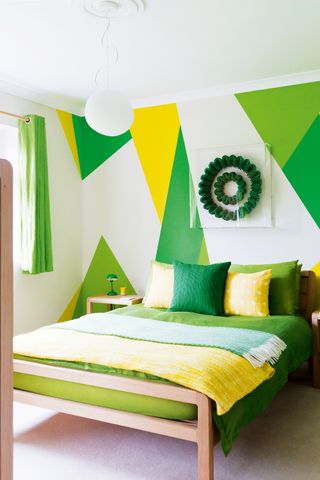 The bungalow is a playful take on Jessica's childhood memories, and Polly played a big part in the design, too. 'Having a young child was definitely an influence while I was decorating,' she says. 'As a family of two, I was focused on making it a happy space for her after moving home.' It seems that Jessica's love of colour might have rubbed off on Polly, too. 'She talks about colour a lot,' Jessica laughs. 'When school seems to be so focused on maths and science, I'm just glad that she has a colourful, creative environment to grow up in.'
Project notes
The owners: Jessica Preston, who runs an interior design consultancy colour + shape lives here with daughter Polly, seven.
The property: A two-bedroom detached 1960s bungalow in Foxton, Cambridgeshire.
Project cost: £19,250
Contacts
More gorgeous homes to view: