In the almost two years that Animal Crossing: New Horizons has been on the market, the community has showcased some insane creativity when it comes to custom designs. From various intricate pathing designs to wallpaper patterns that fit perfectly with the latest design trends and even the most inventive ways to use Simple Panels, if you can think of it, someone in the community has probably already made it. Or... you could.
We'll guide to through the best way to use the Custom Designs Portal, how to use QR codes, and break down exactly how to download, make and share custom designs in Animal Crossing: New Horizons.
You can use the links below to jump to what you want to see by section.
Download using the Custom Designs Portal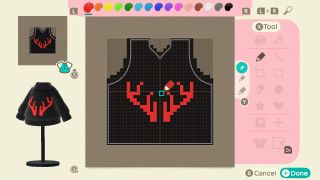 Visiting the Able Sisters is by far the simplest way to download new custom designs in Animal Crossing: New Horizons. The Able Sisters store is not there from the start and needs to be unlocked. Once you've done that, head to the bright pink touch screen at the back right of the shop and you can connect to the internet and interact with the Custom Designs Portal. It's here where all your dreams of intricate paths, fancy decking, and artsy wallpaper can come true.
Originally when the game first launched, you needed to know either the design ID or the creator ID of the items you were looking for. But now, you can simply do a Criteria Search to find anything that's been named a similar thing to what you're searching for, like stone path or vine panel design. You can also just search by design type too, such as a Face-cutout standee for a quick photo opportunity or the latest sweater designs.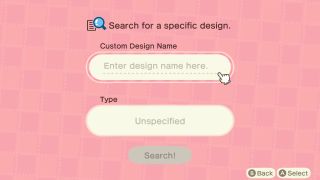 Of course, if you know exactly what you're looking for already, you can still search by creator code or design ID. A nine-digit number prefaced by MO is the design ID, while MA is the creator code and you'll then be able to see everything they have created. You can even flick between regular custom designs and Pro versions that have been crafted with a specific clothing item in mind.
The best places to find creator codes are Reddit, Instagram, and even Twitter where you can search #acnhdesigns or #acnhpattern. Always keep in mind though that some more complex designs such as decking or even paths will require more of your design slots so download wisely. Thankfully, the number of design slots available has increased dramatically since launch, so you'll have plenty of space for custom creations.
Also, if you are switching out an existing design, make sure you don't have it anywhere else on your island as the new art will fill any area occupied by the previous creation. You don't want a bed decorated with decking, do you?
Download using qr codes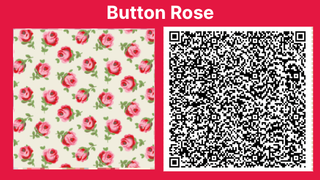 So, the Able Sisters is closed for the night and you're still hungry for a custom design or six. Never fear. Using your real NookPhone instead of your ingame one, it's possible to scan QR codes which you can then download into the game. The first thing you'll need to do is download the Nintendo Switch Online app onto your real life smartphone. Then, for the first time since you started playing Animal Crossing, load up the game and don't just press A to start. Instead hit the minus button to bring up the settings menu. Here Tom Nook gives you the option to enable NookLink.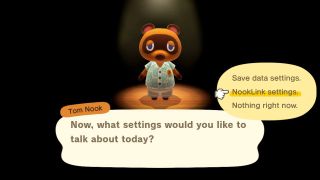 Once NookLink is turned on, log into the Nintendo Switch Online app with the same account you are using on your Switch with Animal Crossing. This will then allow the game to appear under your 'Game-Specific Services' menu on the phone app. Tap it and your very own NookLink will appear with a handy keyboard option to type at lightning speed, and that all-important Custom Designs app. Using this you can scan a QR code that has been created by a previous Animal Crossing game or ACPatterns.com, which we talk about a little further down the page. Once you have scanned the code with your camera, you can then open the designs app on your Switch and press the plus button to download the design.
Make custom designs in game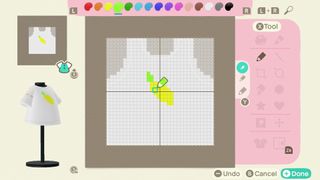 It's easy to download new innovative and creative designs but don't forget that you have the power to craft your very own pixelated masterpieces. It takes a bit to get used to the Custom Designs tool in your NookPhone but the expanse of different palette and shape options means that spending some time just playing with all the different options means you'll have a better chance of creating something special in future.
Just keep an eye on how things will look in the boxes on the left hand side. Unfortunately, you can't edit designs you have downloaded from the internet so if you want to get creative with someone else's work you'll have to start from scratch.
A great place to feel like a design master is by switching to the Pro Designs tab and crafting clothing. Here you can choose from a range of six different tops, six dress styles and three hats to fully customise. Each segment can then be designed separately to make sure you have the perfect custom threads to wear around your island.
Turn your photos into designs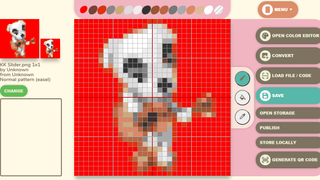 If hand drawn pixel style isn't quite enough to sate your design appetite, there is a way to bring your real photos and art into the game too. ACPatterns.com is already an excellent way to design on a bigger screen, but it also has an option to convert your existing pictures into pixel format. On a desktop computer, you can select your image, choose the colour scale or even whether you want to go moody and monochrome, and the site will then produce a QR code for you to download into your game using the NookLink QR scanner. The innovative free tool even allows you to choose segments of the image that would let you paste pictures of KK Slider here in a multi-panel mural across your floors or walls. It's OK to miss him during the week.
Share using the Custom Designs Portal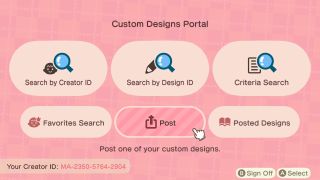 So you've created your art and now you want to share it with the world. Well it's time to head back to the Custom Designs Portal in the Able Sisters. Here you can register as a creator and you will be given your own ID which you can then share on social media and with friends. It's important to note though that when you register you are adhering to the Nintendo Code of Conduct and thus have a duty not to upload any designs that other players might find inappropriate. Once you have uploaded your creations, other players who know your codes will then be able to download your masterworks to their own islands. Yes, you can feel smug.
Note: To share and download designs, players will need a paid Nintendo Switch Online subscription.
Show off your designs in the Able Sisters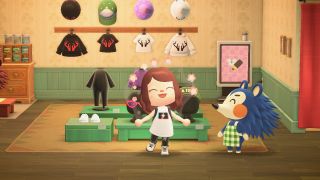 Finally, you've gone to all that hard work so what better way to show off your custom creations than with official merchandise in your shop? Approach the back wall of the Able Sisters and you'll find a collection of pre-made designs hanging on the wall. Interact with wherever you would like to show off your own fashion label and Mabel will ask if you would like to look at the top or bottom level. Choose your slot and she'll then ask which design you would like to display instead. Select your item of clothing and voila, there it is in all its painstakingly-designed glory.
The best thing about sharing your custom clothing designs here isn't just appreciating them every time you go shopping or even your friends being able to download them to wear, but the fact that your villagers will randomly strut their stuff in your freshly designed togs. Nothing says 'job well done' like Tangy wandering around in a new jumper.