Need camping equipment? While throwing a BBQ party and hitting the festivals is a sure sign that summer has started, nothing quite says the temperature has risen by a few degrees like a good old camping trip.
Yer, you probably will end up all squished inside a soggy tent, listening to the rain, drinking lukewarm tea and wondering why you ever thought this would be a good idea, but let's just ignore the realities of camping for now and focus on what you will need to take with you...
We've assembled a quick-hit packing list of the very best camping essentials (plus a few non-essentials thrown in, because what's a cute campsite without some solar fairy lights and a string of bunting?). Think of this as your camping cheat sheet...
For more buyer's guides on everything from summer holiday reads to the best barbecues, go to our hub page.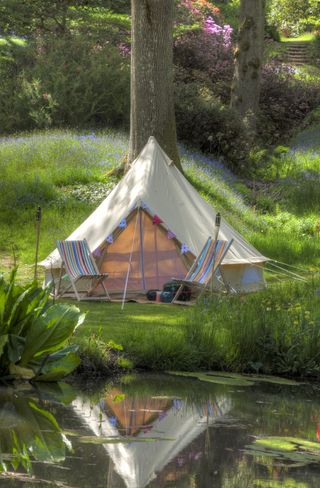 1. The best tent: Vango Utopia Air TC 500
Why you can trust Real Homes Our expert reviewers spend hours testing and comparing products and services so you can choose the best for you. Find out more about how we test.
The tent you choose will be determined by how many people are on your trip and whether you are travelling by car or lugging everything around on your back.
If you are travelling to your favourite campsites by car and are planning to camp regularly from now on, it makes sense to pick a tent that has living space, too, especially worth it when the weather is unpredictable.
Our favourite – and the best tent in our opinion – is the Vango Utopia Air TC 500. It sleeps five, but also has plenty of space for for relaxing, eating and storing gear. Plus it takes just 10 minutes to put up – true, there's a Realhomes.com Vango and it's fab.
For more of the best tents for every type of camper, head over to T3's round up of the best tents.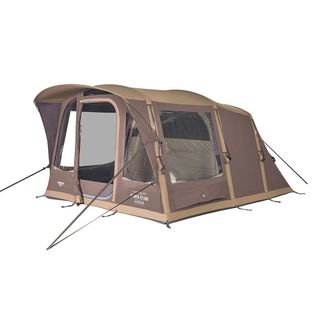 2. The best camping chair: Vango Kensington Tall
Because the novelty of sitting on a picnic blanket wears off pretty quickly. Picking the best camping chair for you will of course be based on your budget and how often they will get used. If camping is an irregular trip, you don't need to spend more than £30 on a basic camping chair, but if you go every year, investing in one that's both comfortable and durable is a must (take it from us, you spend a lot of time in them). Our favourite? Another Vango, this time the Kensington Tall. After a cheaper camping chair? Or one that saves space? The Vango inflatable lounger is a great find – pump it up on arrival, deflate and stuff into the car boot when you go home. Genius. Don't forget camping chairs for kids, too.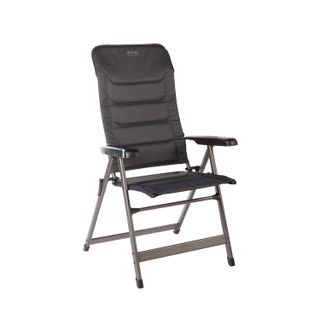 3. The best camping table: Eurohike Family Picnic Table Set
A camping essential, unless you want to be eating off your lap every evening. A camping table is also good for storing and prepping food. Like with camping chairs, the camping table you choose will be based on budget and how often you use it. One-off trip or yearly jaunt? You could probably get away with a cheap camping table (something like this Oypla table from Amazon).
But if you are after something more snazzy and a bit longer lasting, we recommend the Eurohike Family Picnic Table Set. With two stools and two benches included, there's enough space for up to six people to sit around it so you can all eat together at meal times. Despite its generous size, this picnic table folds up easily so it's perfect for carrying around or storing when you aren't using it.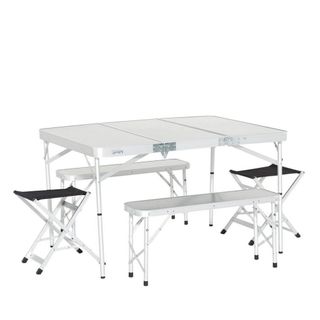 4. The best camping bed: Therm-a-rest Luxurylite Ultralite Cot
You could of course go with a roll mat, but come on, surely no one finds what is basically sleeping on floor comfortable. Upgrade to a better night's sleep and think about investing in a camp bed. Most of them aren't too expensive but will make a world of difference.
Air beds are the obvious choice because they're lightweight and compact, but you do have to be prepared to put in effort when pumping them up, and some of the cheaper models might deflate slightly during the night so it pays to go for a quality brand. If you are after the best airbed we say go for the Outwell Flock Classic Two Chamber airbed. We love it because you can let air out of each side separately, so it's comfy for two people no matter how soft or firm your prefer your mattress.
Structured camping beds are more supportive. They usually have legs and a proper frame, therefore providing a more comfortable sleep, probably a better option if you are planning a longer trip. Our fave for this kind of camp bed is the Therm-a-rest Luxurylite Ultralite Cot. It's so lightweight, actually even more so than an air bed, so you won't struggle to lug it from car to campsite. It's also lined with ThermaCapture foam that will keep you cosy at night, a welcome feature if you are camping during chilly nights.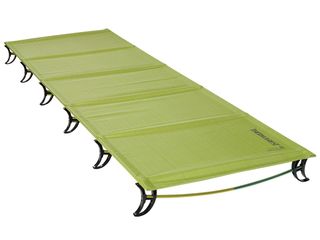 5. The best camping stove: Outwell Jimbu Camping Stove
Camping stoves are a bit of a minefield, there are so many different options out there aimed at different types of campers and trips. We are going to focus on the family friendly, little weekend jaunt type camping stove.
The first decision is fuel type (gas, liquid or solid), which influences the type of heat you'll be dealing with and what you can cook on it...
Solid fuel stoves are intended for very light duties such as boiling water, so you can probably rule those out for a big family camping trip. Liquid stoves can burn a myriad of liquid fuels from paraffin through to solvents and petrol, and are excellent for longer expeditions, low running costs, and in remote places where fuel may be scarce. So again, not essential for a weekend on the Cornish coast.
Your best bet is a canister gas stove, simple to light and with good flame control, they are ideal for family camping trips. They range from heavy catering appliances through to lightweight burners, so there is quite literally a gas stove for every situation, but we've chosen the Outwell Jimbu Camping Stove as our best camping stove. It's got a 3500W burner and a 1500W grill, allowing for flexible cooking options plus room for more pans, which comes in particularly handy for cooking up breaky. The built-in windshields come in handy too if the wind picks up.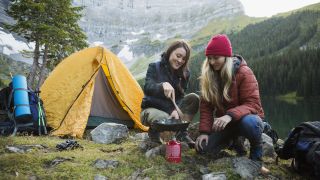 6. The best compact BBQ: everdure by Heston Blumenthal Cube Portable Charcoal
If you know the weather is going to glorious you could risk scrapping the stove (although they are always good to have for cups of tea) and just have a BBQ. We love the everdure by Heston Blumenthal Cube Portable Charcoal, it's been cleverly thought out to provide you with every feature you could possibly need for your next camping trip. This is perfect for tabletop cooking, which makes your evening activities all the more sociable. There's the added bonus of a food grade plastic tray, which can be a handy storage area for either food or cutlery and napkins, and a bamboo tray for prepping. If you want more of the best portable BBQs, head over to our buying guide.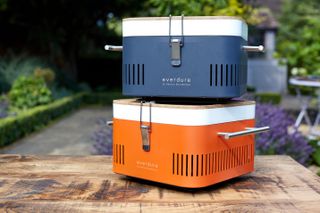 7. The best camping light: Biolite base lantern
Finding your way around the campsite or the inside of your tent at night is much easier if you've got a good camping light. The torch on your phone might do for reading but if you want to light up the whole of your tent, you are going to need something more stealthy.
When choosing the best camping light, think about how long you need it to run for and how you will charge it when it runs out. Choose an LED light as it will definitely last longer than other bulbs, and consider whether to go for rechargeable or battery-powered comes down to the length of your trip and if you will be near mains electricity to recharge your light.
Our recommendation for the best camping light is the Biolite base lantern. Not only does it let you charge your other devices from it, there's an app too so you can programme the button light settings (kitchen, reading, bedtime, etc) and set the colours. You can also connect this light to the BioLite SiteLight Overhead String Lights and control these from your phone, too. It works from rechargeable batteries but lasts a while – or, at least, long enough for a camping trip.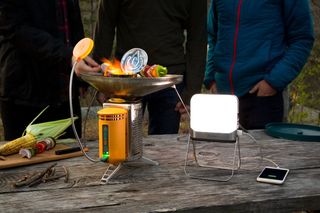 8. The best outdoor fairy lights for camping: Lights4fun Carnival Battery Festoon Lights
And because you don't want to be sipping lukewarm white wine by the glare of a camping light, make sure you take some fairy lights with you for a bit of ambience. Lights4fun have loads of lovely outdoor battery powered lights that are perfect for camping trips. The best outdoor fairy lights in our opinion are the Carnival Battery Festoon Lights; they're battery operated, meaning you can pop them anywhere, and weatherproof too. String them around the edge of your tent to give even the soggiest of camping trips a bit of a glamping feel.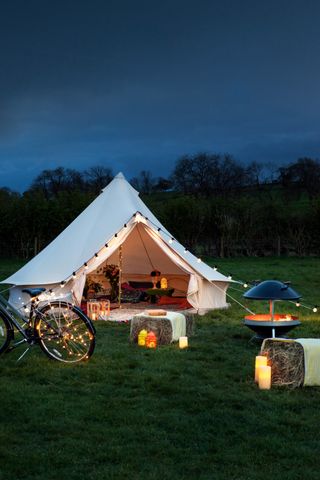 9. The best portable speaker: ULTIMATE EARS WONDERBOOM
Be hated by all your fellow campers and take a portable speaker with you on your trip. If you are camping in the UK it's especially important to choose a waterproof speaker that's super durable too, and the Ultimate Ears Wonderboom ticks both of those boxes. Don't be fooled by the compact size, it packs audio punch. Internal tweeters, drivers and woofers produce 86 decibels of clear trebles and booming bass. Specially designed to emit room-filling 360º sound in all directions, this'll be more than enough for your patch.
It has 10 hours of battery life so will definitely last you for a weekend trip and the toggle on the top doesn't look like much but it's super handy for clipping to the side of your tent or hanging the in centre of your gazebo. Check out more of the best portable speakers in our buying guide.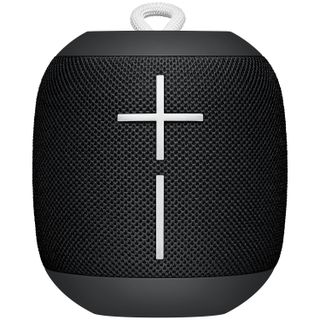 10. The best cool bag: POLAR GEAR PREMIUM FAMILY COOL BAG
To keep all your food (and of course alcohol) nice and chilled you are going to need a cool bag. We recommend the Polar Gear Premium cool bag. It has a thick thermal lining that insulates well, and comes with an ice pack to help keep the temperature down for longer. When the bag is empty it folds flat for easy carrying and handy storage. We love the easy access flap in the lid too, which means you can get your food out without opening the entire bag.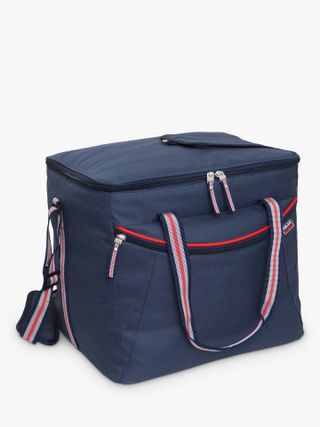 11. The best dry bags: Aquafree Waterproof Dry Bags
It's inevitable that when you are camping that you are going to get a bit wet and muddy, and there is nothing worse than a tent full of slightly damp clothes. So make sure you take some dry bags for storing your worn clothes. We reckon the Aquafree Waterproof Dry Bags are the best for a family camping trip. They are lightweight and durable, with a reinforced seal so nothing is going to seep onto your nice (and pretty rare on a camping trip) dry clothes. They come in loads of sizes and colours so you can get a huge one to fit all your family's kit in, or a small one to take on walks or beach trips.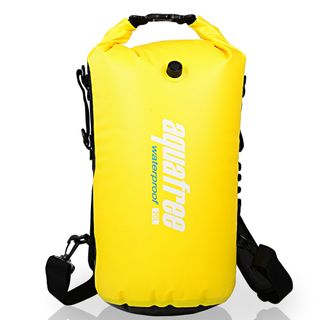 12. The best kitchenware for camping: John Lewis melamine
Melamine plates, bowls and cups are a camping essential for sure. You don't want to be lugging all your heavy crockery over to the washing up station three times a day, plus taking anything breakable on a camping trip is just asking for it. John Lewis have some really cute picnicware that we swear is nicer than most of our plates at home!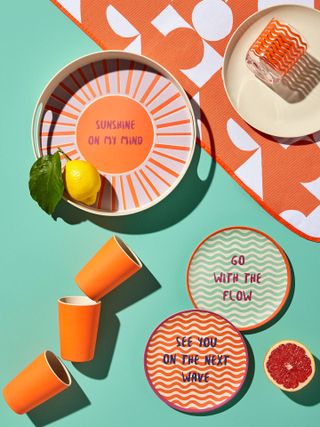 13. The best picnic blanket: Joules Lemon Print Picnic Rug
Whether you want something beautiful and woollen for romantic one night camping trips or something more sturdy and waterproof for regular use, a picnic blanket is a camping essential in our eyes. If you are after the best picnic blanket for camping, be on the look out for ones that are lightweight, easy to fold up and ideally have some kind of strap for carrying.
Our favourite for summer trips is the Joules Lemon Print Picnic Rug. It's got a comfy quilted topside and a waterproof backing so will be fine if the grass is damp. Plus it comes with built in handles that make it easy to carry with you.
If this is going to be too bulky for your trip, try the Matador Pocket Blanket, which is exactly what is sounds like: a picnic blanket that fits in your pocket. It's super strong for its feather-light weight, and features a puncture-resistant construction and weighted corners for maximum practicality, whether you are on a windy beach or a rocky hillside.
Go and have a browse through our round up of the best picnic blankets for more of the best picks.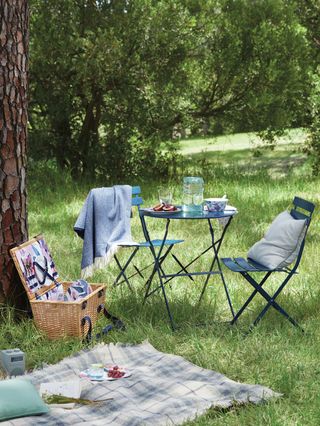 14. The best outdoor projector: EPSON EB-S41 SVGA 3300 LUMENS PROJECTOR
Not a camping essential as such, but we reckon setting up a mini projector and watching a film on the side of your tent (or on an old sheet) is a glorious idea. You could always get a projector for your smart phone or if you think an outdoor projector is something you really want to invest in, we recommend the Epson EB-S41 SVGA 3300 Lumens Projector mostly for its affordability – but it has a great contrast ratio, too, plus the images it delivers are bright and clear. For more of the best outdoor projectors, check out our buying guide.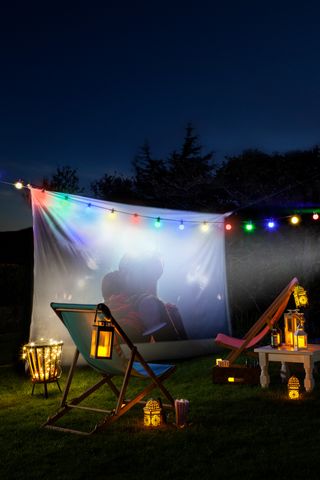 15. The best survival kit: Solo Outdoor Survival Kit
It's always a good idea to have a few hardcore pieces with you just in case. Pocket tool, para-cord, whistle, torch, compass that sort of thing. And the Solo Outdoor Survival Kit has all of these and more in a handy, tiny box. Pack a compact First Aid Kit too so you can deal with any inevitable cuts and scrapes.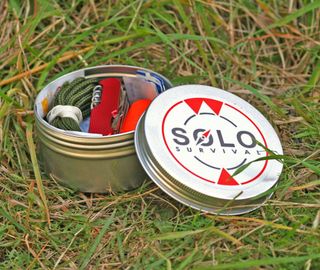 Read more: