There's always a question to be faced if you find yourself in a home that is no longer fit for purpose – should you move or improve? A house move might seem like the most obvious solution if you've outgrown your current property, but making changes to the one you're in – whether that's a loft conversion, rear extension or an ambitious two-storey addition – could save you time and money.
That was certainly the case for Kier and Paul Rhodes. While their three-bedroom home felt more than big enough at first, when sons Harry and Jacob came along, the space seemed to shrink and the house no longer met their needs. The family were all set to move, but eventually decided to make a project of their current property instead. The addition of a wrap-around extension has given them a spacious open plan living-kitchen, two more bedrooms and another bathroom. We spoke to Kier to find out how they went about extending the house of their dreams.
'We'd been planning an extension for eight years, but we couldn't face the prospect of all the upheaval while the children were so young, so we decided to look for a bigger house instead,' says Kier. 'We liked the area and didn't want to leave so we searched the surrounding villages. Unfortunately everything we saw was overlooked with a small garden.
Profile
The owners Kier Rhodes, a regional optical manager
(@therhodeshome_), her husband, Paul, who owns a travel business, their sons, Harry and Jacob, and their beagle, Snoopy
The property A five bedroom 1990s detached house near Doncaster
Project cost £150,000
'In the end, we came full circle. We agreed to save the unnecessary expense of moving into a new house and decided to go ahead and extend instead. We'd moved here from a small house round the corner, which we rent out, so we had somewhere to stay while the major building work was being done. It just made a lot of sense.'
'We realised that if we extended and redesigned the layout, we could have the house we were looking for. The kitchen is south-west facing with a private garden, so we wanted to make that the focal point of the house. With the help of John Mason of Ink Architectural, we drew up a wish list of everything we wanted from our new-look home, including a large living-kitchen leading directly onto a deep patio and the garden, and an entrance hall that linked directly to the kitchen so we no longer had to walk through the sitting room to get to the back of the house. We also wanted to create a utility and a homely office space directly off the kitchen.'
'Building work began in September 2017, then stopped at the end of October until we were able to move back into our old house while the rear wall was demolished.
'What should have been a short stay became a catalogue of disasters. We had heavy snowfall thanks to the Beast from the East. A pipe burst in our en suite, which led to water gushing down the stairs like Niagara Falls. It drenched the bedroom floor to such an extent the ceiling came down in the hall. Water leaked into our sitting room below, where our furniture was stored. It was a disaster! I was so disheartened I could've happily walked away from it at that point, but we had no choice.'
'After the delays to the build were sorted, things started to improve quite quickly. The tarpaulin at the back of the house was replaced by a wall and bi-fold doors, and the interior finishes were completed, along with the tiled floor. We moved back into a bare house with an empty kitchen – just a tea-making station and fridge in the living area.
'We then went on holiday and left Paul's parents to oversee the fitting of the new kitchen. It was very surreal to return to find it finished. The extension was so big it was more like a dance hall. It wasn't until the new furniture was delivered and we unpacked things that been stored away for months that it felt like our home again.'
'There are still some final touches to be done, but we have no regrets. The bi-fold doors across the width of the kitchen extension creates a direct link between inside and outside, so whatever the weather we still feel as though the garden is part of the house, instead of something completely separate. The kitchen extension is so multifunctional we spend most of our time as a family in here. Paul does all the cooking, so he can be in the kitchen area while the boys are doing homework or playing games and I'm catching up with a bit of work, all in the same space. It's so much better than before. It was stressful at times during the build, but definitely worth it in the end.'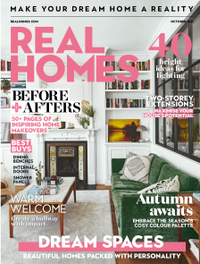 Subscribe to Real Homes magazine
Want even more great ideas for your home from the expert team at Real Homes magazine? Subscribe to Real Homes magazine and get great content delivered straight to your door. From inspiring completed projects to the latest decorating trends and expert advice, you'll find everything you need to create your dream home inside each issue.