Neil and Will Harman had always loved the popular town of Bridge of Allan in Scotland, so when a three-bed apartment above a shop came on the market, they were eager to view it. Although the configuration of two bedrooms at the front and a small kitchen at the rear didn't work, knocking the bedrooms together to create a kitchen-diner and turning the old kitchen into an office/guest bedroom unlocked the property's potential. And with a huge attic, there was scope to create two more en suite bedrooms.
'Nine months after buying the apartment, we sold our five-bedroom house quicker than expected, so moved in with my mum for three months while the work was finished,' says Neil. 'In Scotland there's an additional dwellings tax when buying a second home, but since we sold our previous house within 18 months and made this our main residence, we were able to claim it back.
Having remodelled several Glasgow tenements and a Victorian villa, the couple had ample experience of renovating. Although Bridge of Allen is definitely the right place for the couple, they've recently made an offer on a house with a good-sized garden on a lovely street nearby. 'I'm a little bit gutted about leaving, but it feels like the right place at the right time,' says Neil. Here, he and Will talk us through the trials and tribulations of their project…
The kitchen
Profile
The owners Neil Harman, a programme manager, lives here with husband Will, head of school relationships, their son, Hugo, five, and Boston terrier Seven
The property A 125-year-old four-bedroom maisonette in Bridge of Allen, near Stirling, Scotland
Project cost £114,500
'We bought this three-bedroom apartment on a whim as a second home or perhaps an Airbnb, but later we discovered the amazing attic space,' says Neil. 'We realised it was ripe for conversion and could be our main home. The previous owner had passed away and the décor was poor with nicotine stained walls, but it had good bones with grand period cornicing.'
The kitchen is drastically different from its previous iteration – but it's taken some inspiration from the couple's last home. 'Our previous kitchen had two islands,' says Neil. 'I basically replicated the exact size of the more sociable one with the hob, where we would congregate around.'
'A round sociable table works best here, as a square or oblong design would've felt like another barrier with the island,' says Neil. 'Getting the right size was a big challenge – but by pure luck, a friend was getting rid of this table and it fits perfectly.'
The living room
'When it came to the décor, our travels to New Zealand, the States and South East Asia inspired the maximalist look,' says Neil. 'I love bright pops of colour and pattern with an eclectic mix of textured items – but it still has to flow. For instance, the living room, with its matt brass fittings and moody, elegant pink walls, is a more grown-up version of the kitchen, which features a vibrant bubblegum pink on the island and shiny brass fittings.'
'The grey memory foam sofa was a random ex-display purchase from Ikea's premium range, with Airbnb in mind,' says Neil. 'But I actually love it as it's washable and so comfortable.'
The attic
'After renovating the main floor, we had plans drawn up to convert the attic, making it a 2,000 square foot four-bedroom maisonette,' says Neil. 'By removing a second WC and taking some space from a bedroom, there was scope for a new kite winder staircase. It was a leap of faith, though, as we could have ended up with a two-bedroom flat if planning permission hadn't been granted.'
'Our architect drew up five different schemes for the attic,' says Neil. 'One had three bedrooms, but we felt two bigger en suite bedrooms would suit us better. Another had a 'wow factor' balcony overlooking the two flights of stairs, but would've taken up too much floor space, so we opted for the tiniest of landings instead.
'Being in a Conservation Area there were some extra costs, such as special Velux windows that are meant to resemble the old school metal attic skylights. However, we saved money by organising the scaffolding ourselves. I wanted a show sofa for this spot under the sloping ceiling. I'm constantly stroking the velvet into the right direction, but I didn't care how practical it was – it just had to look good!'
'My role during the project was primarily labourer and chief internet searcher,' says Will. 'It can be frustrating when you have a clear idea of what you want but you just can't find the product anywhere. There are only so many internet pages you can look at until you give up, so I try and help out to source as much as possible.
'It's always an adventure working with Neil. I take quite a hands-off approach (he might call it something different!) but his design skill and approach to décor is so much more advanced than mine. Although I often think his ideas are odd, he always proves me wrong with the finished product and I know he'll always make the right decision for our family and the property.'
This room has been influenced by the couple's travels across South East Asia, including a print bought at the famous White Temple in Chiang Rai, Thailand. 'I wanted a luxe boutique style bedroom with a grey, monochrome backdrop and coral accents,' says Neil.
'I wanted Crittall-style doors with frosted glass for the en suite and dressing room, but couldn't find anything,' says Neil. 'Instead I bought timber doors with clear glass and got a company that tints car windows to do the job for about £200.'
'The bathroom is a grown-up antidote to the more vibrant bedroom,' says Neil. 'I picked real terrazzo as the starting point, as the colours work well with the bedroom, as well as the maroon unit.'
Costs & contacts
Building work & attic conversion £42,000
Kitchen & bathrooms £30,000
Roof £16,000
Electrics, plumbing & heating £16,000
Shutters £6,000
Cornicing and ceiling roses £4,500
Builder JPS Restoration
Architect Ally Croll Architect
'My favourite place in the house is probably Hugo's bedroom and en suite,' says Will. 'It just makes me so happy that we can have such a fun space for him. Now that we've found our next home, I feel a mixture of sadness, a lot of excitement and a little bit of dread. We put so much into this property, but the new place is perfect for us.'
'I saw the vintage carousel lights on Instagram and loved them,' says Neil. 'They were meant to be along the eaves wall, but at four feet high, they were too tall. The black backdrop really makes the letters pop.'
'I love living in this property,' says Will. 'It's so comfortable and cosy and I'm not ashamed to say that it makes us feel so proud when people come over and their jaws hit the floor. The thing about this place is it's so us. People get it when they walk in. We've done and seen so much collectively in our lives and this really presents itself in our property.'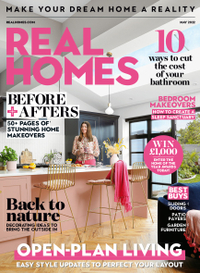 Subscribe to Real Homes magazine
Want even more great ideas for your home from the expert team at Real Homes magazine? Subscribe to Real Homes magazine and get great content delivered straight to your door. From inspiring completed projects to the latest decorating trends and expert advice, you'll find everything you need to create your dream home inside each issue.