From the stunning vaulted ceiling in the master suite to the carefully planned broken-plan kitchen-diner, serial renovators Beth and Jon Miller have shown a knack for space planning. As neither were content in their careers in marketing and managing an olive oil business, they decided to move from London to Leeds and make their passion for renovation into their profession, starting their own interior design consultancy.
Inspired to try a renovation of your own? Go to our guide to house renovation for plenty of information and advice on how to do it. And don't miss the rest of our real home transformations – they're all on our hub page.
Profile
The owners Beth Miller and her husband, Jon, who run an interior design consultancy (freshstartliving.co.uk), and their children, Arthur and Edith.
The property A five-bedroom detached Victorian house in Leeds.
Project cost £120,000.
At the time Beth was pregnant with daughter Edith, and they were keen to move before son Arthur started school. Leeds offered cheaper properties, the buzz of a city and Beth's best friend was already living there. After viewing eight houses in one day, they discovered a three-storey detached 1890s house with 'good bones' and a sizeable garden.
Fast forward two years and they've fully refurbished and extended it. They project-managed different trades and tackled jobs themselves, with Jon showing a talent for inventive upcycling. And now they're using all that experience gained to help others create their dream space.
'Extending at the rear to square off the L-shaped kitchen was the second phase of our renovations, six months after moving in,' recalls Beth.'Previously there were bi-fold doors where our sink is now, but we wanted the living and dining areas to link to the garden instead. It had relatively new Shaker-style units, which were perfectly liveable but not to our taste, and the tiled floor had been badly laid and was starting to crack. There was also an impractical island plonked in the middle, which felt like a roundabout.
'Given there was a deep bay window coming off the back of the original dining room, our architect advised going for full planning permission to make sure it didn't classify as a side extension as well.'
'We love the exposed brick in the dining room but weren't too keen on the wood lintel, so sourced a stone one instead. We also removed the wood-burning stove, which seems like sacrilege, but it didn't feel suitable for a fire considering the way we planned to use the space.
'Another quandary was whether to keep the doors to the living room or go fully open plan, however, we didn't want to lose wall space or limit places to put furniture. There's not as much light in this part of the house, but it's not as essential for a dining room.'
'As this room has a beautiful big bay window, high ceiling and cornicing, we really went to town and created a more grown-up space. There was never a moodboard, but the dark blue wall colour came first, then, when we saw the vibrant orange velvet sofa, we knew it would be a great contrast. We sanded the original floorboards and finished them with Osmo Polyx oil for a lighter, more natural look.'
'We love mixing old and new, so there are several beautifully crafted salvaged pieces that would otherwise have ended up in landfill, like the sideboard in the bay window which we've added hairpin legs to.'
'We fell in love with the fabric in this room after meeting Charlotte, who runs local business The Monkey Puzzle Tree, which stocks art fabrics and wallcoverings, at a networking event. Although we'd toyed with using it in the living room, the green and pink colourway didn't really work. The study was our last chance to use it, so we had blinds and cushions made. The desk and shelving were DIY using plywood and we laid OSB (oriented strand board) on the floor, which looks great but doesn't break the bank. It's one of our favourite rooms – we love the colour and mix of materials.'
'Phase one of our renovation was splitting the huge bedroom on the top floor into two. We wanted our kids to have separate bedrooms on the first floor, with our master suite plus a fifth bedroom up here for visiting family. It might seem odd to start at the top of the house, but we've learnt it's more efficient and less risky to work downwards with debris coming down the scaffolding or sometimes through the house, potentially damaging work that's already been done.'
'Since we had to insulate the roof, we took the opportunity to add bigger rooflights. It's given the vaulted ceiling that wow factor. Most of the furniture up here came from charity shops, Facebook Marketplace or picked up on the street for nothing, so it's an eclectic mix.'
'The first floor family bathroom was really plain with a white suite, curved shower cubicle and panelled bath, which looked lovely but wasn't practical with kids as the paint was flaking off.
'We were keen to have a bigger freestanding bath as it looks grander. We picked an acrylic one because painted cast iron baths can cost over £1,000 and require a reinforced floor. I sanded it down and painted it dark blue, which ties into the living room.'
'Arthur was getting a bit old for the Thomas the Tank Engine theme in here, so having uprooted him from London to Leeds, we wanted to let him have fun and create a space to call his own. He desperately wanted a purple bedroom, but, thankfully, chose an off-white colour with a purple tinge from the tester pots. The homemade A shelving is great for all his Star Wars characters.'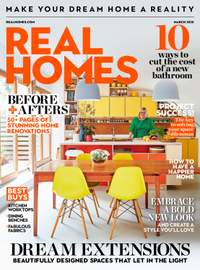 Subscribe to Real Homes magazine
Want even more great ideas for your home from the expert team at Real Homes magazine? Subscribe to Real Homes magazine and get great content delivered straight to your door. From inspiring completed projects to the latest decorating trends and expert advice, you'll find everything you need to create your dream home inside each issue.

More reading: