Can it be possible to get all the building work for a family-friendly kitchen extension done for under £25,000? In the north east of England it certainly is, as Steve and Katelin discovered. With guidance from Steve's architect cousin and local firm BTC Construction, the couple have more than doubled the size of their small kitchen by extending into the side return.
An on-trend pink and grey colour scheme brings a contemporary twist, while exposed steel beams add an industrial edge. To save money, Steve made a dining table and shelves from floor joists, the size of the bi-fold doors was scaled back, and Katelin reluctantly crossed off the Neff Hide and Slide oven from her wish list. Here, Steve reveals how they were able to create their dream kitchen.
Are you planning to add on to create a dream kitchen? We have masses of ideas and helpful advice in our guide to kitchen extensions. For more real home transformations, head to our hub page.
Profile
The owners Katelin Haworth, a solicitor, her husband, Steve, an IT analyst, their daughters, Elsie and Everly, plus wire hair fox terrier Rupert and Lakeland cross Hugo
The property A three-bedroom Victorian terraced house in Whitley Bay, Tyne & Wear
Project cost £41,000
'We used to live two miles away in a quirky Victorian cottage, but it had no garden or space to extend,' says Steve. 'So we started looking for our forever home, hoping to move in time for our daughter Elsie starting pre-school in September 2019. A garden and drive were top of my wishlist. For Katelin, it was all about the location with beaches and parks within walking distance. We both knew we wanted a property with character, though. This house had lots of potential, even though the galley kitchen had been painted red and felt small, cramped and dark. There was water coming through the roof, and the survey was so bad we only got the mortgage after a structural engineer wrote a letter to our lender.'
'Before the sale went through, we brought round two builders. One had done an extension for Katelin's friend, and the owner's son had taken over the business. We liked him, his price was reasonable and we were able to visit their other projects.
'My cousin, Joseph Wilson, an architect in London, drew out three rough layout ideas and we mashed them together to get what we wanted. It was important to have the utility and toilet under the stairs to keep the space open, with an L-shaped kitchen and island as you first walk in. The dining area is at the rear by the bi-fold doors. We set a start date before exchanging contracts. It was a gamble as the sale could've fallen through, but luckily work began two weeks after getting the keys.'
'During the four-month project, we lived with my mum in nearby Washington. We sat with the electrician and builder early on to plan the lighting, choosing recessed spotlights, grey wall lights over the dining area and three copper pendants above the island. The builders also repaired the damp master bedroom wall and replaced the window.
'Once the walls were plastered, we painted everything white and put down 9mm plywood ready for the cement screed and luxury vinyl tile flooring. At the last minute, we decided to have it in the hall and living room, too. I wanted an industrial look, so we kept the steel beams exposed and used a fire retardant metal paint, I felt boxing in the pillar would'
'Katelin had lots of design ideas picked up from TV, magazines and Instagram so she suggested a pink and grey colour scheme. We came across Affordable Kitchens Direct who supplied and fitted a Second Nature Kitchen in just the colours we were looking for.
'On the wish list was an eye-level oven, a tall larder unit and an induction hob within the chimney breast. There's a sink, dishwasher and concealed bins on the island with the hob opposite – so everything's within swivelling distance.
'Katelin found some lovely pink tiles for the inglenook. She wanted them laid in a herringbone pattern like the floor, but it would've taken me forever. Laying them vertically was much easier. I used grey grout to match the other units.'
'As things were still being finished off when we moved back in, we lived with a makeshift kitchen for a few weeks but thankfully we didn't go over budget. Looking back, the only disaster was when it rained before the roof was fixed and the concrete had just gone down. After living in the space for a few months, we added some colour with a gallery wall. We might paint the wooden pew seat if we agree on the right shade.
'The new space has transformed the way we live as we can all be together. Although we lost some of the garden, there's still enough room for the girls to play outside while we're cooking. It's so practical as everything has its home. We can put washing away in the utility and there's enough space for the kids' toys without it feeling overwhelmed.'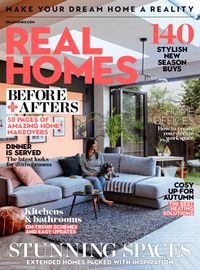 Subscribe to Real Homes magazine
Want even more great ideas for your home from the expert team at Real Homes magazine? Subscribe to Real Homes magazine and get great content delivered straight to your door. From inspiring completed projects to the latest decorating trends and expert advice, you'll find everything you need to create your dream home inside each issue.
More reading