From elaborate mantlepieces to stained glass windows, period houses often come with a host of beautiful original features. But for those of us with a more modern property, it can be difficult to make our own mark. For Anna and John, the answer came in the form of an extension and some clever design trickery. In expanding their kitchen-diner, they've created a unique space with high ceilings and exposed woodwork that contrasts with the original 1950s structure of their terraced home.
The couple have plenty of experience between them. John, an architect, lent his eye for clean lines and utilitarian design to the house, creating a family home that's pleasing to look at as well as practical. Meanwhile, Anna's skills as a colour consultant and painter has given each room a character of its own. The ice-cream tones of the kitchen complement the neon colour pops in the children's bedroom, while the adults-only living room is set apart with a dark and moody scheme.
We have masses of ideas and helpful advice on what to do if you are extending a house, like Anna and John. And for more inspiring real home transformations, head to our hub page.
Profile
The owners Anna Proctor, an artist and colour consultant (annaproctor.com), lives with her husband, John, director and architect at Proctor & Shaw, and their children, Rufus and Scarlett
The property A four-bedroom 1950s terrace in Battersea, London
Project cost £320,000
'John got very excited before he'd even seen the house in the flesh,' Anna recalls. 'He immediately went to his office and sketched a quick plan of what he thought we might do. We'd already put our flat on the market because we were originally going for another house, but that fell through. A few days later, this house came up and we had an offer for our flat. It was a bit of a whirlwind. We went from thinking we wouldn't be moving at all to selling in a week! After living in a small flat with two kids, we were understandably desperate to move.'
'The house was very brown and unloved, with a stairlift and loads of 1970s fittings – odd metallic textured wallpaper, varnished pine ceilings, strip lighting and swirly carpets. It was a little shabby, but in some ways, that made it easier – we could just get rid of everything and start again.'
'We bought this house on probate from an elderly couple who had passed away, so it hadn't been touched for a while, other than a few upgrades to facilitate their needs,' adds John. 'The interior needed a total facelift but I loved the width of the plot. It's an end of terrace and because it was built in the 1950s, all the houses on the street have slightly larger gardens than their Victorian neighbours. There were purpose-built sheds attached to the mid-terrace properties, presumably to promote the use of gardens to grow fruit and vegetables amid post-war rations. Because there was already a permanent brick structure next door, we knew we should be able to pass planning for an extension with relative ease.'
'Everything happened quite fast from when we first saw the property. We arranged a viewing for the same afternoon and put an offer in two days later, which was accepted almost straight away. We applied for planning and permitted development to cover all bases and booked in the builders.'
'John has an amazing vision and a way of instantly knowing the potential of a house,' says Anna. 'Because this one is just outside a Conservation Area, we knew planning permission would be fairly straightforward, so we were quick to get it through and start building as soon as we moved in. We undertook a lot of work: a rear extension, loft conversion and a complete remodel of the interior. We also lowered the ground floor so that the floor level changes as you walk from the hallway to the kitchen. It gives you the extra ceiling height – 1950s houses have low ceilings – so we wanted to make the most of the airiness and open the kitchen up.'
'I'd done a couple of personal projects on our old flat and had learned to treat it as if I was working for a client,' says John. 'It's the same process – there are no shortcuts. It was fun! Inevitably, Anna and I didn't agree on everything, but she let me move forward with the architectural side of things. I worked with modernist concepts of clean lines, simplicity and light.'
'The open-plan kitchen is practical with kids, and it's great when people come over,' says Anna. 'We have family abroad and my mum lives in Oxfordshire, so she comes and stays for days at a time. We don't have a lot of reception rooms – just a small living room at the front of the house and John's office – so in terms of usable space, the kitchen really is the hub of the home.'
'Previously, there were two bathrooms on the first floor. We knocked into one of them to create the kids' bedroom. It stretches across the width of the house, with a window on each side of the room. It was originally the master bedroom, but we decided the kids needed the space more than we did. Our bedroom in the loft is a little smaller, but we have built-in storage in the eaves and a handy shower room. It made sense, with a project of this scale, to take on a loft conversion too – it adds value to the house.'
'If we had more money, we might have added a double-height extension to the back of the house, but I think it would have made us too close to neighbours upstairs – it's quite a built-up area and there's not much privacy. It's easy to analyse every decision you've made, especially when you see so many cool new projects on Instagram – but you've got to make your mind up and go with what you like. Trust your gut.'
'Anna took the lead on the colours and the final interior touches,' John reveals. 'There was a bit of arm wrestling over it, but she has a good eye. We started with a key material palette – the magnolia brick of the extension, the concrete floor and the exposed ceiling – and the colours we've used enhance that. One of our friends described the palette as "island chic", another as "1950s ice cream"! It feels appropriate – everything from the colours to the materials are a nod to the mid-century soul of the house.'
'The project has been life-changing. Living in a small flat with two kids was difficult. Now they have enough room to express themselves under the same roof, it's a lot more manageable. They don't clutter up the downstairs family space, which was a real drag in the flat. The house has a real sense of space and luxury.'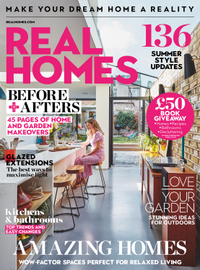 Subscribe to Real Homes magazine
Want even more great ideas for your home from the expert team at Real Homes magazine? Subscribe to Real Homes magazine and get great content delivered straight to your door. From inspiring completed projects to the latest decorating trends and expert advice, you'll find everything you need to create your dream home inside each issue.
More reading