It's easy to see why Jo and James Glossop call their home the Tardis. The 1970s detached property looks like a typical suburban estate house from the front, but an unexpected split-level extension at the rear places it in another league. The pair have designed their home with family fun in mind, from the dining table that doubles as a pool table to the basketball hoop in the garden and the colourful kitchen inspired by beach holidays.
Having moved to be nearer her sister, Jo and James have created the perfect inside-outside space where the adults can fire up the barbecue while the children play with their cousins and friends. It's no wonder they don't ever plan on moving.
Are you creating the ideal family home by adding on? We have lots of expert advice on what to do and where to start in our feature on extending a house. For more real home transformations, head to our hub page.
Profile
The owners Jo Glossop, a former primary school teacher (@retrojo5) and her husband, James, who has a medical writing/editing business, live here with their three children Bella, Annie and Ronnie, plus Rosa the dog
The property A 1970s detached house in Kelsall, Cheshire
Project cost £104,000
'When my sister and I were pregnant together with our first babies, I was keen to move to her village 20 minutes away so our kids could grow up together,' says Jo. 'Our modern end-terrace was on a busy road and you could hear the neighbours through the walls. I dreamed of a period house, but when we found this 1970s detached house with a huge garden, we realised size was more important than character. I was in hospital having Bella when we got the keys, so I got out of unpacking!
'The 1990s décor, with borders, floral wallpaper and seahorse stencils, wasn't to our taste, but we gradually redecorated every room over the years. Having the separate kitchen at the front just didn't work for us either. I'd be cooking tea and the kids would be shouting through from the living room where they did their homework. After our third child was born, we considered moving house but everything was out of budget, so we decided to extend instead.'
'Initially we thought about knocking through, but architect Ben Johns suggested extending and moving the kitchen to the rear. He drew up amazing plans, then our builder, Rich Francis, our daughter's best friend's dad, helped find areas where we could save money. For instance, we have an archway rather than sinking the RSJ in the ceiling, and we didn't bother with the oblong glazing above the bi-fold doors to give a view from the raised living area. We also lost a proposed seating area with log burner opposite the kitchen.
'Eventually we'll turn our old kitchen into a utility and shower room, but for now the extra oven comes in handy at Christmas and James uses the space as a gym. The kitchen and outdoor space have really made this home. It makes me smile every day. I love the colours and it looks so pretty when we put the outdoor lights on in the evening.'
'Originally we wanted reclaimed 1950s units but they were hard to source and would've looked too mismatched in the new extension. Thanks to Pinterest, we discovered lots of plywood and Formica kitchens, which had the retro look we were after. Quotes for bespoke designs were coming in at over £22,000, then we came across Plykea and realised we could get fronts and tops made to fit Ikea carcasses. The whole kitchen only cost £7,000 including appliances. Our colour scheme was inspired by the beach – aquamarine, grey and yellow. We even had a holiday photo of a Cornish beach made into a canvas to give a nicer view above the sink.
'Having become plywood obsessed, I decided I wanted a plywood floor, too. It wasn't as cheap as I thought because a timber merchant had to create tongue and groove edging on the squares of plywood to prevent it from lifting. To save money, I sanded and varnished it myself with a hand sander. It nearly killed me.'
'Before the extension, this was a long, thin living and dining room across the back of the house. Even though I love green, I wasn't keen on the wall colour that we dubbed "Fungus the Bogeyman" green.
'Our first attempt at decorating involved apple green patterned wallpaper and a striped green carpet which, in hindsight, was a bit much. One of my friends said it made her eyes go funny! Now, we prefer white walls to showcase our vintage retro finds.'
'I've become more and more obsessed with retro over the years and am always looking on Ebay. That's where I found the highboard unit in the living area, which is great for displaying our kids artwork. I'm not into upcycling as I prefer to keep vintage stuff in its original state.
'My best bargains are a £5 coffee table from Ebay, which is a 1950s kitchen table with the legs chopped down, and our £20 brown sofa from a house clearance.'
'After getting rid of the 1990s border and woodchip in the bedroom, we initially decorated in calm cream with green accessories, but recently we decided to ramp up the colour and move the bed in order to create a diagonal line on the main wall.
'I also made an OSB headboard with built-in shelves and my sister gave me some metal fish towel rails from the 1960s bungalow she was renovating, which I've sprayed pink and hung light bulbs from. I also cut up my Alan Hannah stargazer wedding dress and stretched it over a canvas for some DIY artwork.'
'The bathroom was one of the first rooms to be revamped as it was leaking into the living room below. Not being able to find the source of the leak was very frustrating, so we felt a new bathroom would sort it out once and for all. When the old suite was ripped out, it was so rotten we needed a new stud wall.
'Before, there was a separate bath and shower, but we felt it would look more spacious with a shower over the bath instead. It also meant we could wash the dog in there. We went for a clean-lined white suite with colour pops through accessories.
'Thankfully we've had no more leaks, but I totally fell for my husband's April Fool's joke when he put down a towel and a bucket of water not long after the work had been done.'
Like most of us, Jo admits she hasn't always nailed it first time around. Over the last 12 years, her style has evolved as she's become bolder with colour and mixed up modern furniture with vintage retro bargains. Jo's bursting with quirky plans – her most recent being the OSB headboard and two-colour diagonal statement wall in the master bedroom. 'I'm very lucky that James goes along with all my bright, crazy ideas.'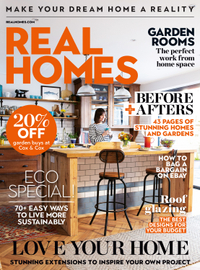 Subscribe to Real Homes magazine Want even more great ideas for your home from the expert team at Real Homes magazine? Subscribe to Real Homes magazine and get great content delivered straight to your door. From inspiring completed projects to the latest decorating trends and expert advice, you'll find everything you need to create your dream home inside each issue.
More reading: