When Tom Murray spotted a 'for sale' board outside a barn, piggery and thatched cottage while strolling in the Cambridgeshire countryside, he presumed the properties were being sold as one big lot. However, after a bit of digging, he and his wife Stephanie discovered the empty dilapidated cottage was available separately – and was potentially within their budget. 'It was a musty house of horrors with cobwebs and dead spiders everywhere,' says Stephanie. 'The higgledy piggledy layout with the kitchen in the middle of the house made no sense, but the amazing view over fields totally sold it to us.'
Looking to add on to your home? We have lots of ideas and helpful advice on what to do and where to start in our feature on extending a house. For more real home transformations, head to our hub page.
Profile
The owners Stephanie Murray (@housfolk), a full-time mum, her husband, Tom, a chartered surveyor, and their children, Millie, Alfie and Phoebe
The property A 400-year-old four-bedroom extended cottage in Great Eversden, Cambridgeshire
Project cost £150,000
Having already renovated a 1960s semi in the next village, the couple could see the untapped potential of the Grade II-listed building. 'An open-plan family kitchen-diner was really important to us,' says Stephanie. 'It was a bit of a punt – there was no way of knowing if planning permission would be granted for an extension until after we had bought it.'
The sale was completed in June 2014, and the pair did a basic refurbishment so Tom's dad could live there temporarily while he was between houses. As they'd refinanced to release equity, they didn't need to sell their old home straight away. 'With previous renovations I always felt pressure to get it finished and move in,' says Stephanie. 'I wanted to take our time and get it right with this one'.
Inspiration came from a glass link extension they saw on a TV property show. Designing something similar would make a clear distinction between the 400-year-old building and the planned double-height space. The architect, who worked on their last house, incorporated lots of glass, including two rows of low square windows along the side wall, two rooflights in the centre, a glazed linking section and sliding doors with triangular panes above to make a feature of the gable end.
It was Stephanie's idea to create a mezzanine playroom. 'I was thinking about turning the ground floor guest bedroom into a playroom, but that would only leave the three bedrooms upstairs,' she says. 'The mezzanine works brilliantly because the kids are still in the same space but separate.' The old kitchen near the front door became a boot/laundry room, and a functionless ground floor room a utility area and toilet.
Having expected a long, drawn out process, the couple were pleasantly surprised when their plans were passed in under four months – the only provisos being that the extension was subservient to the existing building and they replace like for like in the old cottage. Stephanie believes having an open dialogue with the listed building and planning officers was key. 'If you seek their input and make them part of the process, they're a bit more invested in it and want to see you succeed,' she says.
In summer 2017, a builder they'd previously used started work on renovating the existing cottage. The following summer the thatch was replaced and the extension started. 'Most of the other builders we asked couldn't give a fixed quote as they didn't know what problems might lie behind the walls or with the oak frame,' admits Stephanie. 'We knew the thatch needed replacing and the walls were damp, but we weren't sure of the cause at that stage.'
It became apparent the building was covered in cement-based render and unable to breathe, which meant replacing the timber frame and beams in the snug. What's more, the floor needed levelling, new lime plaster walls reinstated and handmade windows acquired. Upstairs, the avocado bathroom suite was ripped out and became Alfie's bedroom, while a new bathroom and lobby were made by sectioning off part of the master bedroom.
Not long before the extension was finished in the September of 2018, the pair sold their previous home and rented a farmhouse for six weeks over the summer. Despite a few hiccups – such as when the kitchen fitter mistook the ply-edged spacing panels for packaging and had to refit the utility room units – the whole project went pretty smoothly.
Stephanie's favourite part is the family-friendly kitchen extension. 'There's no noise apart from the birds and so much space for the kids to run around. I love the element of surprise as you can't see it from the front door. After being told to mind their heads on the low door frames, new visitors always say "wow" when they walk into the extension.'
She's also proud of the large matt black kitchen island. 'I wanted to make it a real workhorse, so there are six drawers on one side and a fridge, dishwasher, induction hob, oven, sink and hot water tap opposite,' she says. 'The new utility room is essentially an overflow pantry space with another fridge and the freezer.'
Contacts
Architect Rider Sale
Construction Taylor Builders, 07976 326444
Making old and new parts of their home work together has been a challenge. 'It's definitely a house of contrasts – the cottage has such a different feel to the extension,' Stephanie says. 'We have white walls throughout to unify everything. The soft furnishings in the snug are in muted pinks, terracottas, and yellows, but nothing's too bright or bold, while the utility and boot room have cork tiles that marry up to the beams.'
The only compromise is a lack of space for clothes due to the sloping ceilings on the first floor. 'We have drawers in our bedroom and a rail in the ground floor guest bedroom, which isn't ideal,' says Stephanie. 'If we ever did another project it would need to have scope for a big bedroom with en suite bathroom and dressing room. It would also have to match the size and views we have, though – so it would need to be pretty special to make us move.'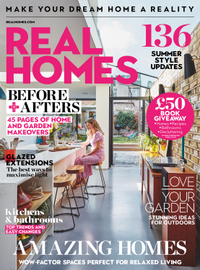 Subscribe to Real Homes magazine Want even more great ideas for your home from the expert team at Real Homes magazine? Subscribe to Real Homes magazine and get great content delivered straight to your door. From inspiring completed projects to the latest decorating trends and expert advice, you'll find everything you need to create your dream home inside each issue.
More reading: