Privacy is hard to come by when you have kids in the house – even grown-up kids, as Vicki and her husband David know all too well. With their daughter Katie starting university, the couple felt it was time for a switch up of the layout of their bungalow to create a quiet sanctuary away from the hustle and bustle of family life – but how to do it?
After toying with the idea of further loft work, Vicki and David settled on a bedroom swap with Katie, giving them space towards the back of the house to create their dream suite. Alongside a bedroom and dressing room, the couple have created a stunning en suite set that's practical as well as pretty. Vicki explains how they brought their new space to life.
Inspired to create your own bathroom sanctuary, just like Vicki and David's? Check out all our best bathroom ideas and inspiration.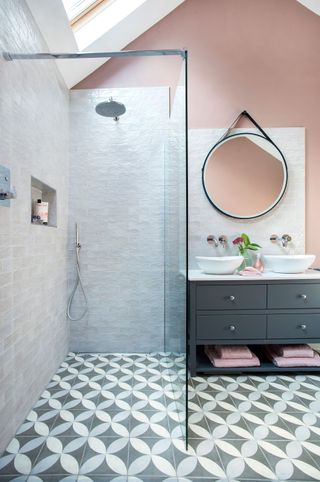 Profile
The owners Vicki Roath, a finance director, lives with
her husband, David, a solicitor, their son, Sam and daughter, Katie, and cats Maisie, Modi and Magni
The property A detached 1950s chalet bungalow with a loft conversion in Hampshire
Total project cost £16,000
'We've been in this house nearly 10 years, and in that time we've extended, knocked down walls, the lot.,' says Vicki. 'Once our daughter started university we thought about moving, but couldn't find anything we liked more. However, the layout wasn't working for us any more. Our bedroom was next to the kitchen and didn't give us the privacy we wanted. We eventually swapped with our daughter, giving her a sizeable room, more wardrobes and a bigger en suite. In return, we turned her old en suite into a dressing room and the adjacent room, built behind our garage as a chill-out room for our son, became our bathroom.'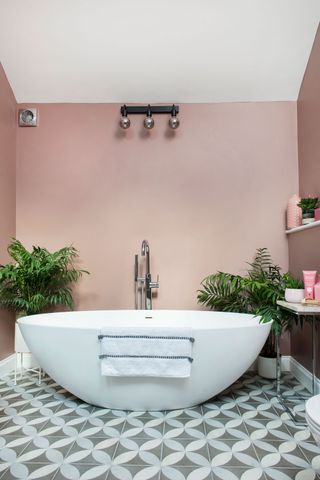 'The builder we chose was one we trusted, as he'd redone the family bathroom the year before. We went into lockdown just as the project started, which was stressful. Luckily our builder was able to carry on as the room is separate to the rest of the house and has its own external doors, but sourcing products was an issue. We had to swap a few things out – our original bath tap supplier shut down, for example, so we had to go for a different product. But we were lucky in some ways. We'd already chosen the tiles and the builder picked them up for us literally the day before they closed – so we got there in the nick of time.'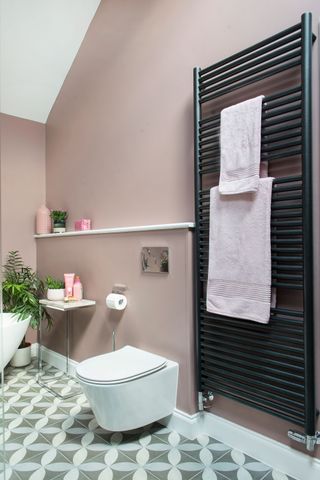 'To save money, we sussed out what we wanted ahead of time and made sure the items we chose were good quality. We shopped around for prices then presented them to our local bathroom showroom, who gave us a good discount on everything. All the extra storage we've added has been invaluable, too. Our builder made us a large cupboard, which stows away all the spare toiletries, medicine, cleaning products and the bin, and there's storage in the sink unit too – we haven't actually managed to fill all the drawers!'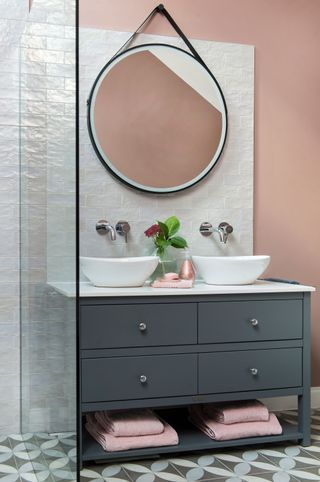 'I was really keen that this bathroom, along with being beautiful and spacious, was also very practical and easy to keep clean, especially as we live in a hard water area. We have grey grout, which doesn't discolour, wall-mounted taps, which prevents limescale build-up, and a large, flat piece of glass for the shower screen, which is easier to keep clean than our old cubicle. I opted for a black radiator so that the water marks wouldn't show – that way I don't have to polish it all the time!

''The rest of the house has quite a vintage feel with lots of 1950s and 1960s antiques, and a bit of Scandi style thrown in. I wanted a bit of that in here, but the overall aim was for a luxury boutique hotel look. We decided on the colours early on and I love the dusky pink – it's warm, not girly, and I think it really helps get that luxe look.'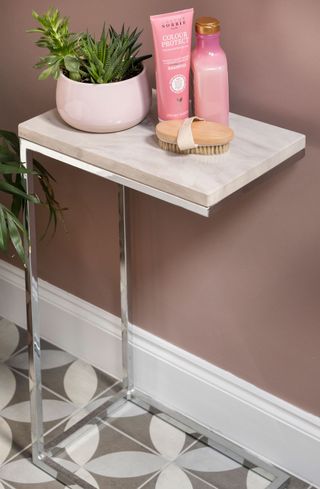 'Having our own space separated from the rest of the house has made such a difference. Our son, Sam, is now tucked away upstairs, which means I don't have to see his messy bedroom, and Katie has a much bigger space with more room for her clothes. For us, having more privacy is brilliant, and our new dressing area is a massive bonus – but the bathroom is the star of the show. David and I have similar working days, so the twin sinks are great for getting ready together in the morning, and it's a lovely sanctuary to come back to at the end of the day.'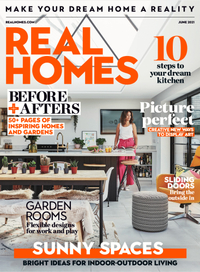 Subscribe to Real Homes magazine
Want even more great ideas for your home from the expert team at Real Homes magazine? Subscribe to Real Homes magazine and get great content delivered straight to your door. From inspiring completed projects to the latest decorating trends and expert advice, you'll find everything you need to create your dream home inside each issue.