Karla Lucas inherited her Victorian home in a decent state – complete with an open-plan kitchen and French doors to the garden – but she's been able to put her own stamp on the property while keeping its most precious features, including the original sash windows, fireplaces and bannister, intact.
In fact, Karla has gone so far as to celebrate them, restoring the original Victorian tiles of the hallway to their former glory and keeping, but painting over, the textured wallpaper that was there when she moved in. That isn't to say that her home hasn't moved with the times, though. Knocking the living and dining rooms through to each other has flooded the middle room with much-needed light, and a loft conversion provides daughter Amelia with her own little sanctuary up in the roof.
Intrigued? Keep scrolling for the full tour.
Want to put your stamp on a home with a makeover? Here's an overview of how to prepare your house for a renovation.
The profile
The owners Karla Lucas, a teacher, lives with her husband, Andy, who is in the army, and their daughter, Amelia
The property A four-bed Victorian terrace in Staffordshire
Project cost £46,000
'When we saw this house, we were drawn in by the original features,' says Karla. 'There were so many and they'd been so well-kept throughout the years – since 1901, basically. We lived in the house for a year to get a feel for it before we did anything. We knew the floorboards needed sanding, the fireplace mantles needed replacing, and the kitchen needed an update, but we hadn't even considered anything like a loft conversion. All it needed was a lick of paint.'
'The handrail on the bannister was the original pine, while the stairs and spindles were white. Everything needed painting and there was carpet running up the middle that wasn't fitted properly, so it was dangerous. We ripped it up and put an inexpensive beige runner up the middle. I painted the stairs myself and it took forever! I'd seen someone use a runner with edging – I found a stockist of Alternative Flooring to come and fit something similar.'
'There was original wallpaper on the bottom half of the wall that we didn't dare pull off, so we painted over it. You can still see a bit of the pattern and it has a lovely texture. All the houses along the road had stained glass in their front door except for us, so we restored that, too.'
'I love making a feature of the traditional elements of the house, but my taste is quite modern – I like things to be clean, and everything to have its place. I get lots of ideas from magazines and the internet, save them in folders and revisit them. Trying out dark paint was the scariest – it feels like a bold move before you do it. We lived in military housing with magnolia walls for 20 years, so when dark interiors started taking off on Instagram and Pinterest, we decided to give it a go. We still love our darker living room even now.'
'One of the first things we did was to knock down the wall between the living and dining room. It was messy, but it was so effective for how inexpensive it was. It opened up the whole of the front room – the light is amazing now. We never used to go into the dining room at all because it was so dark. It had one window but it didn't get any light because there are houses behind us.
'The builder who did the work put all the coving back on afterwards so it matched the rest of the ceiling. We discovered at that point that the floorboards in the front room and the dining room run different ways. I put a rug in to cover the join and make it flow a little better. We use the space so much more now. Thanks to the open fire it warms up nicely, and it's still so bright in winter because of the big bay window at the front.'
'The kitchen we inherited when we moved in was 10 years old and really dated. We knew we'd need to put a new one in. The cupboards weren't in good repair and it wasn't the layout I wanted – it wasn't social enough. The space had already been knocked through by previous owners, but replacing the kitchen itself was one of the first things we did. We had to buy a few new quarry tiles that were missing from underneath the old kitchen but I knew I wanted to keep them – they're an original feature and they're still in such good condition. In fact, they sold us the house along with the tiles in the hall. I don't know how people can carpet over them!'
'When we were choosing the new kitchen, I wanted a sleek, modern design. The kitchens in military quarters were always really dated with nowhere to put anything, so this needed to be the opposite of that. We also decided to opt for light units to prevent the room from feeling gloomy and make the tiles pop. We went to lots of different shops and ended up at Wickes. I just love the clean, slimline look. We kept it all white so that the only colour comes through the floor tiles and accessories.'
'We decided not to go dark in the bedroom because we worried it wouldn't feel like a calm, relaxing space. Instead, we opted for Farrow & Ball's Elephant's Breath. We were going to keep it white but it felt like the room needed warming up. The design is quite Scandi, with lots of wicker and beige tones. We wanted a toned-down, chilled-out room where we can unwind at the end of the day. All the furniture in here we brought from our old house, so there's nothing new except the baskets and the lampshade.'
'Once we'd moved Amelia up into the loft, it gave me a spare room to create a dressing room. In my opinion, it's the best room in the house. My dad says it's the most expensive dressing room he's ever seen – after all, we did a whole loft conversion for it!'
'We did the loft last, but in hindsight, we should have done it first – it was an absolute mess! We had to replace all the carpets on the middle floor and staircase. In an old house like this, when you start knocking things down, the dust is black, so it was messy.'
''The whole thing took three months. It's like Amelia's own little apartment. She chose the décor; she didn't want pink any more so settled on a blue-green colour. There isn't a bathroom up there because we wanted space for clothes, but she's otherwise pretty self-sufficient – she has a desk for study, and she loves having friends over so they can hang out upstairs.'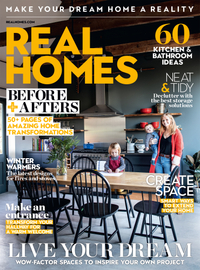 (opens in new tab)
Subscribe to Real Homes magazine (opens in new tab)
Want even more great ideas for your home from the expert team at Real Homes magazine? Subscribe to Real Homes magazine and get great content delivered straight to your door. From inspiring completed projects to the latest decorating trends and expert advice, you'll find everything you need to create your dream home inside each issue.
Keep reading: