Having done up their previous two-up-two-down with no prior experience, six months after Alex and Sam got married, they were ready for their next challenge. One day into their property search, they found this house. It had been rented for over a decade, and had grubby lino floors, brown floral carpets and broken beige kitchen cabinets, but the couple were excited by its potential. When Alex found out she was pregnant, they suddenly had a deadline to work towards. 'We wanted the majority of the work finished by the time the baby arrived,' Alex says.

Inspired to tackle your own project? We have masses of ideas and helpful advice on what to do and where to start in our feature on house renovation. For more real home transformations, head to our hub page.
Profile
The owners Alex Reid, owner of nursery interiors company Missing Cargo (missingcargo.co.uk), her husband, Sam, and their daughter, Camilla
The property A three-bedroom 1950s semi in Abbots Langley, Hertfordshire
Project cost £40,000
Plans included an extension for a new kitchen and snug, as well as knocking down two internal walls to create a spacious open-plan living-dining space. 'One of our top priorities was to create space for a large dining room that could seat 10,' Sam says.
The existing kitchen was converted into a utility room and the old pantry was turned into a downstairs toilet. Upstairs, they knocked through the adjoining bathroom and separate WC in favour of a spacious bathroom with a walk-in shower.
The couple lived upstairs for nine months, using the spare bedroom as a temporary living room. It's something that Alex found challenging: 'I wouldn't recommend living on a renovation site when you have a strong urge to start nesting!' Living in saved on budget, as did the DIY work Sam undertook.
'He has such a brilliant mind and he's a skilled carpenter, so he managed 95 per cent of the work himself in his spare time,' Alex says. 'As well as the living room window seat, shelves and dining table, he also made a whiskey bar by fixing vintage crates to the wall – perfect for storing our favourite tipples.'
The couple also cut costs in the kitchen, using the Wickes design service and sourcing quartz marble worktops from a local stone specialist to save money. 'Although it's pricey, quartz lasts forever and cleans up really well,' Alex says.
'Sam built worktops in the utility room from scaffold boards and because the original pulley rails were still in place on the ceiling above what would have been the original kitchen window, he reconstructed the pulley maids using dowel rods and brackets and fitted the kitchen cabinets single handedly.'
Alex and Sam's design choices are influenced by international themes. 'I was born in Lyon, France, and lived there until I was 17, before moving with my parents to North Carolina and then Canada,' Alex says. 'The benefit of having lived in different countries is that you can select the best bits from each. There are so many things I love about France: the warm climate, skiing, the incredible flea markets, the cuisine and, of course, the wine! It's definitely influenced the way I live.'
DIY clearly runs through the couple's blood, and they work as a team to bring projects to life. 'I have an eye for a bargain and love sourcing vintage pieces and coming up with design ideas that Sam has the skills to make happen,' Alex says. 'I inherited my parents' passion for antiques and we've acquired some lovely pieces. My mum taught me how to sew, which is so handy for budget renovations, too. I'm constantly refreshing our look by making new cushions, table runners and wall hangings for next to nothing.'
With so much time, effort and personality put into the project, it's no wonder Alex and Sam feel strongly about their home. Sam's favourite corner is the music area in the hallway – 'it was the last job we completed before Camilla was born, and it always makes us smile' – while Alex loves the kitchen. 'I still feel so lucky and grateful every time I walk in,' she says. 'I love making my home feel like my favourite place on earth.'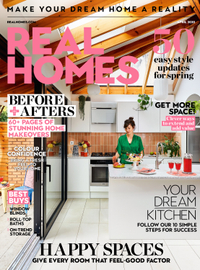 Subscribe to Real Homes magazine
Want even more great ideas for your home from the expert team at Real Homes magazine? Subscribe to Real Homes and get great content delivered straight to your door. From inspiring completed projects to the latest decorating trends and expert advice, you'll find everything you need to create your dream home inside each issue.
More reading: