Do you dream of living in a colourful country home with a garden billowing with vibrant summer blooms? If so, this project is is guaranteed to inspire you. Read on to discover Theresa and Joseph's coach house transformation story, then see more of our real homes for further ideas.
Adding just one extra mile onto the search area for her dream home brought surprising rewards for Theresa Mankelow, who uncovered a historic gem of a property with plenty of scope to create a delightful garden.
'I'd been looking for a characterful house near my old home for some time, and was starting to feel rather frustrated as nothing was materialising,' recalls Theresa. 'However, when a first-time buyer made me an offer, I looked just that little bit further afield and happened upon a wonderful coach house that instantly piqued my interest.'
THE STORY
Owners: Theresa and Joseph Mankelow live here. Theresa is a public servant and Joseph is a geoscientist. See more of the coach house on Instagram @theslightlycockledchimney (opens in new tab)
Property: A three-bedroom Grade II-listed coach house, built in 1785 in Leicestershire
What they did: The couple have spent 10 years putting their own stamp on the house, including fitting a wood-burning stove and redecorating throughout. In 2017, the garden was redesigned
Back in 2009, Theresa had been living in the sought-after town of West Bridgford, near Nottingham, in a Victorian terraced house.
'I wanted to find another period home – one with space for family and friends to stay, plus a garden that I could look out at and admire,' says Theresa. 'My last house was split over a few levels and the back garden was only visible from the spare room. I could garden all day and never see the fruits of my labour when I sat down in the evening.'
The housing market was slow at the time, so when Theresa eventually received an offer and increased her search area she couldn't believe her eyes when she spotted the old coach house. She set up a viewing with husband-to-be Joseph and the couple were instantly struck by the beautiful ironstone dwelling, near Melton Mowbray, Leicestershire, in the Vale of Belvoir.
'It was an extremely attractive building,' says Theresa. 'We loved the high ceilings, the period features and the overall feel of the property. And you could see the garden very clearly from all the main living spaces.'
Originally a coach house and stables, it was built in 1785 and was part of the Belvoir Estate – the home of the Duke of Rutland, who lives at Belvoir Castle. In the 1920s, the coach house was sold by private treaty and then converted into a home. Theresa and Joseph were delighted to become its new owners in May 2009, and couldn't wait to start putting their stamp on the lucky find.
'At the time, every room was painted a yellowy cream, and there was a lot of dark wood and wrought-iron fittings throughout,' says Theresa. Keen to lighten their home and soften the edges a bit, Theresa embarked on a mission to inject every room with colour, pattern and personality.
As soon as the winter chill descended on their new acquisition, however, Theresa and Joseph realised they needed to hurriedly investigate how to make it more cosy.
' Since the house is listed, we couldn't replace the single-glazed sash windows,' explains Theresa. 'However, my mum came to the rescue. Every pair of curtains she made for our home has thermal linings, to keep draughts at bay.'
After a rather frightening incident with the ineffective oil-burning stove, when a massive fireball ripped straight up the chimney, the couple swiftly had the chimney relined and changed the stove for a wood-burner. 'It provides substantially more heat and is much safer,' says Theresa.
Over the past 10 years, Theresa has gradually created a modern country look for the coach house, adding French objects and antiques, bought from a treasure trove of mainly independent shops and through online sellers.
'I quickly discovered that larger pieces of furniture work very well here, so I've painted many of the solid, dark wood items that I've come across,' says Theresa. 'I like floral patterns and have chosen larger designs, rather than smaller prints that might look twee with the property's high ceilings and big windows.'
One of the most dramatic changes at the coach house has been outside in the recently landscaped garden, which was previously an expanse of uneven granite sets and crumbling herringbone paths, surrounded by several overgrown fir trees.
'When Joseph and I were married at the local church in 2012, we held our wedding reception here,' says Theresa. 'This was before we did any work in the garden, so there was plenty of room for a marquee.'
Five years later, with the help of local garden designer Nikki Applewhite, the couple tackled a major project to create a semi-formal garden that referenced the symmetry of the Georgian home. 'The four flower beds, each with an obelisk, have been planted with pretty cottage garden favourites, ranging from roses to lavender,' adds Theresa.
There's no doubt that Theresa and Joseph have relished every step of transforming this unique property. 'We love being the custodians of such a special home and garden,' says Theresa. 'There are times when I nearly pinch myself, since I still can't quite believe we've been lucky enough to find such a beautiful and peaceful place to live.'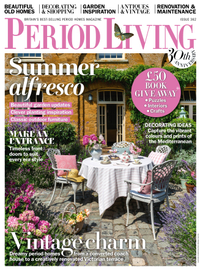 (opens in new tab)
Subscribe to Period Living for more inspiration (opens in new tab)
Period Living is the Uk's best-selling period homes magazine. A subscription provides you with all you need to know about caring for and improving a traditional house and garden.
Read more on converting buildings into homes: