Nicola and Jonathan Ash have redecorated twice over since buying their converted school in Nunthorpe, creating a truly individual home featuring a riot of rich jewel-like colours with Moroccan and botanical touches. 'There are no rights or wrongs when it comes to decorating,' says Nicola. 'I love colours and mixing up patterns and textures that don't necessarily go together but somehow look fab when complete. It's all about how you want that space to make you feel, whether it's on trend or not.'
Do you have your own home makeover to tackle, like Nicola and Jonathan? We have lots of ideas and helpful advice on what to do and where to start in our feature on house renovation. For more real home transformations, head to our hub page.
Profile
The owners Nicola Ash (@loveallthingsquirky), a psychological wellbeing practitioner, and her husband Jonathan, a nurse consultant, live here with daughter Olivia, and sproodle Mabel
The property A three bedroom semi detached converted school, built in 1903 in Nunthorpe, Middlesbrough
Project cost Around £60,000
The couple first spotted the house on Facebook and were instantly hooked by its kerb appeal. Built in 1903 as a schoolhouse, the building had later been used as a gym, then stood empty for four years before a developer converted it into two semi-detached properties.
Having spent a year renovating an 1800s cottage in Culgaith, near Penrith, Nicola and Jonathan had grown tired of commuting to Middlesbrough and were eager to move. 'We viewed it on a dark evening,' Nicola says, 'and the combination of grey carpets and black lino made it feel too enclosed, while the upstairs felt small compared to the downstairs.'
Feeling deflated, the pair made an offer on another house in Stokesley instead, but when that sale fell through they returned for a second viewing in the daytime. 'We could see the garden this time and I fell in love with the open-plan room,' adds Nicola.
Thanks to a part-exchange, they sealed the deal and got the keys in February 2016. With a previous career as a visual merchandiser, Nicola was excited to bring her scrapbook of swatches and drawings into the house and inject some personality. The sitting room was first to be revamped with a gold Fleur de Lys wallpaper, but it was later updated with stunning Timorous Beasties wallpaper panels and a navy blue feature wall that continues across the ceiling.
Next door, the grey carpet in the open-plan kitchen, diner and garden room was replaced with maple wood flooring reclaimed from a dance hall in Redcar. Initially Nicola painted the walls in deep blue with orange accents, but has since banished the blue for white and added a botanical feature wall. A log burner and feature wall of brick slips has created a new focal point too. 'We initially had a corner sofa but it made the room feel too small and cluttered,' she explains. 'Now we have a smaller leather sofa and a Liberty chair, which provided the starting point for the colour scheme. I spend most of my time in here – I don't really go in the sitting room until later at night.'
The developer's kitchen has been kept but Nicola added convincing tile-effect patchwork laminate flooring. Having grown bored of the white metro splashback tiles, Nicola recently swapped them for eye-catching pink ones. 'As there are pink touches in the garden room, like the curtains and Liberty chair, it brings this through into the kitchen,' she explains.
A leak from the ceiling last year prompted a rethink of the bold purple carpet Nicola had laid in the hall. 'It had only been down for six months but the water left considerable damage so we decided to lay a herringbone floor, which is better for our dog, Mabel, too,' she says. 'We also added a new bubble chandelier that can be seen from outside through the glazed panel above the door.' Carefully considered finishing touches like the new engraved cast iron radiator, smoked gold sockets and toggle switches tie in with the original entranceway tiles.
Because the painted ceiling worked so well, it inspired Nicola to go dark in the master bedroom, too. 'I was going to wallpaper the full wall but it would've been too overpowering, so I just went for two panels,' says Nicola. 'It's given it a fresh look but it's still a calm place to be.'
Next on the wishlist are new cast iron radiators throughout the house, a raised patio area and a redesign of the third bedroom, which is currently a dressing room – and a dumping ground for ironing. 'I used to have a branch as a clothes rail but I'd like to get some clean-lined floor-to-ceiling cupboards to hide everything away,' Nicola says.
Despite a few challenges – such as a faulty nail gun that meant restoring the reclaimed timber flooring entirely by hand, and several expensive re-paints to get the perfect wall colour in the hallway – Nicola is now delighted she gave the property a second chance. 'I'm so proud of what we've achieved and love walking into our home,' she says. 'The open-plan room is definitely my favourite area – it's a great place to have friends and family over. I feel really content when I'm at home. It's my happy place – somewhere where I can sit and appreciate what I've got.'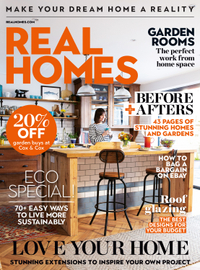 Subscribe to Real Homes magazine Want even more great ideas for your home from the expert team at Real Homes magazine? Subscribe to Real Homes magazine and get great content delivered straight to your door. From inspiring completed projects to the latest decorating trends and expert advice, you'll find everything you need to create your dream home inside each issue.
More reading