Adding a kitchen extension to a home is no small feat. From designing the space and finding the right team to completing your project to sourcing all the fixtures and fittings and then decorating the finished room, the list of tasks to complete can seem endless.
Of course, all of the above can be made easier if you have a healthy budget to throw at the project and can hire people to do all the work for you, but what if you want to extend without having to increase your mortgage by an eye-watering amount?
That's exactly what Jade faced when she decided to add space at the rear of her semi-detached house to open up the kitchen and create an open-plan entertaining area. With an initial budget of around £30,000 to complete the work, she had to be creative with her cash to get the results she wanted.
Find out how she achieved her beautiful kitchen extension, and find out how to kick start your own project in our guide to building a kitchen extension. See more real home transformations, too.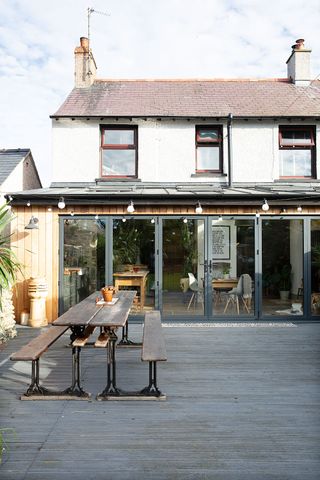 Jade used all sorts of ploys to cut back on her extension's costs, from shopping around to save money on her bi-fold doors and using reclaimed materials in the build to sourcing vintage furniture and adapting inexpensive buys, maximising every penny of her budget, creating a sociable, stylish and character-filled space in the process.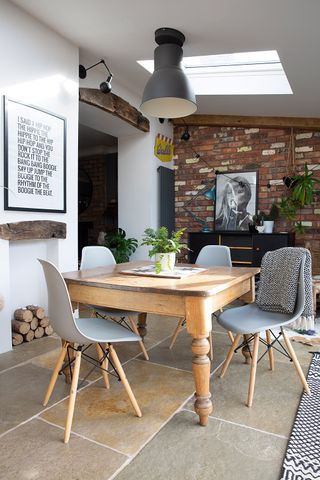 Having lived in her home for 16 years, Jade had felt it was time for a change of scene and had considered moving house. But when a friend pointed out that if her home was on the market it was exactly the type of house that Jade would want to buy, she realised that improving her existing property rather than moving might be a better option.
Looking around her welcoming home today, Jade must be incredibly grateful for that friend's sage advice. With the sun streaming in through the back of the house, Jade says the changes she's made to her home make her feel like she's on holiday every day. And any house that can make you feel like that on a daily basis is an award-winner in our eyes.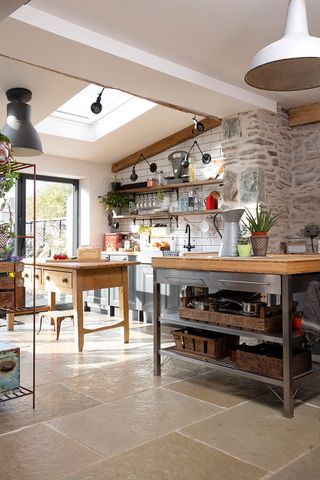 PROJECT NOTES
The owner: Jade Doutch (@jade.doutch), a showroom manager and design consultant for Warmer Brothers, lives here with her son Adam, 18, and their two Boston Terriers, Coco and Winston
The property: A 1920s, three-bedroom semi-detached house in Anglesey, Wales
Project cost: £35,000, including build cost and fitting out the space
'This open-plan space is what extending was all about for me; creating somewhere where I could catch up with friends over cocktails at the weekend,' says Jade. 'It's turned out better than I imagined, and mine is now the go-to party house, whatever the time of year.
'I've always loved spending time in the garden, too, and although there were double doors from one of the rooms at the back of the house, I never felt there was enough of a connection with the outdoors.
'My uncle is a retired architect and he drew up plans of my dream space so I could get builders to quote for the work, but everything came in at well over £40,000 for the building work alone, and I just couldn't afford to spend that sort of money.
'Yet once I had it in my head that the house could be transformed with an extension, I knew I had to go for it! As I've lived in the house for 16 years, I was able to release some of the equity, but I knew I still had to make savings to bring it in closer to my £30,000 budget.'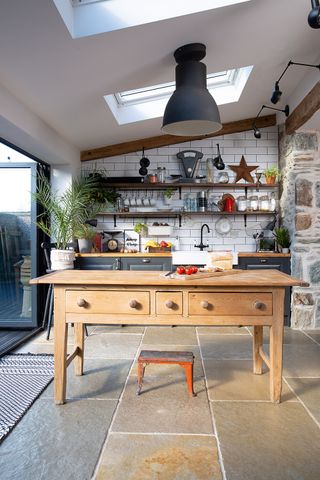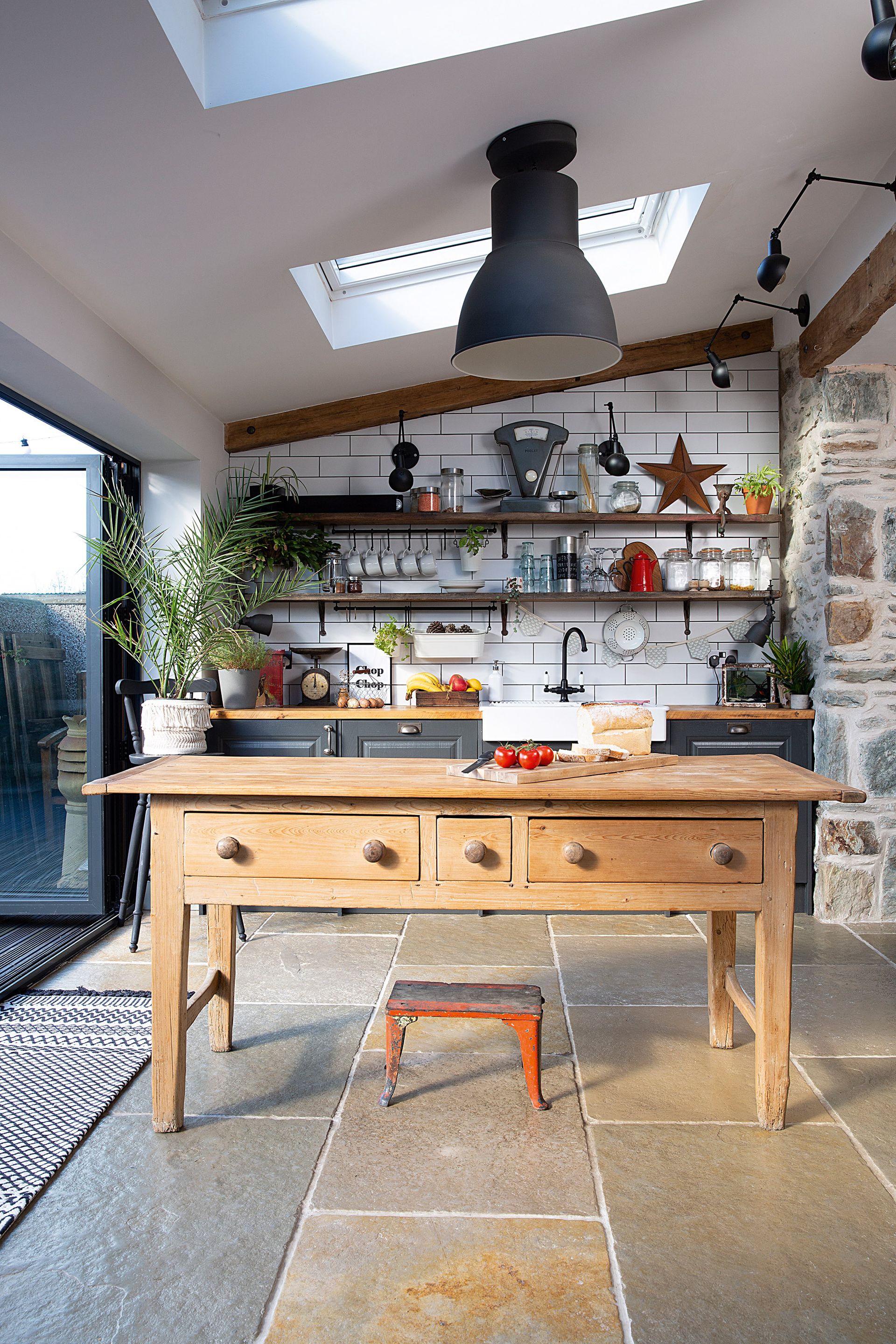 'I extended under permitted development as I was happy with the size of extension that allowed me to add,' she explains. 'The kitchen has been knocked through into the new addition, and I love how you can see where the old and new parts meet thanks to the exposed stonework.
'I'm quite impulsive, and one night I just started chipping off the old plasterwork in the hope of finding original stonework underneath. I wasn't disappointed! A stonemason repointed it all, as well as using the stone from the wall that was removed to clad the steel column supporting the new opening.'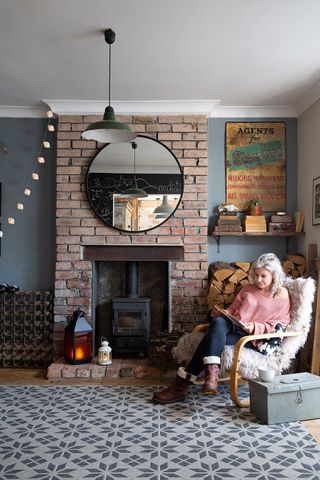 'As money was so tight, I had to shop around for everything for the extension. I had quotes of more than £6,500 for the bi-fold doors, but after researching online I found these triple-glazed designs through a supplier on Ebay for £5,000.
'I also went for standard-sized rooflights so they were as cost effective as possible, and I found the rustic beams in my aunty's farmyard, and thought they would be perfect for giving the new space some character. I sanded them down with an angle grinder to bring out the natural wood tones, which helps add warmth to the room.
'If there's a saving to be made, I'll make it. It meant I could splurge on a couple of items, such as the limestone flooring I really wanted, and the island. It's an original Georgian unit and cost me £700, but as soon as I saw it I knew I had to have it.'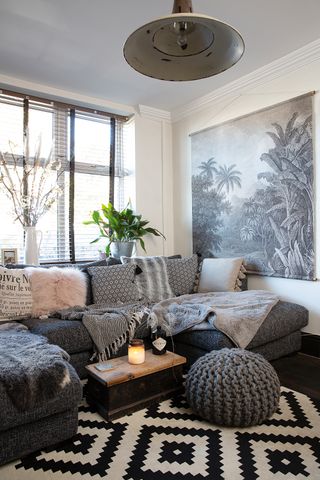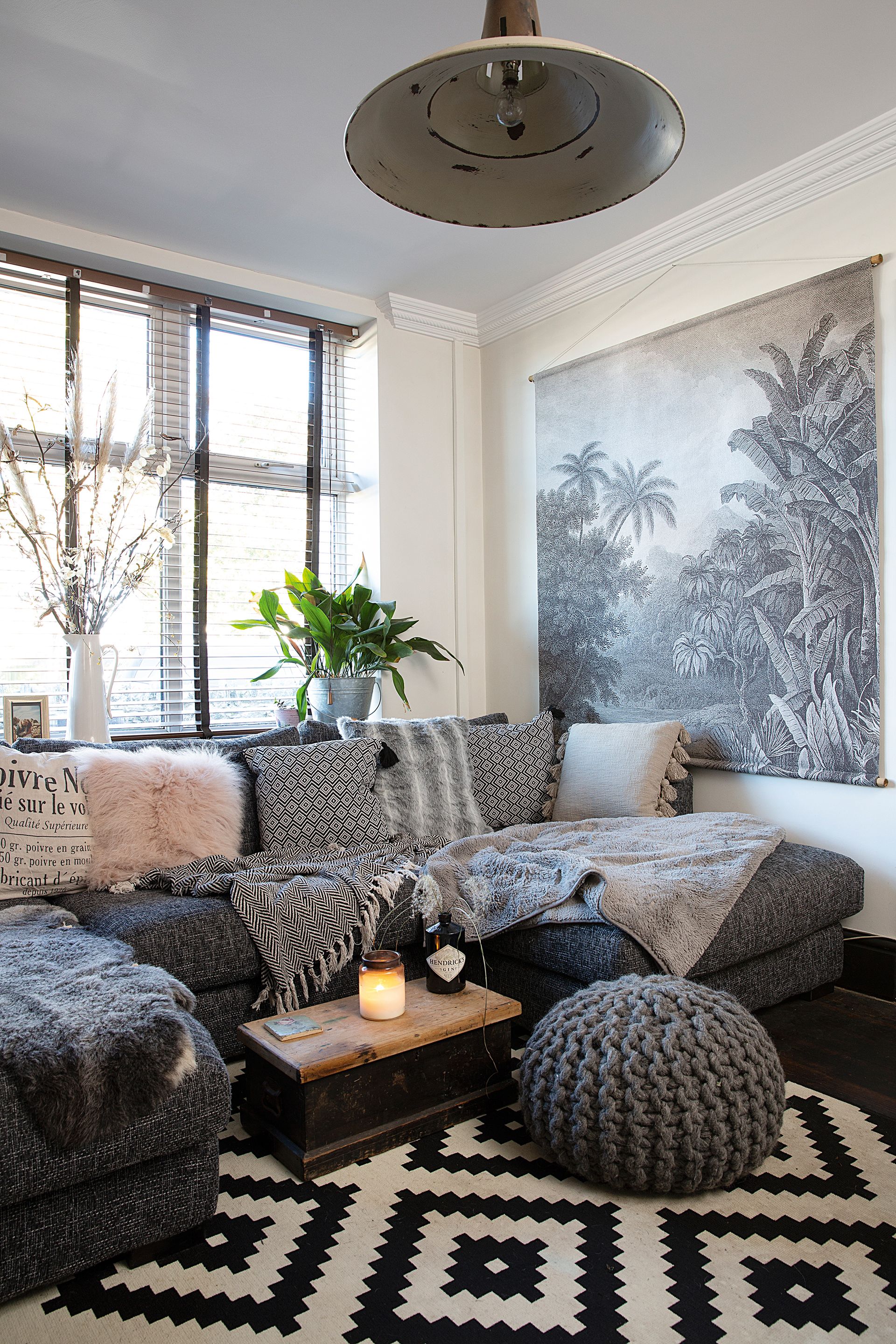 MORE FROM REAL HOMES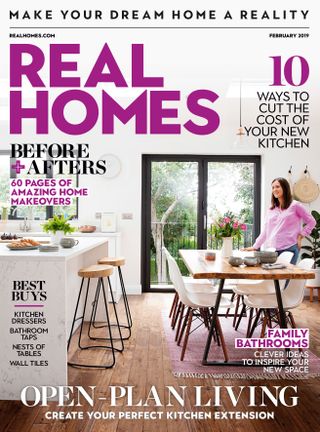 'The snug became our temporary kitchen during the five-month build, and we made do with a microwave and a slow cooker. It wasn't easy and there was the odd day when I'd sit crying on the floor as I thought the extension would never be finished.
'Thankfully I can look back and laugh at that now! I've recently added the woodburning stove, which has changed how we use the space. When it's lit in winter it draws you in, and my son loves sitting in front of it with the dogs. It's also
the ideal spot to curl up with a good book at the weekend.
'Although the rear of the house is completely open-plan, I wanted to have a more cosy area at the front, so I've kept the living room as a separate space. We use this as
a TV/cinema room, which made a big corner sofa an essential buy.
'Having this separate room gave us somewhere to escape all the mess of the building work in the evenings, although after a while I gave up trying to keep the house tidy. I embraced the dust in the end as it got everywhere!
'I can be impulsive when it comes to the house, especially if I'm bored on a Friday evening. One night I wanted to see what was under the living room carpet, and I ripped it all up in the hope of finding some lovely floorboards. My instincts were right as there were solid oak ones, which I've darkened with wax. '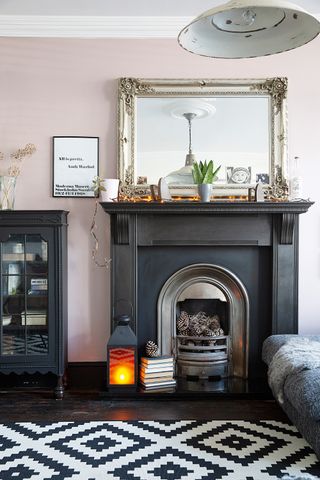 'The pale pink walls are a recent update – I love how the colour works with the black fireplace and furniture. The glazed cabinet used to belong to my grandmother, and I've updated it with a coat of black furniture paint.'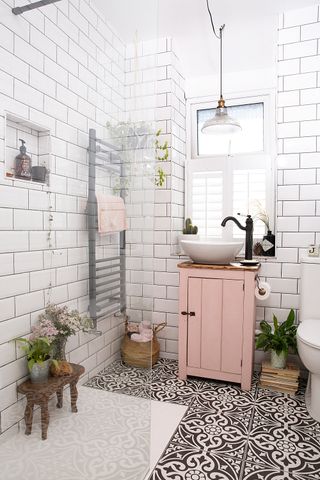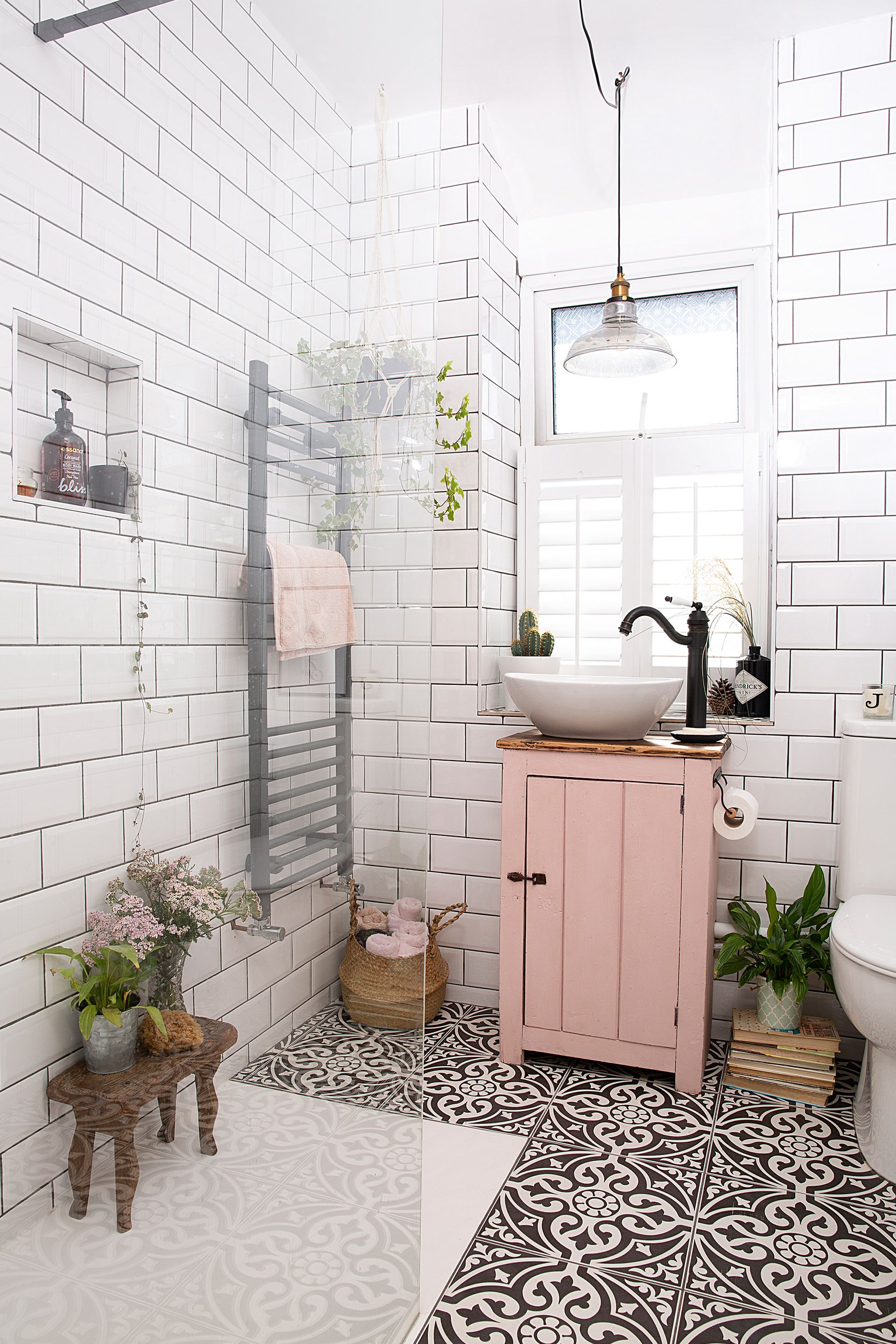 'The bathroom has been on my to-do list for a while, but I only tackled it after completing the extension. I have no intention of moving house so I've designed the small space to suit me rather than future buyers, which meant I chose to have the walk-in shower I wanted rather than a bath.
'Like the downstairs renovation, I hunted around for the best prices and did the bathroom revamp for under £2,500 by mixing great-value buys with upcycled designs such as the basin.'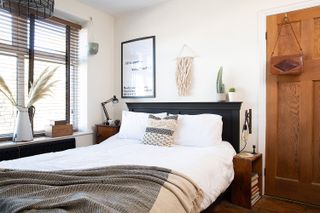 'I sent off all the internal doors in the house to be professionally stripped, and I'm thrilled with how they turned out. It's revealed all the beautiful wood, and the natural tones work well with the monochrome, Scandi-style design that forms the backdrop to most of my room schemes.
'I've always loved living here, and am so glad that I decided to stay and extend rather than move. It was a daunting process at times, but well worth the hard work and money.'
CONTACTS
More on creating a look like this: