It's no mean feat undertaking a kitchen makeover, especially when you're extending, too. Still, you don't have to do it alone. There are benefits to project managing a build yourself, but sometimes it can be easier – especially if you're tight on time or low in confidence – to hand the bulk of the work to a professional, whether that's a contractor or a design- and-build team.
For Gillian and John, designing their extension was the best of both worlds. With a design-and-build company taking the reins, the couple avoided the headache of organising a big project while still being involved in every step of the process, from approving plans to picking out the materials and colourways of their dream kitchen in detail. They talk us through how it all worked…
Inspired to tackle your own project? We have masses of ideas and helpful advice on what to do and where to start in our feature on extending a house. For more real home transformations, head to our hub page.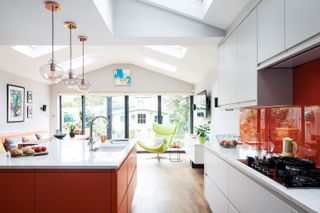 Profile
The owners Gillian Licari, who is recently retired, and her partner, John Denby, a music concert producer
The property A four-bedroom Victorian terrace in St Margarets, London
Project cost £145,550
'After 10 years with our old kitchen, we were ready for a new look,' Gillian says. 'Our previous kitchen was completely different to what it is now. It was much more traditional: Art Nouveau-style cupboards with stained glass insets, black granite worktops and blue and copper tiled flooring.'
'We wanted to transform the tired room into a light and friendly entertaining space that made the most of the sunny aspect of the house. Our neighbours had their kitchen done by Raki at design-and-build company RMR Homes, and we were so impressed that we asked him to come back and work his magic on ours.'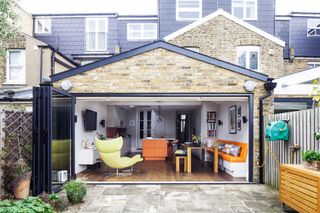 'Raki sat down with us and asked us what was on our wishlist for the kitchen. We explained that we wanted to extend the space, open up the back of the property to allow more light in, and install units that were stylish but practical. We wanted to keep our big dining table, too. Raki worked the design around those key elements.'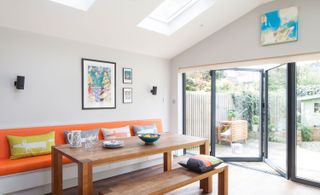 'The plan was to extend across the back of the property into the side return and install bi-fold doors, doubling the size of the kitchen and creating space for units along both sides of the room as well as a large central island. The floor colour was picked to complement the dining table, helping it blend into the room. We loved the idea of using warm wood to keep the bigger space feeling cosy underfoot.'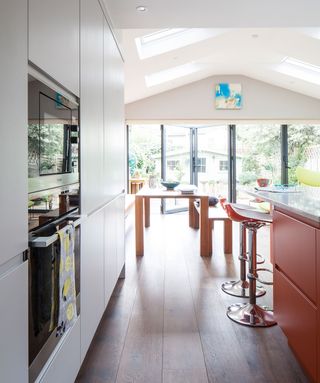 'We chose everything in advance of the work starting from the RMR Homes showroom – from the worktops and units to the appliances. More planning up front meant that we were more likely to finish by the deadline at the end. We picked out our dream kitchen in detail, setting aside time to visit the showroom to see flooring samples.
'We picked handleless units painted in Cornforth White for the wall units, and then for the island I spotted a vibrant orange called Charlotte's Locks, both from Farrow & Ball. It looked so good with the other tones in the room. We painted the glass splashback in the same shade to bring it all together. The company looked after the planning applications, drawings and material ordering to ensure a smooth process.'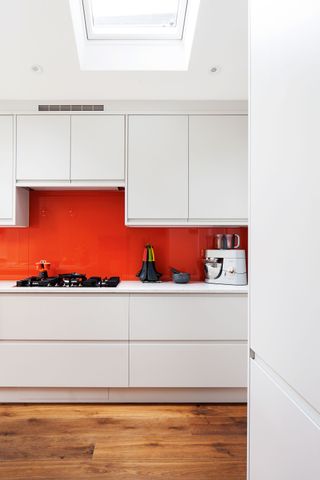 'The builders started by ripping out the old kitchen and digging foundations for the extension. We have a huge A-frame pitched roof at the back with six large rooflights that flood the space with sun.
'Thanks to the planning at the start, the build ran smoothly – it took 12 weeks in total – and came in on budget. We were lucky that there weren't any unexpected disasters to slow us down. The plaster took longer to dry after a spell of wet weather – but that wasn't a big deal.'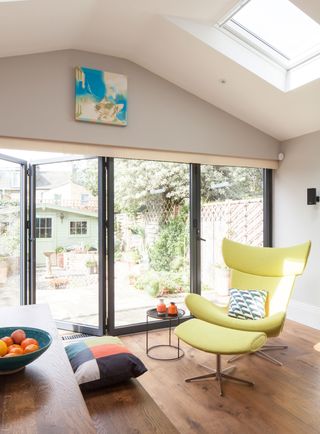 'Our beloved Heal's dining table and bench takes centre stage in the new dining area. We installed a bespoke built-in bench on the other side to fit the space exactly. At John's request, there are spacious drawers under the bench that house his extensive collection of CDs. We mounted a TV on the wall at one end of the kitchen with speakers in the corner. It makes that area a great spot to hang out together.
'We've started to take afternoon tea in here, which we never used to do in our old kitchen. We love sitting down at our dining table and enjoying a cup of tea. This room has become a place that we love to relax in.'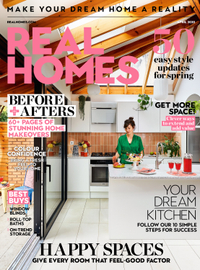 Subscribe to Real Homes magazine
Want even more great ideas for your home from the expert team at Real Homes magazine? Subscribe to Real Homes magazine and get great content delivered straight to your door. From inspiring completed projects to the latest decorating trends and expert advice, you'll find everything you need to create your dream home inside each issue.
More reading: