Peering into the empty Swansea house as they waited for their estate agent to arrive for the viewing, Sally and Owen decided there and then: this was the one they would buy. This 1950s semi, a short walk from the bay, had original wooden floor and cast-iron fire which they spied through the front room window. That sealed the deal, even before they saw the rest of the interior, and convinced them to put in an offer instantly.
For 17 years, that same house has been the stage as their lives have unfolded inside it; when sons Danny and Bobby were born, through to game nights, homeschooling and beyond, extending to meet their changing needs.
If you are looking to create more space like Sally and Owen, we have lots of ideas and helpful advice on extending a house. For more real home transformations, head to our hub page.
Profile
The owners Sally Thomas (@sally.at.no_3), a nurse-turned-full-time-mom, her husband, Owen, and sons, Danny and Bobby
The property A three-bedroom 1950s semi with a loft conversion in Swansea
Project cost £49,200
The house had central heating installed and a loft conversion completed just before the couple moved in, but when their oldest son Danny was born, they soon needed more space. 'A year later we'd already outgrown the compact kitchen,' Sally says. 'We wanted it to be a space that we could all enjoy – somewhere we could eat, cook, craft and play as a family – so we added a small brick addition with a glass roof, which allowed room for a dining table and let in lots of light.'
Eight years later, though, the family felt they hadn't made the most of the downstairs space. 'The kitchen felt small again and we weren't making the best of the dining room,' says Sally.
'We knocked through from the kitchen to the dining room and used a small part of our hallway to create an open-plan kitchen and living area. Some of the windows were repositioned and we had bi-fold doors installed so we can open up the room in summer,' she continues.
'A new kitchen with an island gave us more work space than we'd had before, and we went with an all-white and wood colour palette for a fresh feel. We also had a beautiful wood-burning stove installed into the original chimney space.'
Danny and Bobby have been at the forefront of the renovation project. Both sons are autistic, so ensuring that they felt settled was the family's priority. Both boys had significant speech and language delay in their early years, 'so we're always mindful about selecting homewares that have meaning, evoke memories and encourage communication,' says Sally.
'Wall art and brightly coloured furnishings, like the bar stools that the boys painted themselves, are all great conversation starters. We regularly make interior changes as the boys grow up and improve developmentally – so our friends are always curious to see what we've been up to!'
Upstairs, Sally and Owen redecorated all three bedrooms. 'Danny and Bobby have had difficulties with night waking and self-settling virtually every night since they were born, so Owen and I decided to switch rooms with Danny and give all three bedrooms a makeover to see if we could improve their sleep quality,' says Sally.
'Room by room we exposed the original floorboards, had them sanded and treated, then redecorated. At one point we were all sleeping on mattresses in one room, wondering why on earth we had decided to do it!'
After years of extending, reconfiguring, repainting and reorganising, today Sally and Owen's house is a colourful, creative representation of all four personalities that reside there. It's been 17 years in the making, and it will likely evolve further in years to come, but Sally and Owen finally have the one-of-a-kind home they always wanted.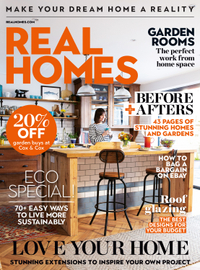 Subscribe to Real Homes magazine Want even more great ideas for your home from the expert team at Real Homes magazine? Subscribe to Real Homes magazine and get great content delivered straight to your door. From inspiring completed projects to the latest decorating trends and expert advice, you'll find everything you need to create your dream home inside each issue.
More reading: