Taking on a quirky period property was a leap of faith for Charlie and husband Andy. They immediately earmarked the loft space as their own and drew up plans to extend and create a proper master bedroom with a sizeable en suite. The existing bathroom in the loft was jammed in, with just a shower over the bath, not the separate one they craved.
A year on, the extension gave them a much bigger bathroom, but they had to wrestle with the awkward shape: a slim rectangle with seriously sloping roofs at either end of the room and a door in the middle. Despite the challenges, Charlie was determined she was going to have a walk-in shower and a roll-top bath, and by enlisting the help of architect Tim Marshall, she's created her dream space.
Inspired to tackle your own loft conversion? We have lots of ideas and helpful advice on how to go about it. For more real home transformations, head to our hub page.
Profile
The owners Charlie Gooch, a freelance nutritionist, her husband, Andy, an engineer, and twins Beatrice and Alice, and William
The property A five-bed Grade II-listed detached house, partly dating back to 1710, in Kent
Project cost £23,949
'Because this house is a Grade II-listed building, it was essential to find the right architect for the loft extension. We asked around the village until Tim's name came up more than once, so we arranged to see him. We were impressed by his ideas – they were practical and he could see a way of giving us the larger bath and separate shower we wanted in the en suite. He's been brilliant and very patient with us.'
'Finding sympathetic builders to do the loft conversion and en suite was the first task, and Tim also helped us with that. We needed someone who was used to the quirks of old houses, with walls not being straight. Andy has only recently left the army so we have been used to living in military accommodation. We were really excited about owning our own house again and putting our stamp on something. We knew it was going to be a major project to do the whole house, and we were looking
for solid, classic design since we're not planning to move in a hurry.'
'The bath was always going to be the showpiece, and I fell in love with the large boat shape of this roll top. I'm not one for a really contemporary look, particularly in a house like this, and this was the bath of my dreams. There was lots of room to put it under the window to let it shine, and it comes unpainted so you can make your own decision on color later.'
'We desperately needed storage in the en suite for everything from towels to toiletries. There was a huge unused section to the right of the toilet and shower under the sloping roof, so we got the talented carpenter who works with the builders to create an L-shaped section of low-level units that provide a fantastic amount of cupboard space. I like to see the towels out on show and it's also an opportunity to put lots of plants on top, which I love to see in bathrooms.'
'I took on a local interior designer who'd been recommended – Danecia of Uplift Your Home – who really helped me find my style. After not being in charge of my own décor for so long, I needed guidance. I was determined not to be beige and boring, but she helped me see that some of my initial ideas with acres of marble were a bit too bold. We focused on layout and the larger items like the bath and shower first, and it started to come together. She drew out my love for Morocco, which influenced the floor tiles and was key to drawing the whole scheme together.'
'The shower was the most complicated bit – there's only one section of wall that you can actually put it on and it's right slap bang in the middle of the room. I wanted a walk-in style, with minimal chrome. It took some looking, but our designer sourced a solution from Roman Showers. It has two panels either side and a pivoting section in between, so you can walk into the shower at the front.'
'With the main pieces in, it was time for the fun bit: adding character and color. Danecia knows all about my love for Morocco, so rather than have the color on the walls, we honed in on Moroccan floor tiles in stunning patterns and colors. The one I chose from Original Style has gorgeous rich blues, which informed the color for the bath and the cabinets. I chose a cream brick tile for the shower enclosure, but brought the blue back in with some distressed tiles from Fired Earth in the shelf insert.'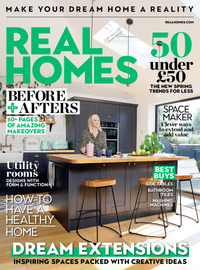 Subscribe to Real Homes magazine
Want even more great ideas for your home from the expert team at Real Homes magazine? Subscribe to Real Homes magazine and get great content delivered straight to your door. From inspiring completed projects to the latest decorating trends and expert advice, you'll find everything you need to create your dream home inside each issue.