Transforming your bathroom on the cheap has never been easier and who knew that painting bathroom tiles could transform a space so quickly?
Geri Alessi of @overatno18's incredible en suite is proof. She managed to transform the space for less than £350 thanks to her incredible DIY skills and a stroke of creative genius.
From covering the old brown floor with patterned adhesive tiles, to creating a Crittall-effect shower screen with electrical tape, there are plenty of handy budget bathroom ideas to steal from this makeover – but it's the green tiles we fell instantly in love with when we saw them. We quizzed her to find out just how to recreate the look.
DIY level: Novice
Time: Weekend
Budget: low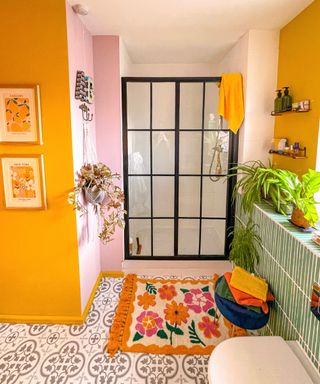 You will need:
Rust-Oleum Universal Paint in your color of choice (Geri used Gloss Emerald Green mixed with Satin White)
In a few straightforward steps, Geri completely transformed her bathroom into a bright and colorful small bathroom idea.
Before: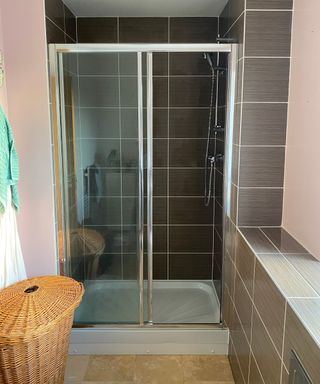 Step 1: Clean and prep tiles for painting
Give your tiles a wipe down to remove any dust or spills – this will ensure a smooth finish.
Following the instructions on the pack to mix the solution, use the Rust-Oleum Tile Transformations kit to paint the tiles in one layer.
Leave to dry before applying a second layer. Because the formula hardens in 90 minutes, Geri mixed half the solution on day one and the remainder on day two, when she was ready for the second coat.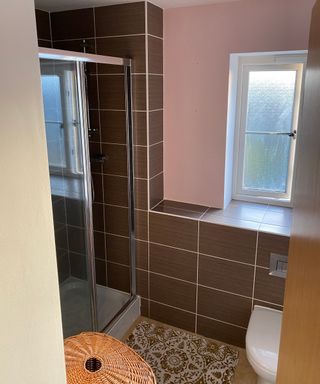 Step 2: Paint the tiles
When the solution has hardened, you can apply your color. Place strips of Frog Tape vertically down your tiles, leaving gaps the same width as the frog tape between each strip.
Paint between the gaps of the frog tape with your chosen color. Wait to dry, then remove the tape.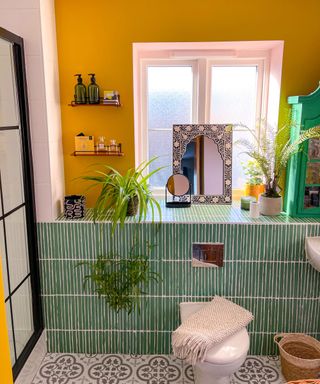 Top tip: For a hand-painted finish, use an artist's brush to paint the remainder of the white gaps, leaving enough white to give the illusion of grouting.